Cwm Rhaeadr, near Llandovery
Waymarked trails for walking and mountain biking in remote woodland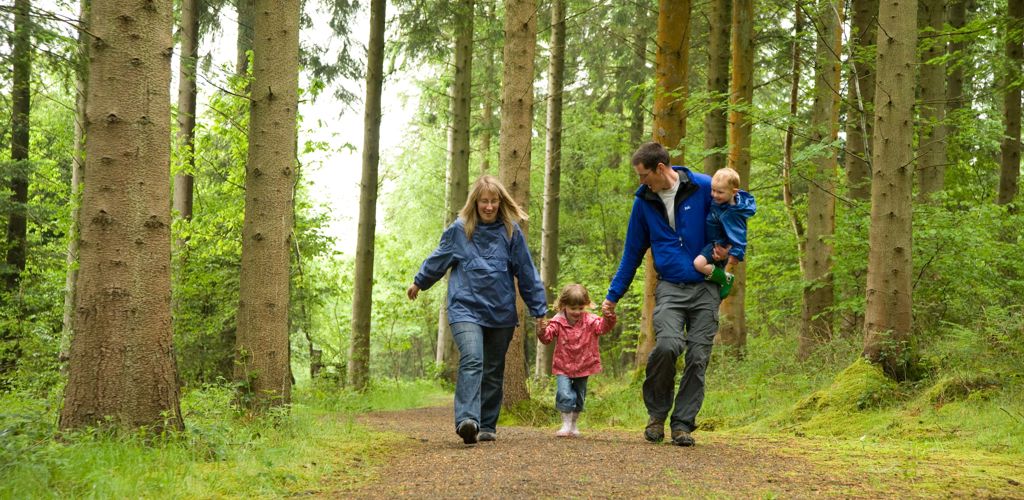 This site and the walking trails are open - please see more details on this web page.
The Cwm Rhaeadr mountain bike trail remains closed due to forestry operations.
Coronavirus update
The Welsh Government is implementing a national coronavirus firebreak from 6pm on Friday 23 October until Monday 9 November.
The firebreak regulations replace the local restrictions which were in force in some parts of the country. They apply to everyone living or travelling in Wales.
Our sites and most visitor facilities remain open during this firebreak period but people are advised to stay at home and only visit sites in the local area to take exercise.
Visiting your local site safely
We have changed the normal route for some of our trails to help you maintain social distancing – please follow signs on site.
You need to wear a mask when going inside one of our buildings.
You can check-in via the NHS app when entering one of our buildings – scan the QR-code on the NHS Covid-19 poster on site.
Welcome
Cwm Rhaeadr, which means "valley of the waterfall" in Welsh, is a remote woodland and picnic area situated in the upper Tywi valley in Carmarthenshire.
You can catch a glimpse of the dramatic falls on the Waterfall Walk through the woodland.
The shorter trail, which is suitable for all abilities, passes by two peaceful ponds.
There is also a mountain biking trail for experienced riders.
Walking trails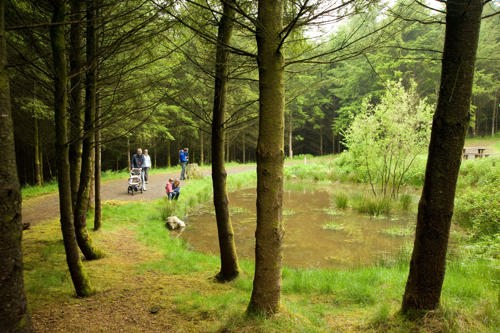 All of the walking trails are waymarked and start from the car park.
Cwm Rhaeadr Accessible Trail
¾ mile, 1.3 kilometres, accessible
This trail through the woodland is suitable for wheelchair users.
It passes by two ponds where dragonflies can be spotted in summer.
Waterfall Walk
2½ miles, 4 kilometres, moderate
There are glimpses of the waterfall through the trees on this trail through the lower part of the valley.
It crosses over a wooden bridge and follows the stream back to the car park.
Mountain bike trail
Cwm Rhaeadr Trail
6.7 kilometres, grade red
The Cwm Rhaeadr mountain biking trail is waymarked and starts from the car park.
This trail may be short but it offers singletrack riding, a descent over a rocky ridge and stunning views over the valley and waterfall.
Please read the relevant on site information before setting off on your ride.
See our mountain biking page for a list of all our mountain bike trails and information about grading to make sure you pick a trail that is right for you. 
Accessibility information
The Accessible Trail is suitable for wheelchair users.
It is three quarters of a mile long and its steepest gradient is 1/20.
Closures and diversions
Please note:
Sometimes we need to close or divert trails for your safety whilst we undertake maintenance work or forest operations
Occasionally we may have to close a site in extreme weather, such as high winds or snow and ice due to the risk of injury to visitors or staff
Please always follow any instructions onsite and make sure you follow any temporary diversion signs in place
How to get here
Location
Cwm Rhaeadr is near Llandovery and is approximately one mile north of the village of Cilycwm. 
It is in the county of Carmarthernshire.
Car parking is free of charge.
Directions
Follow signs for Cilycwm from the A482 or A483 then continue northwards out of Cilycwm towards Llyn Brianne Reservoir until the sign for Cwm Rhaeadr.
Ordnance Survey map
Cwm Rhaeadr is on Ordnance Survey (OS) map 187.
The OS grid reference for the car park is SN 765 423.
Public transport
The nearest train station is in Llandovery.
For details of public transport visit the Traveline Cymru website. 
Contact details
Tel: 0300 065 3000
Email: enquiries@naturalresourceswales.gov.uk
Downloads
Related document downloads