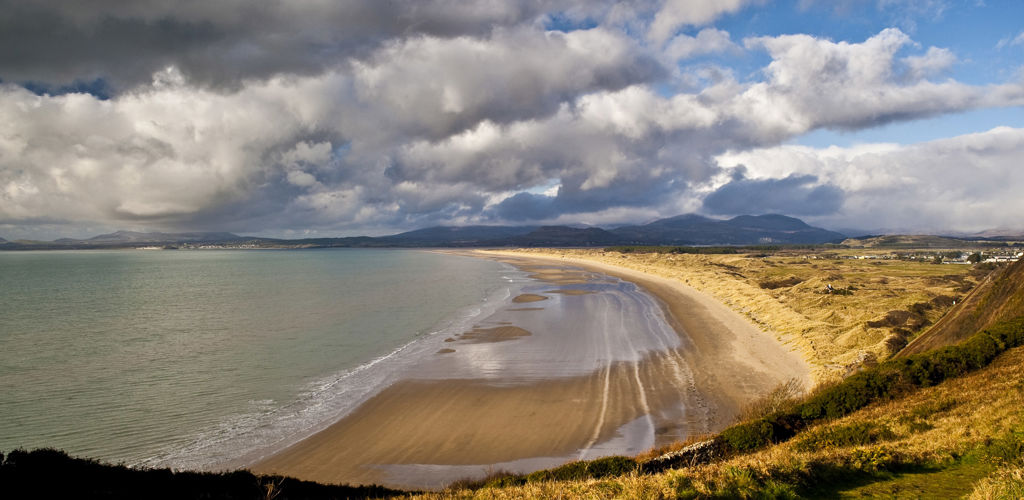 Overview
Morfa Harlech National Nature Reserve is a coastal landscape of unrivalled beauty and variety. 
The whole area can be read as a vivid textbook on how our coastline has developed over the centuries and as a reminder of how precious and fragile such landscapes are.
The dunes at Morfa Harlech
The vast dune system is of international importance. 
It is the only system in Wales which is still growing, and where you will find every variation of dune habitat, together with all the different kinds of wildlife that make their home there. 
It is a shifting, changing environment, and man has had no small part to play in its history. 
In the Middle Ages, ships could sail up to the foot of Harlech Castle and, even until the 19th century, much of the Morfa was tidal marsh.
The construction of a sea wall helped create the rough pasture here today.
Wildlife at Morfa Harlech
Spring and summer are the best times to see many of the flowering plants that make the dune grasslands and slacks their home.
The sand dune habitat supports several species. These include a rare mining bee and reptiles such as the common lizard and the much rarer sand lizard which was recently re-introduced to the area.
The sand flats and salt marsh in the estuary are important feeding grounds for winter wildfowl while otters and water voles use the estuary's waterways. 
Visiting Morfa Harlech
There are public footpaths from Min y Don car park to the shore. 
There are public toilets in Min y Don car park which are run by Gwynedd Council.
Parts of the reserve are fenced off to allow controlled grazing and to protect the specialist sand dune vegetation. Download more information about the trails.
National Nature Reserve
Morfa Harlech is a National Nature Reserve.
National Nature Reserves are places with some of the very finest examples of wildlife habitats and geological features. 
There are over 70 National Nature Reserves in Wales.
Find out more about National Nature Reserves.
Closures and diversions
Please note:
Sometimes we need to close or divert trails for your safety whilst we undertake maintenance work or forest operations
Occasionally we may have to close a site in extreme weather, such as high winds or snow and ice due to the risk of injury to visitors or staff
Please always follow any instructions onsite and make sure you follow any temporary diversion signs in place
Seasonal highlights
During the year, the landscape changes at Morfa Harlech National Nature Reserve.
Depending on when you visit, you are likely to see different wildlife, too.
Read on to find out what you could see here during the different seasons.
Spring
Spring brings the sight of displaying waders which include lapwing and redshank.
This is also a good time to see many of the flowering plants that make the dune grasslands and slacks their home.
Summer
In the warmer months, a wide variety of flowering plants can be seen such as:
dune pansy
speedwells
thyme
maiden pink
helleborines
orchids
Summer is a busy time for many invertebrates including mining bees and beetles and you may spot a sand lizard, too.
Morfa Harlech is home to many populations of different butterflies – look out for the common blue and marsh fritillary at this time of year.
Autumn
During the autumn, migratory birds are on passage at Morfa Harlech while, within the dunes, there are displays of late flowering plants such as autumn gentians and autumn ladies tresses, and unique dune fungi.
Winter
Morfa Harlech is an important feeding site for wintering waders such as curlew and snipe, and wildfowl, including pintail, teal and wigeon.
Scoters may be seen offshore and waders along the shoreline.
Opening times
The beach toilets may be locked during the winter months. If so, there are also toilets opposite the turning from the main road to the beach road. 
How to get here
Morfa Harlech National Nature Reserve is less than a mile to the west of Harlech, just off the A496.
Directions
A minor road, Ffordd Glan Mor, leads from the A496 to Min y Don car park which is the main access point for the reserve.
The Min y Don car park is run by Gwynedd Council and there is a parking charge.
Ordnance Survey map
Morfa Harlech National Nature Reserve is on Ordnance Survey (OS) map OL 18.
The OS grid reference is SH 574 316.
Public transport
The nearest train station is in Harlech.
There are regular buses from both the south (Barmouth and Dolgellau) and North (Maentwrog) along the A496. 
In the summer a shuttle bus runs from Min y Don car park to Harlech Castle. For details of public transport visit www.traveline.cymru
Find out more
Contact details
Tel: 0300 065 3000
Email: enquiries@naturalresourceswales.gov.uk
Downloads
Related document downloads