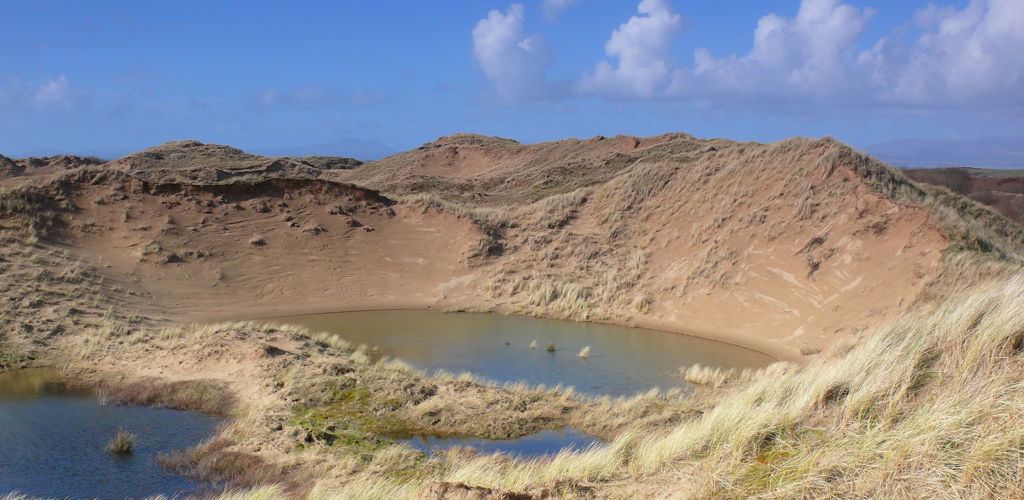 Overview
The landscape is both beautiful and diverse at Morfa Dyffryn National Nature Reserve.
As well as the huge sand dunes, there are areas of seashore, saltmarsh and grassland and each of these habitats is home to an amazing variety of wildlife.
Within minutes of leaving the car park you enter a world far removed from the holiday hustle and bustle of the nearby towns and villages.
The dunes
The dune system is still shifting - constantly moving and being re-shaped by the wind, and able to bury the boardwalk to the beach within a matter of days in bad weather.
The dunes may look bare and inhospitable to us, but they are home to some very specialised plants and animals that depend upon this strange environment for their survival.
The flat areas in between sand dunes, which are submerged in rainwater in winter and retain high levels of moisture well into summer, are known as dune slacks.  In spring and summer the slacks are home to flowers such as spectacular orchids.
Birds
The sand dunes support significant populations of breeding birds including stonechats, skylarks and wheatears.
Lapwing, now so reduced in numbers throughout the UK, nest here.
Other rare bird species that put in an appearance at the reserve in winter include choughs and hen harriers. 
Among the passage wading birds that use the beach and estuary are sanderlings, turnstones and ringed plovers – the latter also breed here on areas of shingle.
Butterflies and other insects
Flower-rich habitats and dune systems are always good places to see an abundance of butterflies and other insects, and Morfa Dyffryn is no exception: fifteen invertebrate species that are nationally rare or scarce in the United Kingdom are found there.
These include numerous rare mining bees and wasps (for which the site is incredibly important), robberflies, carrion beetles, and the dune tiger beetle.
Thirty-six butterfly species have been recorded from Morfa Dyffryn and the site is home to a number of day-flying and night-flying moths.
Other wildlife
This is an important place for mammals, reptiles and amphibians too.
The brown hare breeds in the area, while the many creeks, swamp areas and ponds are home to grass snakes.
Great crested newts are found here; the ponds on the adjacent Llanbedr Airfield are known to support a population of these rare amphibians which are otherwise thought to be confined to northern and eastern parts of Wales.
National Nature Reserve
Morfa Dyffryn is a National Nature Reserve.
National Nature Reserves are places with some of the very finest examples of wildlife habitats and geological features.
There are over 70 National Nature Reserves in Wales.
Find out more about National Nature Reserves.
Visiting Morfa Dyffryn
You can either follow a path through the dune slacks and onto the open beach or a wooden boardwalk which stretches from the car park to the beach.
There is a viewpoint with picnic bench at the beach end of the boardwalk. 
Accessibility information
The boardwalk is flat and wide and suitable for wheelchairs and pushchairs.
Closures and diversions
Please note:
Sometimes we need to close or divert trails for your safety whilst we undertake maintenance work or forest operations
Occasionally we may have to close a site in extreme weather, such as high winds or snow and ice due to the risk of injury to visitors or staff
Please always follow any instructions onsite and make sure you follow any temporary diversion signs in place
Seasonal highlights
During the year, the landscape changes at Morfa Dyffryn National Nature Reserve and you are likely to see different wildlife, too.
Read on to find out what you could see here during the different seasons.
Spring
This is a good time to see many of the flowering plants that grow in the dune grasslands and slacks.
Several nationally rare and scarce wildflowers, lichens and mosses make their home here. The wild orchids include the lovely marsh helleborine which grows alongside the northern marsh-orchid as well as the early marsh-orchid.
There is a whole host of other brightly coloured wildflowers to enjoy from early spring onwards. Thrift and common centaury put in an early appearance and they are soon followed by other coastal species including common restharrow, wild pansies, bird's-foot trefoil and many others.
You might also come across sea mouse-ear, thyme-leaved sandwort, portland spurge and dune fescue.
Summer
In the warmer months, a wide variety of flowering plants can be seen in the dune grasslands and slacks. These include dune pansy, speedwells, thyme, maiden pink and orchids.
There are also colonies of the rather scarce green-flowered helleborine and round leaved wintergreen - July or August is the best time to see this species.
Summer is also a busy time for many invertebrates including mining bees and beetles.
Autumn
The drier dune grasslands are well known as good habitat for fungi and the dunes here offer impressive fungi 'vistas'.
Dwarf earthstar occurs only in mature dune grasslands such as those found at Morfa Dyffryn.
You may also see various waxcaps, earth tongues and fairy clubs.
Winter
The sand flats and salt marsh in the estuary are important feeding grounds for winter wildfowl.
The beach is used by wading birds but, if you look offshore, you may spot wintering grebes and divers.
Opening times
The toilets are open from 1 April - 31 October.
How to get here
Morfa Dyffryn National Nature Reserve is situated a mile west of the A496 between the villages of Llanaber and Dyffryn Ardudwy.
Directions
Turn off the A496 at Dyffryn Ardudwy at the sign for the Dyffryn Seaside Estate.  Follow this lane which leads to the Bennar Beach car park.
This car park is operated by Snowdonia National Park car park and there is a parking charge.
Ordnance Survey map
Morfa Dyffryn National Nature Reserve is on Ordnance Survey (OS) map OL 18.
The OS grid reference is SH 572 227.
Public transport
The nearest train station is in Dyffryn Ardudwy, one mile away.
There are regular buses from both the south (Barmouth) and North (Harlech) along the A496.
For details of public transport visit www.traveline.cymru
Find out more
Contact details
Tel: 0300 065 3000
Email: enquiries@naturalresourceswales.gov.uk
Downloads
Related document downloads