Overview 
Dyfi Forest
Dyfi Forest lies mainly to the north of the River Dyfi between the towns of Dolgellau to the north and Machynlleth to the south.
Rugged peaks loom above the forested hillsides that are dotted with atmospheric ruins and slate spoil heaps. 
Steam trains chug along the hillsides, now carrying holidaymakers, but originally carrying slates from the quarries to the coast. 
There are waymarked trails through these three woodlands within Dyfi Forest, and also waymarked running trails in Tan y Coed:
Tan y Coed woodland, Dyfi Forest
Tan y Coed is an easy to find woodland with a picnic site, walking trails and running trails, located immediately off the A487.
The Forestry Commission began planting Tan y Coed woodland after the First World War as the war effort had used up Britain's timber. Planting continued through the Second World War with Land Army Girls, known as "Timber Jills", carrying out the work. 
Today Tan y Coed is home to a pleasant picnic site and the start for two tranquil woodland walks past old moss-covered trees and along the river. There is also an animal puzzle trail for families and two running trails.
Closures and diversions
Please note:
Sometimes we need to close or divert trails for your safety whilst we undertake maintenance work or forest operations
Occasionally we may have to close a site in extreme weather, such as high winds or snow and ice due to the risk of injury to visitors or staff
Please always follow any instructions onsite and make sure you follow any temporary diversion signs in place
Walking trails
All of the walking trails are waymarked and start from Tan y Coed car park. 
Our leaflet gives you more information about walking and running in Tan y Coed.
Cwm Cadian Trail
1 mile, 1.6 kilometres
This moderate walk passes through a beech woodland and alongside the river Cadian with its waterfall and pools. 
Animal Puzzle Trail
1 mile, 1.6 kilometres; same route as Cwm Cadian Trail
The Animal Puzzle Trail leaflet gives clues to help children find the hidden animals in the woods along the Cwm Cadian Trail. Leaflets are available from a dispenser in the car park. Download more info about the trail.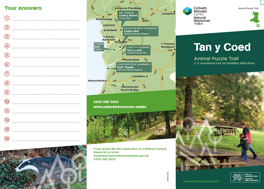 Tan y Coed Trail
1.5 mile, 2.5 kilometres
This moderate walk meanders uphill through conifer trees and then through more open beech and oak woodland. It then descends to the riverside and follows the tumbling river back to the car park.
Running trails
We opened two new running trails in Tan y Coed in 2016.
The Tan y Coed trails are a perfect escape for runners who are tired of running on the road or in the gym. They offer a unique running experience with long climbs and steep descents along forest roads and muddy unmade paths over roots, rocks and streams.
Both are waymarked and start from Tan y Coed car park.
Our leaflet gives you more information about walking and running in Tan y Coed.
Siambr Wmffre Trail
4.75 miles, 7.6 kilometres
This trail is on the steep wooded hillsides of Pantperthog in the south of the woods.
Bryn Llwyd Trail
5.25 miles, 8.5 kilometres
A steep run through the wooded hillsides of Bryn Llwyd in the north of the woods.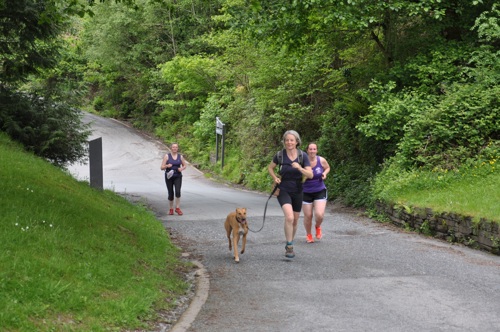 Accessibility information
Facilities include:
How to get here
The Tan y Coed car park is sign-posted off the A487 between Dolgellau and Machynlleth, south of Corris and north of Pantperthog.
The OS grid reference is SH 755 054.
Car parking is free of charge.
Public transport
The nearest train station is in Machynlleth. For details of public transport visit www.traveline.cymru
Find out more
Contact details
Tel: 0300 065 3000
Related document downloads