Pont Melin Fach, near Ystradfellte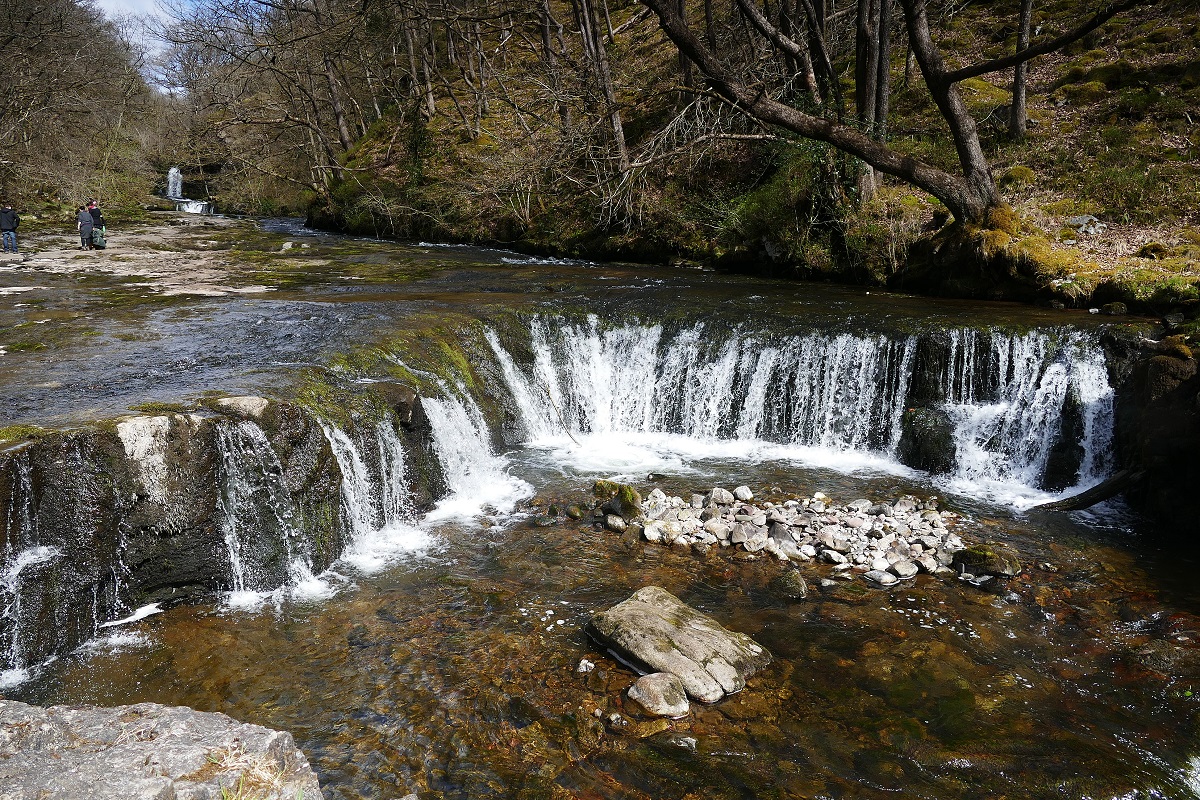 Welcome
Pont Melin Fach is a small car park and picnic area in a picturesque location next to an old stone bridge.
The walking trail from here goes past four waterfalls and is an ideal introduction to Waterfall Country.
The shady, moist landscape is rich with mosses, liverworts, and lichens that depend on the high humidity offered by the woodlands and waterfalls.
The car park is not open all year round - please see the information about opening times on this web page.​
Keep safe in Waterfall Country 
Waterfall Country is a spectacular landscape but serious accidents do happen to visitors here and there have been five fatalities in just two years.
You are at risk of life-changing injuries or death if you decide to enter the water.
Don't be tempted to jump into a pool or wade into a river for a swim as the water is cold, deep and fast flowing with slippery rocks, strong currents and hidden hazards.
Never take part in activities like gorge walking, canyoning or scrambling unless you are trained to do so or are under the supervision of a registered and licensed operator.
Wear walking boots, use extreme caution around water and keep on the waymarked paths as they offer you the safest route - going beyond the waymarked trails is highly hazardous.
Walking trail
The walking trail is waymarked from start to finish.
Look out for the information panel at the start of the trail.
Find out about walking trail grades.
Elidir Trail
Grade: Moderate
Distance: 4¾ miles/7.7 kilometres
Trail information: The ground is uneven in many places and wet, and there are some steep climbs and ascents. After reaching the village of Pontneddfechan the route back to the car park is along the same path. You can also start the trail at Pontneddfechan. 
The Elidir Trail heads downstream from the car park following Afon Nedd Fechan river.
The first waterfall (Sgwd Ddwli Uchaf) is about 15 minutes down the trail.
There is an optional short detour to see the impressive Sgwd Gwladus waterfall. You can turn around there or continue down to Pontneddfechan.
Beyond Sgwd Gwladus, the path is relatively level as it follows in the tracks of a horsedrawn tramroad once used by drams (trams) to carry silica rock down to the brickworks beside the Neath Canal. Today you can still see some of the entrances to the mines.
Waterfall Country
Pont Melin Fach is in a popular part of the Bannau Brycheiniog National Park known as Waterfall Country.
Nowhere else in Wales is there such a richness and diversity of waterfalls within such a small area as Waterfall Country. Here the rivers Mellte, Hepste, Pyrddin, Nedd Fechan and Sychryd wind their way down deep, tree-lined gorges, over a series of dramatic waterfalls, before joining to form the River Neath.
Whether you are looking for a whole day adventure or an hour's stroll you should be able to find a route suitable for you.
Waterfall Country lies largely within woodland jointly managed by Natural Resources Wales and the National Park Authority. Together we manage the paths and help you explore and enjoy this unique area.
To find other places to visit in Waterfall Country go to the National Park's website.
Closures and diversions
Sometimes we need to close or divert trails for your safety whilst we undertake maintenance work or other operations.
We may have to close a site in extreme weather, such as high winds or snow and ice, due to the risk of injury to visitors or staff.
Please always follow any instructions on site and any temporary diversion signs
How to get here
Location
Pont Melin Fach is 4 miles north east of Glynneath.
Waterfall Country woodlands straddle the county borders of Powys, Neath Port Talbot and Rhondda Cynon Taf.
Ordnance Survey map
Pont Melin Fach is on Ordnance Survey (OS) Explorer map OL 12.
The OS grid reference is SN 908 105.
Directions
Take the B4242 from Glynneath to Pontneddfechan.
Turn left towards Ystradfellte and follow this road for two kilometres.
Turn left onto a no through road (signed as unsuitable for coaches). 
Follow this narrow road (which has very few passing spaces) for 1 kilometre.
The Pont Melin Fach car park is on the left, immediately after crossing the stone bridge.
Parking
Car parking is free of charge.
Overnight parking is not permitted.
Opening times
Please note that the car park is closed from the end of March to the end of September every year.
Pont Melin Fach is reached along a narrow minor road with very few passing spaces and the car park is too small to cope with the number of visitors who wish to use it.
We have therefore agreed with the Brecon Beacons National Park Authority to close the Pont Melin Fach car park from the end of March to the end of September every year.
There is a barrier at the car park entrance and a "car park closed" sign where the minor road to Pont Melin Fach leaves Ystradfellte Road.
Please do not attempt to drive to the Pont Melin Fach car park when it is closed.
To find other places to visit in Waterfall Country go to the Brecon Beacons National Park website.
Public transport
The nearest mainline railway station is in Neath.
For details of public transport visit Traveline Cymru's website.
Contact details
There are no staff at this location.
Contact our customer team for general enquiries during office hours, Monday to Friday.
Related document downloads