Coed y Cerrig National Nature Reserve, near Abergavenny
Small woodland big on variety with accessible boardwalk
This site and visitor facilities are open – please see more details on this web page.
Coronavirus update
The Welsh Government is implementing a national coronavirus firebreak from 6pm on Friday 23 October until Monday 9 November.
The firebreak regulations replace the local restrictions which were in force in some parts of the country. They apply to everyone living or travelling in Wales.
Our sites and most visitor facilities remain open during this firebreak period but people are advised to stay at home and only visit sites in the local area to take exercise.
Visiting your local site safely
We have changed the normal route for some of our trails to help you maintain social distancing – please follow signs on site.
You need to wear a mask when going inside one of our buildings.
You can check-in via the NHS app when entering one of our buildings – scan the QR-code on the NHS Covid-19 poster on site.
Welcome
Lying in a small deep valley shaped by glaciers, Coed y Cerrig National Nature Reserve is hidden away in the southern part of the Black Mountains in the Brecon Beacons National Park.
There is a boardwalk suitable for wheelchairs that takes you through the wet woodland, just over the road from the small car park, and a steep circular route through the woodland on the side of the valley.
The road that passes the reserve was once a busy railway line, carrying men and materials to build the Grwyne Fawr reservoir nine miles away.
Small woodland big on variety
There are three distinct types of woodland here:
A wet alder woodland covers the moist valley floor. The alders used to be coppiced (cut to nearly ground level and then allowed to regrow) to make charcoal and soles for clogs
A mixed woodland of birch, ash and hazel clings to the drier steep valley sides
An oak and beech woodland grows in the more level ground with deeper, drier soils at the top of the reserve
Seasonal highlights
Spring
Look out for showy marsh marigolds in the wet valley bottom and the delicate pink 'umbrellas' of valerian growing along the boardwalk.
Spot the striking pink pyramidal flowers of early purple orchids and the colourless and strange toothwort plant which lives parasitically on the roots of other plants like hazel and elm.
Enjoy the swathe of fragrant bluebells along the path through the upper woodland.
Summer
Seek out the weird and wonderful bird's nest orchid in early summer and the elegant nettle-leaved bell flower.
Watch for hovering damselflies and dragonflies and speckled wood butterflies flitting through shards of sunlight.
Listen for the trilling of a wood warbler (like a spinning coin) in the oak woodland and watch for the black and white flash of a pied-flycatcher or the colourful black, orange and grey bandit-like colouring of the male redstart.
Autumn
As summer moves towards autumn, search for fungi like chanterelles especially in damp weather.
National Nature Reserve
Coed y Cerrig is a National Nature Reserve.
National Nature Reserves are places with some of the very finest examples of wildlife habitats and geological features.
There are over 70 National Nature Reserves in Wales.
Find out more about National Nature Reserves.
Walking trails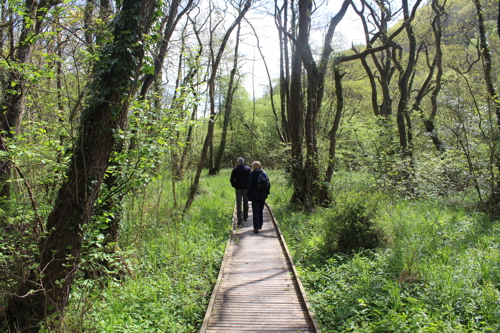 Both walking trails are waymarked from the car park.
Alder Tree Boardwalk
½ mile/0.8 kilometre, accessible
The wide and level boardwalk, with passing places and wooden benches, enables you to enjoy the woodland in the wet valley bottom. You can either return along the boardwalk or do a circular walk by following a non-boardwalk section shown on the map panel in the car park.
Woodland Climb
⅓ mile/0.6 kilometre, strenuous
This short circular route climbs steeply up a series of rough stone steps, continuing through the woodland and dropping down a slope to the car park
Closures and diversions
Please note:
Sometimes we need to close or divert trails for your safety whilst we undertake maintenance work or other operations
Occasionally we may have to close a site in extreme weather, such as high winds or snow and ice due to the risk of injury to visitors or staff
Please always follow any instructions onsite and make sure you follow any temporary diversion signs in place
How to get here
Coed y Cerrig National Nature Reserve is 4 miles north of Abergavenny.
It is in the county of Monmouthshire.
Directions
Take the A465 from Abergavenny towards Hereford. After 4 miles, turn left into the village of Llanfihangel Crucorney. After 500 metres, turn left onto a minor road to Llanthony. After 1¼ miles take the left fork, following the brown and white duck signs. The car park is on the right after 1¼ miles.
Ordnance Survey map
Location
Coed y Cerrig National Nature Reserve is on Ordnance Survey (OS) map OL 13.
The OS grid reference is SO 293 211.
Public transport
For details of public transport visit Traveline Cymru's website.
Contact details
Tel: 0300 065 3000
Email: enquiries@naturalresourceswales.gov.uk
Downloads
Related document downloads