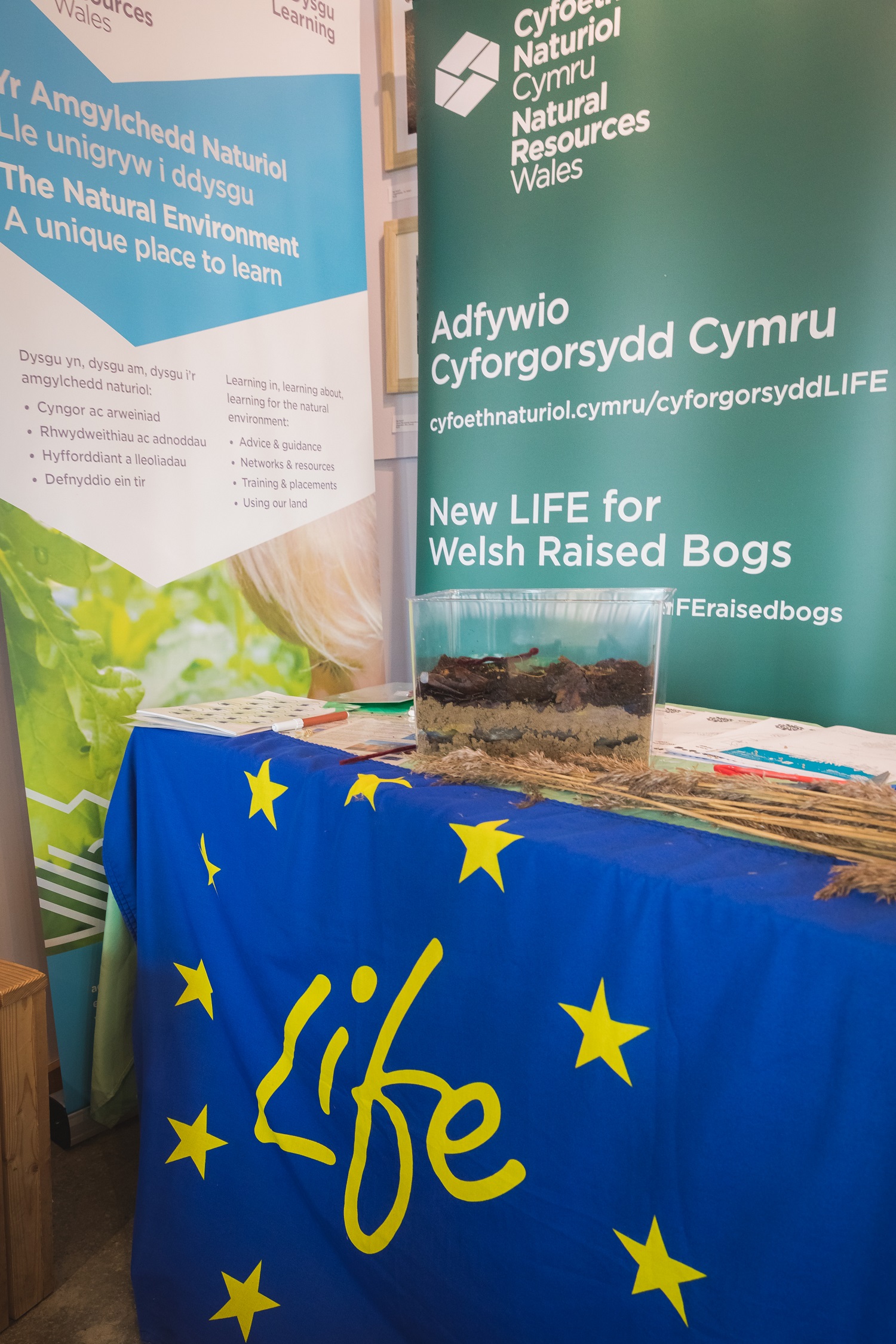 Dr Rhoswen Leonard is Natural Resources Wales' Lead Specialist Advisor for the National Peatlands Action Programme.
As part of her career so far, she has worked on two innovative and pioneering LIFE projects, here she explains what the EU LIFE Programme has enabled the projects to deliver and what are the opportunities for the future.
The LIFE Programme is the European Union's (EU) funding instrument for the environment and climate action created in 1992. To date it has financed over 4,500 projects, contributing over £5 billion to environment protection and climate action.
Projects can receive up to 75% of project costs with the aim of improving the conservation status of priority habitats or species listed in the EU's Birds and Habitats Directives and the development, implementation and management of the Natura 2000 network.
In Wales there are several LIFE projects currently in action, they include the LIFE Welsh Raised Bogs project, Sands of LIFE, Celtic Rainforests LIFE and Dee LIFE.
I have been fortunate enough to work on two LIFE projects, the Anglesey and Llŷn Fens LIFE project which ended in 2014, as well as the current LIFE Welsh Raised Bogs project.
My LIFE so far
I left Aberystwyth University in 2008 with a degree in Environmental Science and was lucky enough to get a job on the Anglesey and Llŷn Fens LIFE project, which is where my passion for working on peatlands started.
I worked as part of a wonderful, high energy and diverse team to deliver ambitious and experimental restoration.
Rich fen habitats are very rare and depend on a delicate water balance and limestone springs. However, dereliction of these habitats in north Wales over many years meant that they had suffered.
As part of the project team we worked with landowners and farmers to restore the habitat by removing scrub. Then introduced grazing with cattle and ponies to keep on top of the scrub and grass growth.
We also managed water levels by re-profiling drainage ditches created for historical peat cutting. We restored groundwater supply pathways to slow down the rate at which flood water reached flood risk areas. At the same time this cleaned up millions of litres of water in water courses.
Over 200 hectares of land was brought into direct conservation management and public access was also improved. Several years on and the work has paved the way for the re-discovery of plants that haven't been seen on the sites for over 120 years.
The Anglesey and Llŷn LIFE project was the largest wetland restoration project in Wales at the time. It successfully restored 750 hectares of this very rare alkaline and calcareous fen habitat.
For the love of bogs
In 2013 I decided to return to study and started a PhD in Peatland Ecohydrology at Birmingham University. For my PhD I worked on Canadian boreal peatlands and was fortunate to experience experimental science and restoration on a huge scale in Canada.
I balanced completing my PhD whilst starting to work with the LIFE Welsh Raised Bogs (WRB) Project. Working on another ambitious, large scale, specialist peatland restoration project in my home-county was a no-brainer.
As Project and Monitoring Officer for the LIFE WRB project one of my main sites was Cors Caron National Nature Reserve (NNR). Cors Caron is one of the largest actively growing raised bogs in the lowlands of Britain – with peat up to 10 metres deep in places.
Raised bogs are one of Wales' rarest and most important habitats and, because of their environmental interest and importance, they are designated Special Areas of Conservation (SACs). There are only seven raised bog sites in Wales designated as SAC, and these are being restored as part of the LIFE WRB project.
All seven sites have suffered due to historical drainage and peat cutting in the past and this has caused invasive plants to take over and dry out the sites. Restoration work will focus on improving the natural water levels of the peatland, removing invasive species and scrub and introducing light grazing.
Raised bogs are home to rare plants and wildlife, they store carbon from the atmosphere and help in the fight against climate change. They can store water to prevent flooding and help to improve water quality by purifying and filtering water. They are also great places for people to visit and enjoy nature at its best.
High and lows of LIFE
The highlight for me from the Anglesey and Llyn Fens LIFE project is returning to see a restoration site 10 years post restoration and seeing it full of target species and on a trajectory for recovery.
With the LIFE WRB project I really enjoyed the people engagement side of the role. Peatlands are a very under-rated ecosystem and I have a real passion for increasing awareness of their value.
Working with the Tregaron and Ceredigion community to explain the wonders of Cors Caron NNR and our other sites has been challenging and rewarding. To see the amazement on the faces of people when we demonstrate the depth of peat through peat coring, or to listen to people's memories and past perceptions of the bog is amazing.
Project lows are when machines get stuck! This is inevitable on a peatland restoration project, but it always ties my stomach in knots until machines are safely un-stuck.
The future for Welsh peatlands
Raised bogs, blanket bogs and fens that make up peatland habitat should be some of the most biodiverse landscapes in the UK. However, lack of management, overgrazing, burning, drainage and historical peat extraction means that 80% of peatland is currently in a damaged and deteriorating state. More info can be found on the IUCN Peatland website.
Peatlands are our biggest carbon store and so improving and creating healthy peatlands is vital in the fight against climate change.
Going forward, I think we can expect to see much more peatland restoration in Wales. There is a clear Ministerial commitment to "bring under sustainable management all areas of peat supporting semi-natural habitat."
As part of this commitment, the Welsh Government is funding Natural Resources Wales (NRW) to develop and deliver the first year of a National Action Programme on peatland restoration in 2020-2021. This will boost restoration of this scare and important suite of habitats on a national scale.
To date, the EU LIFE Programme has played a significant role in the implementation of major environmental projects here in Wales and elsewhere in the UK. The present LIFE programme started in 2014 and runs until 2020, with a budget of over £3 billion.
In June 2018 it was announced that the budget for the new LIFE programme covering the period 2021-2027 will be raised to £4.79 billion, this is good news for the environment, wildlife and people.
To find out more about the LIFE Welsh Raised Bogs project please follow the project on Facebook @CyforgorsyddCymruWelshRaisedBogs or Twitter @Welshraisedbog