Fencing work to safeguard and enhance the important habitats at Kenfig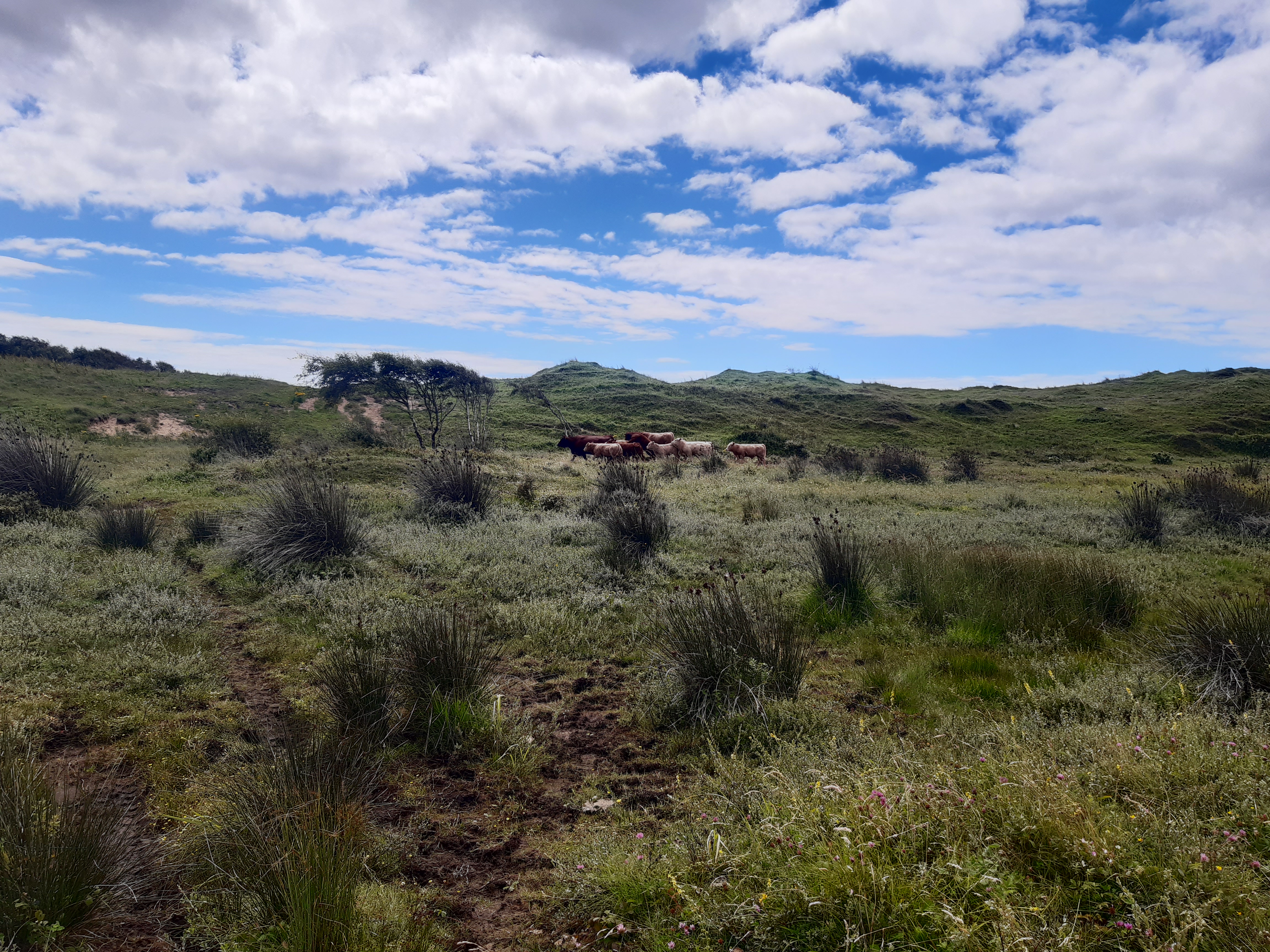 Laura Bowen, Sands of LIFE Project and Monitoring Officer South, joins us to shed light on the upcoming fencing work as part of the project's ambitions to protect and enhance the wildlife that have made Kenfig National Nature Reserve their home.
What is proposed?
In partnership with Kenfig Corporation Trust, Natural Resources Wales' (NRW) Sands of LIFE project team is proposing to erect a new 5km livestock fence at Kenfig National Nature Reserve to allow an extra 200 hectares of dune grassland to be grazed sustainably for the benefit of rare wildlife.
Why is this work required?
Kenfig is designated as National Nature Reserve (NNR), a Site of Special Scientific Interest (SSSI) and a Special Area of Conservation (SAC) because of the rare and threatened sand dune habitats and species it supports.
Much of the importance of the site lies in its characteristic dune grassland and dune slack plant communities, which are declining in quality. Grazing helps slow down and stop the otherwise inevitable losses to these internationally important habitats and associated rare species.
It also helps to control coarse grasses, bracken and scrub, and grazing animals can also create small patches of bare ground which are vital to the specialist flora and fauna found on the dunes.
Currently the northern part of the site is grazed, proving to be a successful method in providing a better-quality habitat resulting in more flowering plants.
The new fence will allow cattle to graze across a larger area than is currently possible (an additional 206 hectares in the southern part of the site). This will improve the quality of the dune habitats and help safeguard and enhance them for the long term.
What will the fence look like?
The fence will be constructed from sustainably-sourced timber posts, strained wire and sheep netting. No barbed wire will be used. The fence line will run from grid reference SS806822 at the north-eastern boundary of Kenfig NNR to SS789802 (by the coast).
How will access be maintained? 
The fence will have plenty of gates and stiles to enable people to access the dunes and walk freely around the common.
Gates have been placed along the routes used on the ground - on both Rights of Way and informal paths. On the bridleway, gates accessible to horses and bikes will be used. On more minor routes, stiles will be installed. Sands of LIFE has worked with Bridgend County Borough Council Rights of Way Team to ensure the type and location of the gates are of the required standard.
Several areas will be outside the fence giving the opportunity for people to walk in areas that the cattle cannot access.
What permissions are needed?
As Kenfig dunes are a Registered Common, Common Land consent must be obtained before works can take place. This process is already underway. Sites of Special Scientific Interest consent and a protected species licence are also being applied for. Permission is also being sought from the Council to fence across the Rights of Way and erect gates.
How will the grazing be managed?
The stock levels will be closely managed and regulated under a conservation management plan to ensure that the site is grazed accordingly. Regular monitoring of the livestock will be carried out by the grazier who has many years' experience at Kenfig. Monitoring of populations of rare orchids and other dune slack species will take place to assess the impact of grazing over time. The Sands of LIFE and Natural Resources Wales team will keep people updated as and when results are available.
Share your views
If you would like to share your views on the proposed fence or would just like more information please email SoLIFE@cyfoethnaturiolcymru.gov.uk.