Ecological Enhancement of Coastal Structures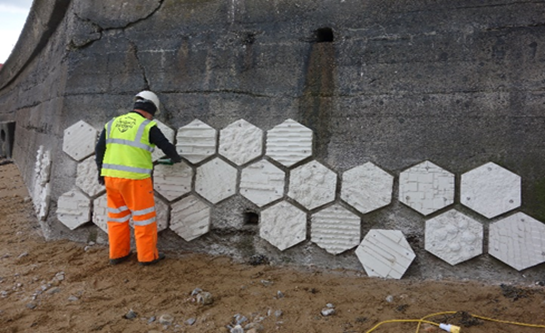 Climate change is having a significant impact on the Welsh coastline and its communities. It is becoming even more important to defend communities from the impacts of sea-level rise and flooding, and to maintain amenities for people to enjoy.  Limiting the impacts on biodiversity loss through coastal squeeze and other factors is also a vital component. Over the last 5 years, nature-based solutions have become an important way to tackle these issues.
To support these needs, we commissioned Arup to create a guidance report and training toolkit for stakeholders and staff which outlines how to make changes to coastal structures to improve biodiversity around our coast. It is the first guidance of its kind for ecological enhancements to coastal structures and promises to provide valuable and practical insights for practitioners.
The multidisciplinary team worked with NRW staff, Welsh Government, Welsh Water, various Local Authorities, Environment Agency, Network Rail and other stakeholders to come up with the step-by-step guide for practitioners in the field.   
The guide demonstrates what ecological enhancements are, and the evidence base around their use to date. It addresses some of the barriers which currently prevent them from being used and contains stepped processes to support organisations to implement the ecological enhancements within their projects, including issues around consenting and licensing. It highlights several case studies of where these features have been used to date, including the trial Mumbles Sea Wall tile project and in Penrhyn where several tidal pools will be placed at different levels of the foreshore.     
The guide aims to raise awareness of the growing importance of ecological enhancements. And importantly, to help practitioners, engineers, regulators, asset managers, and other decision-makers to begin using ecological enhancements more widely.
As we grow our experience in implementation, monitoring and evidence base over the next few years, the guidance will be developed to reflect that, so that organisations can continue to use it as the key resource for ecological enhancements along the coast.
The guidance document and training toolkits can be found on our nature-based solutions webpage here.