Celebrating 10 years of the Wales Coast Path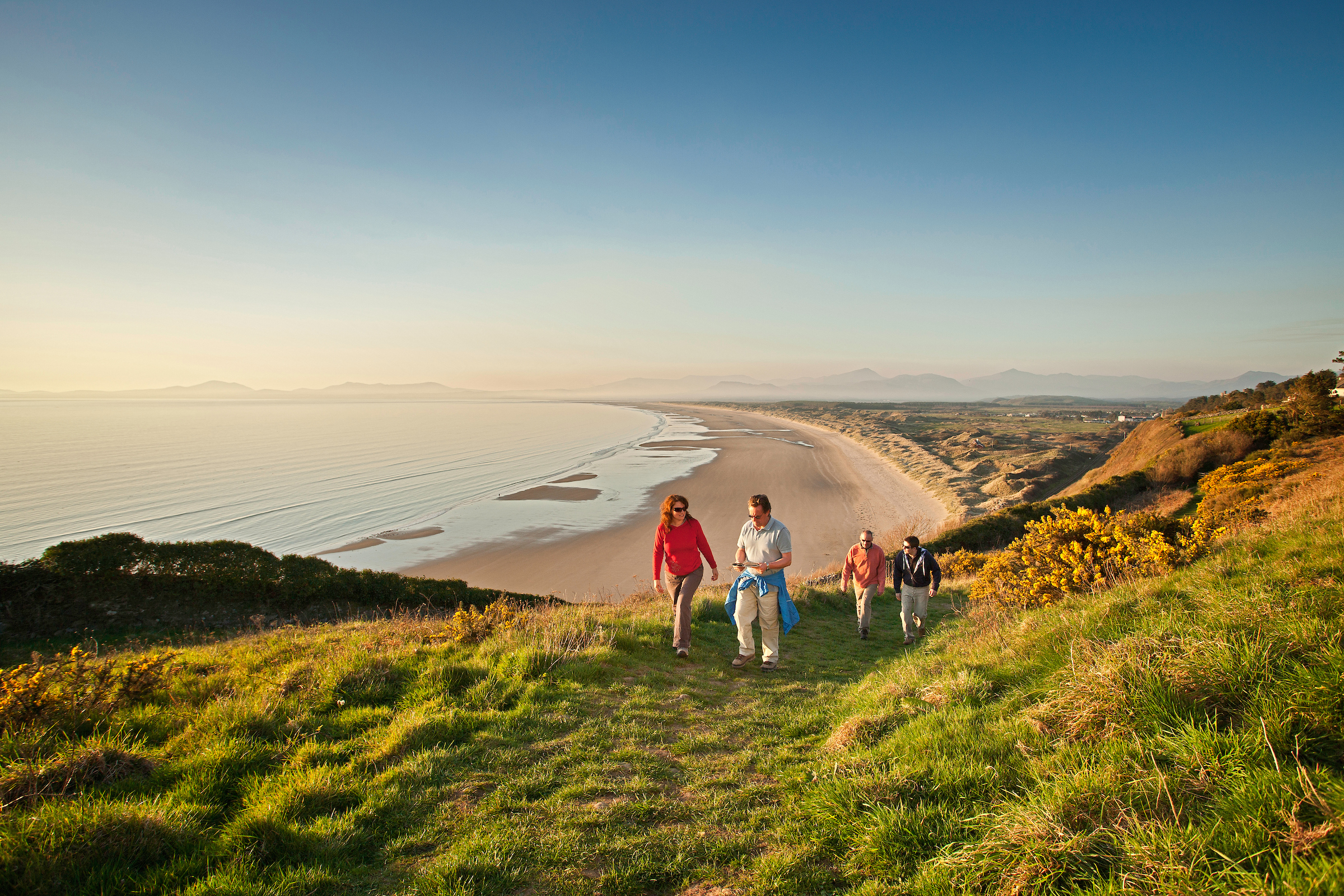 In NRW, we are celebrating a decade of coordinating one of the best trails in Wales.
For 10 years, our Wales Coast Path team has worked closely with the Welsh coastal local authorities, Snowdonia and Pembrokeshire Coast National Parks, Welsh Government and Visit Wales to develop, maintain and promote the path.
Here, Eve Nicholson, Wales Coast Path team member, tells us more about this amazing path.
The Wales Coast Path celebrates its 10th anniversary this year. If you've not visited the Wales Coast Path yet, maybe 2022 will be the year you experience this life-changing route (some say!).
What is the Wales Coast Path?
The Wales Coast Path is an 870-mile (1,400 km) walking trail. It is one of only a few trails in the world to follow a country's coastline.
The path connects many well-known and historic coastal trails such as Anglesey, Ceredigion and Pembrokeshire.
The path also joins up with the 177-mile Offa's Dyke Path National Trail along the Welsh-English border, which means you can circumnavigate on foot around the entire country of Wales. That's a wonderous 1,047 miles (1,685 km)!
What can you do on the path?
Not only can you walk the entire path, you can cycle some of it too, because the path also runs alongside some of the National Cycle Network.
Parts of the path are also perfect for wheelchairs and buggies. Check out our Easy Access Walks on the Wales Coast Path website for wheel-friendly places to go.
One path, many opportunities
Although it is a continuous path, we've divided it into 8 distinctive regions, each offering a different perspective of the coastline:
1. North Wales Coast & Dee Estuary
2. Isle of Anglesey
3. Llŷn & Snowdonia Coast
4. Ceredigion
5. Pembrokeshire Coast Path
6. Carmarthenshire
7. Gower & Swansea Bay
8. South Wales Coast & Severn Estuary
The path offers so many opportunities to explore places in Wales you may not have realised were on your doorstep.
Why you should visit
From jaw-dropping coastal views, to stunning cliff top walks, to an urban working coastline – there's a diverse range of landscapes for you to enjoy. The challenge of hiking up and down the coastal cliffs may leave you out of breath but your hard work is rewarded with some of the best coastal views in the UK.
Along your way, you'll encounter many villages and towns offering lots of opportunities to learn more about Wales' rich culture and heritage through landscape and language. There's a story to be told at every turn.  
We all know that being out in the fresh air is good for our physical and mental well-being. The path is a great way to get exercise, feel the sea breeze on your face or to simply sit and listen to the waves. From a simple stroll to a hiking challenge, the path can offer you a life-changing experience.
Plan your visit
We think the best way to celebrate the path's 10th anniversary is simply to visit it. 
Lots of people start with the part of the path nearest to their home and gradually become curious about what else is there to see. 
Take your first step to discover a true wonder of Wales:
Step 1: Browse our Plan your visit page for useful resources like distance tables and an interactive coast path map which lets you plot your route.
Step 2: Browse our inspirational itineraries on where you can walk. We've got themed short walks that take up to half a day, and multi-day walks perfect for a long weekend of walking. 
Step 3: Get out on the path and enjoy its sheer diversity. You can join the path wherever you see waymarkers with our yellow and blue "dragon shell" logo.
We hope to see you out on the path soon!