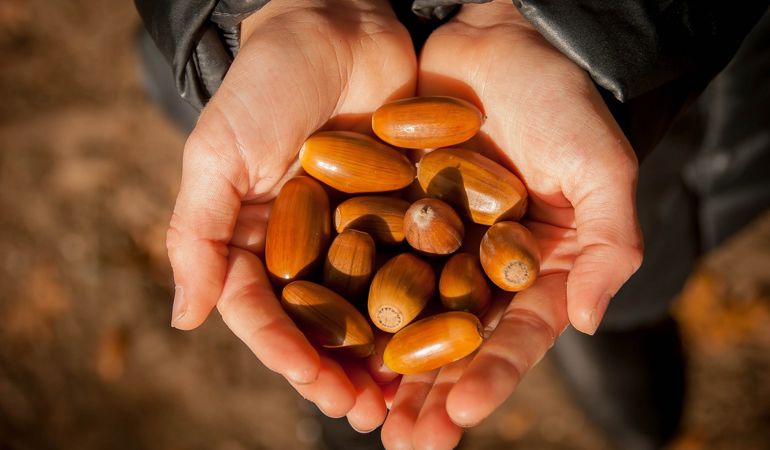 Collect seeds from trees and help raise funds for your education group
Each year we run our Acorn Antics campaign to highlight the importance of seed collection and help grow more trees from locally collected seeds. 
The acorns that are collected will help us grow native trees from the seed of healthy, local, tree stock whilst encouraging learners big and small to get outside in the fresh autumnal air and connect with our wonderful Welsh natural environment.
Acorn Antics 2022 - the results!
A huge thank you to the 22 education settings that took part in our 2022 Acorn Antics campaign.  Just over 3/4 of a tonne of acorns were collected generating £3316.16 for the education settings that rolled up their sleeves, embraced the fresh air and scoured the ground for acorns!
Congratulations to Ysgol Pant Pastynog, of Prion in Denbighshire who have been awarded the first-ever Digital Acorn Award. This is an award presented to the education setting that shares the best enviro-vlog documenting their Acorn Antics adventure. The school has been awarded a £150 voucher for its efforts.  Hats off to Ysgol Maesglas, Holywell, Flintshire and Ysgol Calon y Dderwen, Newtown, Powys who have jointly been awarded the Golden Acorn Award.  Quality not quantity, this award was given to both settings (it was impossible to choose between them!) as the tree nursery decided they had both collected the best quality acorns.
How do I get involved in Acorn Antics?
Education groups based in Wales or anyone fundraising for their local Wales based education group are welcome to take part.
Please revisit this page in the autumn 2023 to sign up.
Looking for learning resources on trees and woodlands? 
To maximise the learning opportunities of taking part in our Acorn Antics Campaign have a look at our Trees and Woodlands webpage, where you will find resources and activity plans suitable for learners of all ages covering everything from how to measure a tree's height to instructions on how to grow an acorn.
For more information email us at education@naturalresourceswales.gov.uk