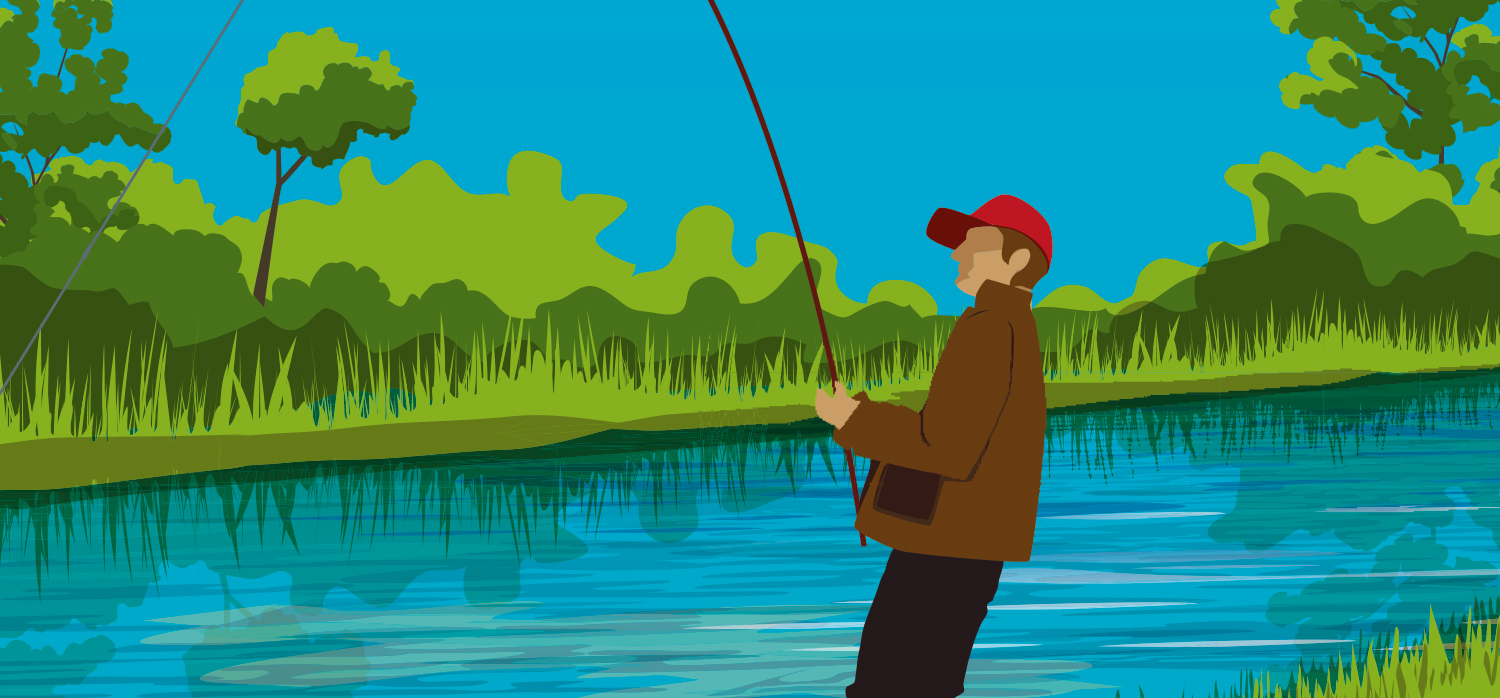 The Welsh countryside is an amazing natural resource and fishing its rivers, canals, lakes and reservoirs is an ideal way of getting closer to it.
This code contains information that will be well known to a seasoned angler but will help newcomers get the most out of angling in Wales, whilst also safeguarding the future of the sport.
Take special care of the natural environment while you are fishing:
respect other people
protect the natural environment
enjoy the outdoors and stay safe
Respect other people
The main Countryside Code gives important advice on how to use the countryside responsibly. Be aware of it before you go out and follow it at all times. 
Don't trespass. There are areas with designated public access, including rights of way, access land and some waters with navigation rights. However, outside these areas, you should not assume that you have access onto any land or water without the owner's permission. 
Every angler fishing in England and Wales requires a rod licence to fish and permission from the owner of the stretch of river, lake, reservoir or canal. It is very important that you respect the rules of the fishery owners and any statutory byelaws in force in the area. 
Where applicable, ensure that you have purchased a day ticket to use the fishery. You need a day or season permit to fish any inland water.
Respect other anglers. Make yourself known to anyone fishing and find a spot that is an appropriate distance away from them.
Respect the rights of other water users. Be courteous to them and indicate to them where you are fishing so that they can pass by without disturbing you.
Protect the natural environment
Fishing rules and regulations are intended to help fish stocks replenish for future generations and ensure that the rivers remain healthy. Make sure you are fishing within the fishing season, which is generally between March and October for game fishing or between June and March for coarse fishing. However, local restrictions and variations may apply.
If you are visiting a venue for the first time, consult the local club or the owner of the fishery to find out about any restrictions. There may be bag or size limits on the river, ponds and restrictions on fishing methods and times.
While fishing, the handling of fish has an important role to reduce the risk of stress and disease. Landing nets and keepnets must be of knotless mesh and in some cases of a specific size. Some fisheries also have size restrictions for keepnets. Consider carrying an unhooking mat for carp and other large fish in some places.
Catch and release is a way of safeguarding future fish stocks and may be mandatory in some places. Help make this activity as humane as possible:
use a strong line so that you can play the fish quickly in order to return it to the water as soon as possible
consider using barbless hooks to avoid unnecessary harm to fish
take great care when unhooking a fish and return it to the water as soon as possible
select a fishing station that gives you control and easy access to land a fish and make sure you have the appropriate equipment, landing nets, disgorger etc
Bank-sides are home to a great variety of plants and animals. Minimise damage and disturbance to them, use recognised pathways or bare rock.
Take care not to alarm birds, livestock or other animals as they may be very sensitive to disturbance; if you see animals looking agitated by your presence move away quietly.
Be aware that ground-nesting and hole-nesting birds may be breeding on islands, banks and shingle in the spring and summer; be particularly careful not to disturb them at this time.
Do not discard any angling litter or tackle, and be particularly careful to take home all line that is no longer needed.
Some areas of rivers and reservoirs may be designated as sanctuary areas. Please respect these and keep away from them.  Those anglers who fish in winter and spring are advised to avoid areas where fish may be spawning. Do not enter any water where this activity is taking place. It is an offence to disturb spawning fish.
The current discovery of the presence of non native species (alien species) in our rivers and lakes needs careful management.  Do not move from water to water without disinfecting or thoroughly drying out your equipment. Take special care when using nets or felt soled waders.  For more information, visit the Non Native Species Secretariat (NNSS) website.
Enjoy the outdoors and stay safe
You are responsible for your own safety. Let someone know where you are going and when you are likely to return, and always have a way of raising an alarm if you need help.
Access to river, lake, reservoir or canal banks can be dangerous, especially at night. Make sure you have suitable footwear and a torch.
Water conditions can change rapidly. Check weather conditions before you leave the house and beware of getting trapped on gravel banks and islands if the river comes into spate.
Be aware when casting. Check the area for any hazards, such as power lines or people standing behind you. Take care when fishing in the wind, as it can blow the hook back in your face. 
Bacteria, viruses, and toxic algae may be present in some water. Generally, if the water looks or smells bad, don't enter. However, if you are entering suspect water:
cover all cuts and abrasions with waterproof plasters
wear footwear to avoid cutting your feet
avoid swallowing water
wash as soon as possible after getting out and particularly before eating any food
contact your doctor if you start experiencing any symptoms and tell them where you have been
To report an environmental incident, call us on 0300 065 3000 (24 hours).