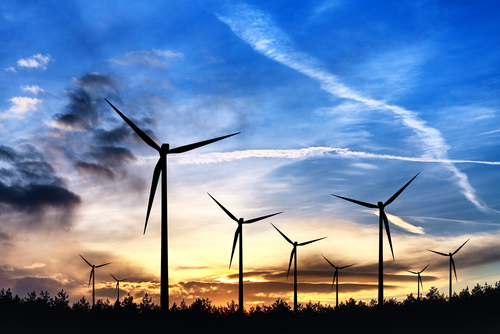 Wind Energy Programme
The Natural Resources Wales Wind Energy Programme aims to integrate wind farm development into the sustainable management of the Welsh Government Woodland Estate.
The Wind Energy Programme works with selected Developers (Option Holders) to deliver a significant contribution to the Welsh Government's onshore wind energy target.
Wind Energy Projects
The following section provides updates on the progress of each of the Wind Energy Projects as of September 2022.
Alwen Forest (9 turbines / up to 33MW)
Developer – RWE Renewables UK Ltd
RWE is working with Community Energy Wales to develop a renewable energy project in north Wales adjacent to Llyn Brenig and the Alwen Reservoir within working forestry managed by Natural Resources Wales. The project aims to deliver up to 33MW of clean energy and could include up to nine wind turbines.
More information on the Alwen Forest Onshore Wind Farm
Clocaenog Forest (27 turbines / 96MW)
Developer – RWE Renewables UK Ltd
On Friday 8 July 2022, the Clocaenog Forest Wind Farm was officially opened by Julie James MS, Welsh Government Minister for Climate Change. The Minister was joined by dignitaries, community and business leaders, and representatives from NRW and RWE's development, construction & operations teams, to celebrate the occasion at the Llyn Brenig Visitor Centre.
The wind farm, located on the NRW managed estate near Denbigh, is a large-scale renewable energy generation project which consists of 27 turbines, capable of providing renewable electricity equivalent to the needs of around 63,800 Welsh homes annually.
NRW have worked closely with RWE to facilitate the delivery of this project through the planning, development, and operational phases. This includes a £19.2 million Community Trust Fund that, has so far helped deliver numerous various community projects, and will continue to do so for the lifetime of the project.
There is also a Habitat Management Plan that includes 131 hectares of heathland restoration, 20 hectares of bog restoration and 17 hectares of newly created dormouse habitat.
Brechfa Forest West (28 turbines / 57.4MW)
Developer – RWE Renewables UK Ltd
Brechfa Forest West Wind Farm was constructed over two years and became fully operational in 2018. It has an installed capacity of 57.4MW, generating enough renewable energy to power 38,800 average Welsh homes annually.
In 2018, RWE launched the Community Fund worth £11m over the 25-year operational period. Further information can be found on RWE's community funds page and the community fund website.
Under the Habitat Management Plan (HMP), RWE has been monitoring numbers of Nightjar since 2013. By opening up the forest and providing increased habitat for this species, the breeding numbers have steadily increased up to a record of 24 young in 2019. RWE has also installed 10 den boxes for the elusive Pine Marten, which are monitored annually. In 2020, Pine Marten were confirmed in Brechfa Forest for the first time in over 20 years, thanks to camera traps installed to monitor activity around the den boxes. Other work in relation to the HMP includes priority habitat restoration (i.e. heathland and grassland), PAWS re-establishment, bat and bryophyte monitoring, and invasive species removal.
The Public Access Management Plan requires RWE to deliver a circular walking route within Brechfa Forest West, and it is expected that this will be completed by October 2022.
Pen y Cymoedd (76 turbines / 228MW)
Developer – Vattenfall
Wales's largest onshore wind farm has been operational since 2017 and has an operating lease period for 25 years. Pen y Cymoedd generates enough power annually to meet the electricity demand of more than 188,000 UK households and will more than meet the domestic demand of host local authorities Rhondda Cynon Taf and Neath Port Talbot. Over the lifetime of the project, it is expected to save 6.4 million tonnes of CO2.
Vattenfall has also constructed a 22MW battery storage scheme on site – believed to be the largest co-located battery and wind farm project in the UK – the battery provides grid stability services to National Grid. 
The Pen y Cymoedd Community Fund was set up in 2017 and provides investment to support local jobs and projects in the upper Neath, Afan, Rhondda and Cynon Valleys until 2043.
The Habitat Management Plan – funded by Vattenfall and delivered by Natural Resources Wales started in 2018 – aims to restore 1,500ha of native habitats across the wind farm's area. The priority is hydrological restoration, or rewetting, of approximately 800 hectares of degraded blanket bog, the reminder being wet and dry heath and native woodland. By returning the area to a more natural state, the hope is the bog shall lock more carbon in the land and become richer in wildlife. With a 25-year commitment and a £3million fund available, great progress is already being made. For more information, please contact PYCHMP@cyfoethnaturiolcymru.gov.uk.
Information on the Pen y Cymoedd wind farm
Y Bryn Project (up to 21 turbines / up to 151.2MW)
Developer – ESB and Coriolis Energy
ESB and Coriolis Energy in partnership are currently developing a renewable energy project of up to 21 turbines on the NRW managed estate in south Wales. The proposed wind farm site is located across two forest blocks. The Bryn Forest block is located to the south of the B4282, with the Penhydd Forest block located to the north of the road.
A full planning application is expected to be submit to Planning and Environment Decisions Wales in 2023.
Information on the Y Bryn wind farm
Contact Us
If you have any questions about the Wind Energy Programme or Projects please email: commdevteam@cyfoethnaturiolcymru.gov.uk