Pioneering tree felling operation successfully preserves ancient goldmines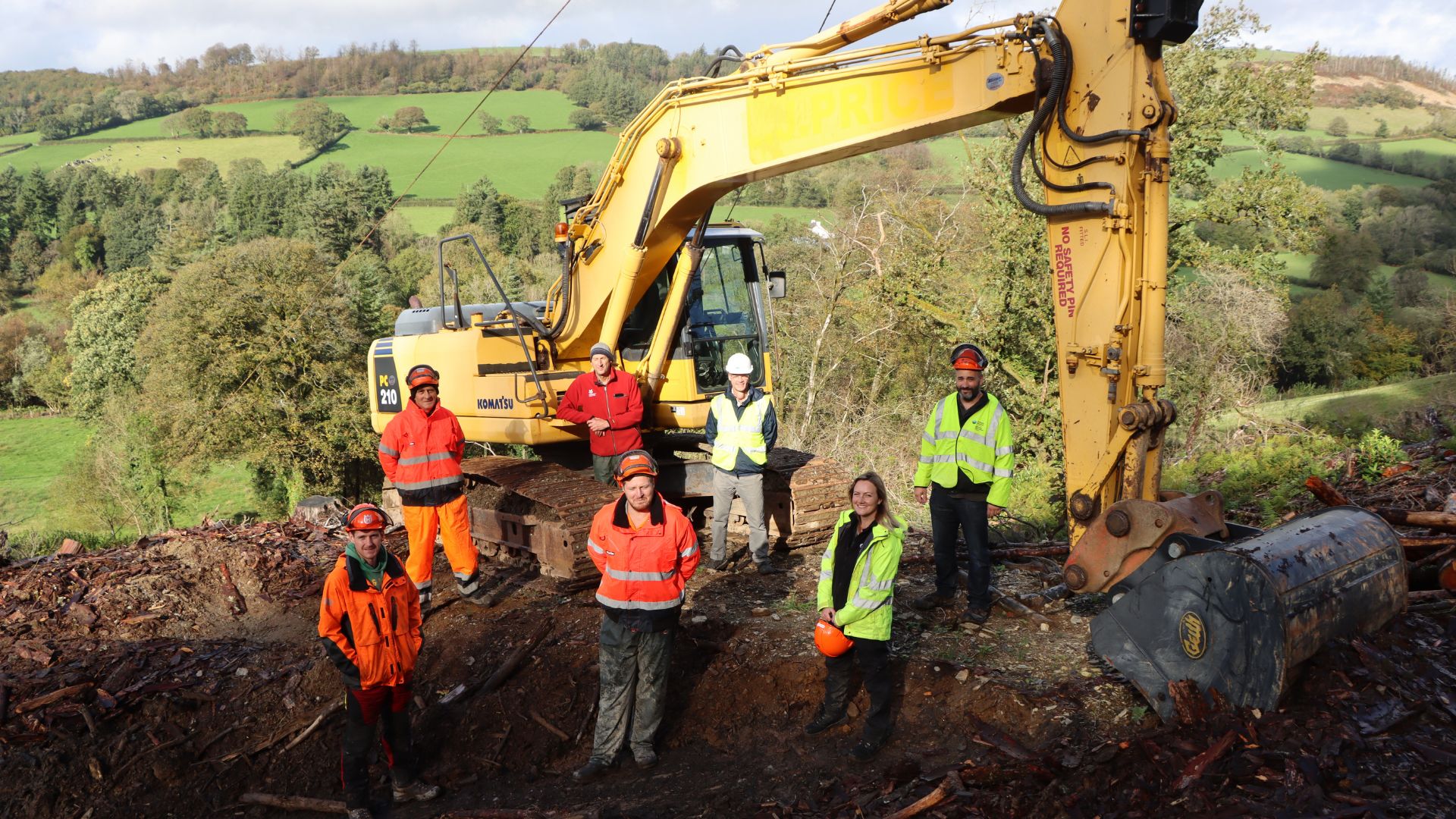 A pioneering tree felling operation engineered to remove diseased trees while preserving ancient Roman mine workings at Dolaucothi Goldmines Forest, south Wales, has been completed successfully.
The Dolaucothi Goldmines Forest is leased to Natural Resources Wales by the National Trust and forms part of the adjacent Roman goldmines. It is rich in archaeology with designated Scheduled Monuments including Roman leats, water tanks, hushing gullies and quarry works intersecting the site. 
Nine hectares of the NRW-managed forest were infected with larch disease (Phytophthora Ramorum) and needed removing. The trees were standing dead and posed a safety threat to members of the public and the archaeological features.
The site presented many challenges as there was no access to take timber out of the forest and it was really important to make sure the important historic features were not accidentally damaged by heavy machinery.
Natural Resources Wales worked closely with Cadw, National Trust, Dyfed Archaeological Trust and local landowners to understand where the remains were and to work around them so they remained safe and protected.
Thompson Brothers Timber Harvesting took up the challenge of the felling and designed an innovative system for the felling and extraction of the timber. Trees were cut into small pieces and sent in bundles across the landscape on a cable several metres above the Roman workings, down the hill to a landing bay below.
Caroline Riches, Forest Works Manager for the Dolaucothi Goldmines site, Natural Resources Wales, said:
"A Statutory Plant Health Notice had been issued on the site following the diagnosis of larch disease. The larch had been treated to comply with that notice, and since that time, the challenge has been set to remove the dead trees.
"What followed was a complex felling operation that involved extensive collaborative working from the planning stages right through to the execution.
"Strong partnership working, and the development of a sensitive harvesting method has resulted in us being able to safely remove the diseased trees and successfully preserve the Scheduled Monuments at Dolaucothi."
Aaron Thompson, of Thompson Brothers Timber Harvesting, said:
"We knew before taking on the job that this was a difficult site with a lot of archaeological constraints to deal with. We've worked complex sites before, but definitely not to this extent.
"It's been a good experience to work with NRW and all the partners on this job. We're a local family so to have a job of this scale on our doorstep has been a real positive for us."
Louise Mees, Inspector of Ancient Monuments and Archaeolofy for south west Wales, of Cadw, said:
"This has been a very rewarding project that has brought us new insights about the complex archaeology of the Roman Gold Mines at Dolaucothi – a unique site in the UK.
"Cadw is extremely grateful to Caroline Riches, Natural Resources Wales, and the Thompson Brothers for devising and implementing an ingenious timber extraction system that allowed the work to be carried out while also fully protecting the unique archaeological features that make up this fantastic site."
David Hart, Lead Ranger, of National Trust, said:
"National Trust is pleased that the tree felling work in this part of our Dolaucothi Estate has now been completed, especially given the lengthy discussions needed to satisfy all of the criteria set out protect the Roman Archaeology that is scattered throughout the woodland.
"The next steps to replant this area of hillside with a mix of native trees can only help to support what is already a diverse and wildlife rich estate."
Alice Pyper, of Dyfed Archaelogy Trust, said:
"As well as the nationally important archaeological remains which are protected by law, the Dolaucothi area is rich in undesignated archaeology, much of which is related to the Roman goldmines.
"Partnership working has ensured that no other archaeological remains have been disturbed without consideration and that works have been carried out to minimise any risk to the wider archaeological landscape."
The work was carried out in two phases and was completed in August.
All of the felled timber has been sold as biofuel, which is a sustainable energy source and supports the local economy.
As the area is designated as Ancient Woodland, it will be restored to native woodland species such as oak, rowan and hazel.