NRW welcomes commitment to invest in Wales' future flood risk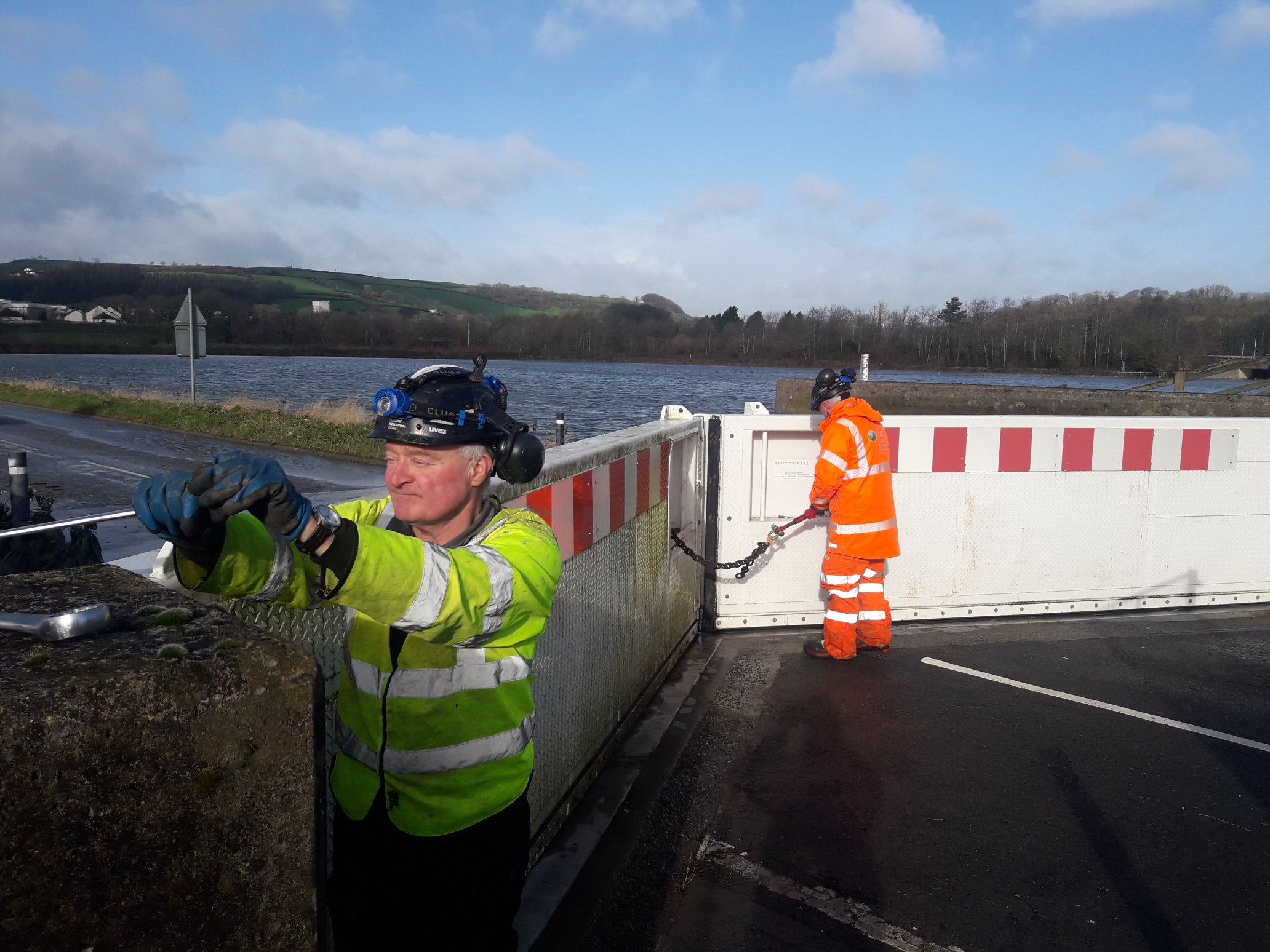 There should be no doubt about the scale of action needed to adapt to the climate emergency the Chief Executive of Natural Resources Wales (NRW) said today (15 March) as the environment body welcomed the Welsh Government's financial commitment to strengthening the nation's flood and coastal defences.
The Minister for Climate Change, Julie James MS has outlined a range of projects that will be supported over the forthcoming year as part of the Flood and Coastal Erosion Risk Management, 2022-23 programme of investment.
With 1 in 8 (around 245,000) properties in Wales are at risk of flooding, the commitment will enable NRW to progress its plans to build and maintain flood defences across key flood risk areas across the nation.
The announcement comes in the weeks following the publication of the latest Intergovernmental Panel on Climate Change (IPCC) report which underscored the urgency with which the world should act to mitigate against climate impacts.  
Extreme weather events are expected to become more frequent and more severe in Wales in the future. Just four months on from COP26, where world leaders committed themselves to rapid action on climate change, the scale of the task is deemed more urgent than ever.
Clare Pillman, Chief Executive of Natural Resources Wales said:
"Investing in and maintaining flood defences will always be at the heart of Wales' approach to managing flood risk, and we welcome this commitment from the Welsh Government to improve defences and to support flood risk projects for the forthcoming year.
"The IPCC report published last month highlighted the need for the urgent delivery of effective adaptation measures, and how actions we take today will shape how people adapt and how nature responds to future shocks.
"This means putting our ambitions for a climate and nature recovery on equal footing and using all the levers at our disposal to manage flood risk.
"We need to embed of a mix of flood risk management approaches that includes both hard engineering and nature-based measures to improve Wales' resilience to extreme weather. That means working both upstream to reduce the risk of flooding and working downstream to ensure that when flooding does occur communities suffer minimum damage and can recover quickly.
"The scientific evidence is undeniable - climate change is making it harder to hold weather-related shocks at arm's length, and the IPCC's report and COP26 commitments should leave nobody in any doubt about the scale of action needed right now to tackle the emergency."
Across the whole of Wales, 73,000 properties at risk of flooding already benefit from NRW's flood defences.
Pending relevant permissions and approvals, the schemes earmarked to benefit from the flood programme 2022/23 include:
New projects
The development of a strategic flood risk management masterplan for the whole River Taff catchment in response to the February 2020 floods. NRW has been carrying out detailed flood risk modelling in the Lower Taff catchment and the River Cynon and Rhondda rivers to support the next phase of work planned to develop the plan. This work is being done in collaboration with all flood risk management authorities in this area.
Pwllheli, Gwynedd - A new scheme to address both river and tidal flood risk to hundreds of properties on the Llyn Peninsula.
Cowbridge, Vale of Glamorgan – commencing construction work to meet NRW's statutory obligations under the Reservoir Act to deliver safety improvements to the flood storage area protecting the communities of Cowbridge and Llanblethian.
Afon Wydden in Llandudno, Conwy - commencing construction work to meet our statutory obligations under the Reservoir Act to deliver safety improvements to the upstream storage area protecting the community of Llandudno Junction along with critical infrastructure such as the A470.
Ongoing projects
Stephenson Street, Newport – commencing construction work to improve tidal flood defences in the Liswerry area of Newport reducing the risk of flooding to 194 homes and 620 businesses.
Llyn Tegid, Bala, Gwynedd – continuing the ongoing construction on reservoir safety works to the embankments and structures which surround Y Bala.
Ammanford, Carmarthenshire - construction work to improve local flood defences in Ammanford which will benefit 289 homes and 13 businesses.
Cardigan, Ceredigion – progress scheme development for areas liable to tidal flooding in the town around the Strand and St Mary Street and develop design work ahead of future defence construction.
Llanfair Talhaiarn, Conwy – completion of construction work on culvert improvements already undertaken in the village and community and consideration of other measures within the local catchment
Funding will also be available to help progress detailed appraisal work and flood risk project development work in Tenby, Llangefni, Porthmadog, Liswerry Pill in Newport, Aberdulais and in Bangor on Dee.
NRW will also receive funding to continue its substantial improvement project on its Flood Warning and ICT systems and other related services such as the flood forecasting and telemetry systems. This will help progress some of the actions outlined and the lessons learnt in the reviews of the February 2020 floods when NRW called for a seismic shift in how Wales responds to the climate emergency and manages its future flood risk.
The funding settlement will also enable NRW to progress important mapping and modelling work to inform future potential flood schemes and coastal adaptation planning. It will also support the delivery of many smaller projects across Wales including maintenance to the hydrometric work and the refurbishing and repairing of its network of flood defence structures.