Making a revival – the monster mower effect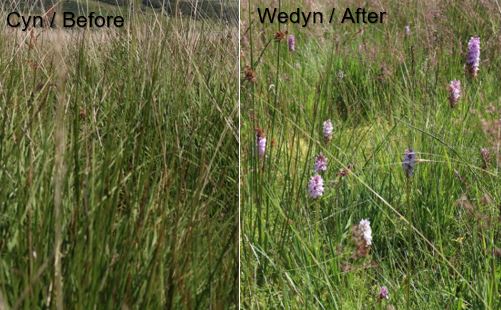 Scarce orchids and other important plants have been revealed on a reserve in mid Wales.
Mowing work done by Natural Resources Wales' (NRW) LIFE Welsh Raised Bogs Project on Cors Caron National Nature Reserve (NNR) uncovered more orchids on the site.
Peat moss (sphagnum) has also been uncovered as the invasive grass has been removed.
The wetland harvester machine (aka monster mower) was bought by the project in March to cut back invasive grasses like purple moor grass (Molina) to restore the habitat's important mosses, plants and flowers.
Rhoswen Leonard, LIFE for Welsh Raised Bogs Project and Monitoring Officer, said:
"After only three weeks of mowing back in March the results are impressive.
"The presence of sphagnum and orchids in this specific part of the bog shows that removing the grass provides the habitat with much-needed light and space where these important flowers and plants can flourish."
Several species of orchids were noted such as the heath spotted orchid and lesser butterfly orchid. Orchids are some of Britain's most exotic flowers but have become rarer over the last 50 years due to intensive land management.
Sphagnum forms the building blocks of raised bogs and slowly decomposes under waterlogged conditions to form dark brown peat soil. It can hold more than eight times its own weight in water and helps to keep the bog wet and spongy. This keeps the peat wet which means it can store more carbon and help to fight climate change.
Iestyn Evans, Cors Caron NNR Manager for Natural Resources Wales, said:
"Working alongside this project means we are able to try new and innovative approaches to managing unique habitats like Cors Caron, with the aim of creating a healthier and more resilient environment." 
Mowing work will start again this month, as work had to be put on hold due to the bird breeding season which runs from April to August. 
The monster mower was bought by the project in March 2019 and will mow, treat and roll the grass to create more open areas which should provide a further boost to the orchids and moss.