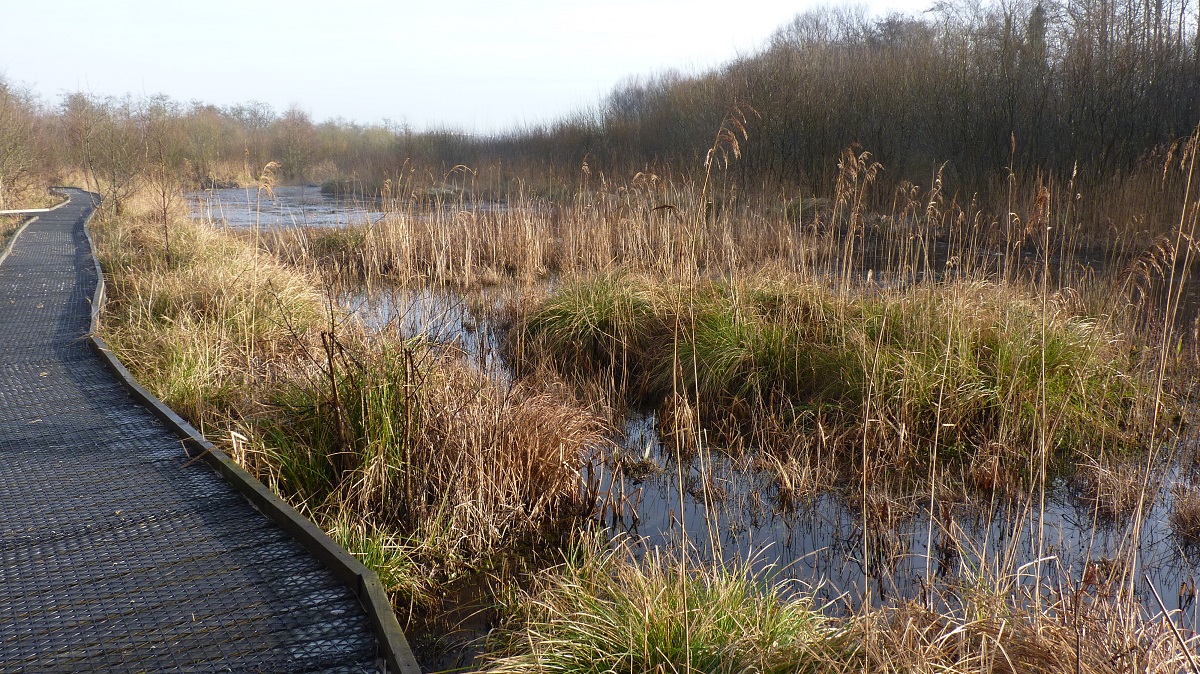 In a week that has seen the nature emergency and Welsh Government commitments to tackle biodiversity decline taking centre stage, Natural Resources Wales (NRW) and partners have signalled their own ambitions to tackling the intrinsically linked climate and nature emergencies with the launch of the LIFEquake project.
Funded by EU LIFE and supported by Welsh Government, LIFEquake is a five-year project which aims to restore peatland, quaking bogs and their wider supporting wetland landscapes to favourable conservation status.
The main focus are 'quaking bogs' – so called because when conditions are right the ground 'quakes' underfoot.
Peatland is the most valuable land resource in Wales as it stores 30% of land-based carbon. Covering about 4% of Wales, it is estimated that 90% of Welsh peatland is in a deteriorating condition and emitting greenhouse gasses that contribute to climate change.
Delivered in partnership by NRW, Pembrokeshire Coast National Park, Snowdonia National Park and the National Trust, the project will focus on seven Special Areas of Conservation – Crymlyn Bog, North West Pembrokeshire Commons, Preseli, Rhos Goch, Corsydd Eifionydd, Gweunydd Blaencleddau and Cors Caron.
The habitat has been assessed as 'unfavourable' at all selected sites. Such conditions are often caused by the land being over-grazed by animals. In some cases, insufficient grazing has led to important plants being smothered by dominant or invasive species. Other factors affecting the sites are abandonment of land management, poor drainage and widespread pollution.
The project will address poor water conditions on the seven sites by restoring historical drainage and flow regimes – in some cases bringing more water onto a bog, and in others removing it.
Over the lifetime of the project almost 50 km of fencing and other infrastructure will be installed across the sites which will allow the right levels of sustainable grazing to take place. Mowing, scraping and excavation will take place to remove vegetation and undesirable invasive species currently smothering the important plants and mosses that create these 'quaking bogs'.
Extensive stakeholder and community engagement will accompany the planned works to raise levels of understanding, appreciation and adoption of the techniques used to restore and maintain each of the sites.
The launch comes at the end of a week where the Welsh Government published the recommendations of its Biodiversity Deep Dive and announced its commitment to triple its peatland restoration targets while promising further action to restore Wales' wildlife and plants.
Martyn Evans, Head of South West Wales Operations for NRW said:
"We are delighted to be launching this project to coincide with Welsh Government's pledge to dramatically increase its commitment to peatland restoration. The forthcoming peatland action on the LIFEquake project not only enhances a local amenity for present and future generations, but is also an important part of Wales' contribution to address climate change globally."
Climate Change Minister Julie James said:
"I am delighted to be able to attend the launch of this important new LIFE project and that Welsh Government is able to contribute over £1.7m towards it over the next four years.
"It will make an important contribution to our ambitious plans of reaching the net zero 2050 target of 45,000 ha of peatland restored. It will also help expand and accelerate our Nature Networks Programme to improve the condition and connectivity of our protected sites network and to restore the condition of key habitats to ensure plants and animals are more resilient to climate change."
Welsh Government action to address both climate and nature emergencies includes the funding of NRW's National Peatland Action Programme. Combining internal NRW peatland and biodiversity expertise, and collaborating through strong external partnerships, the various projects contributing to Wales Peatland Action aim to restore functioning ecosystems which in turn safeguard and sequester carbon.
Rewetting peatland can also mitigate other impacts of climate change such as flooding and fire risk.