Community fishing club receives boost to encourage younger generation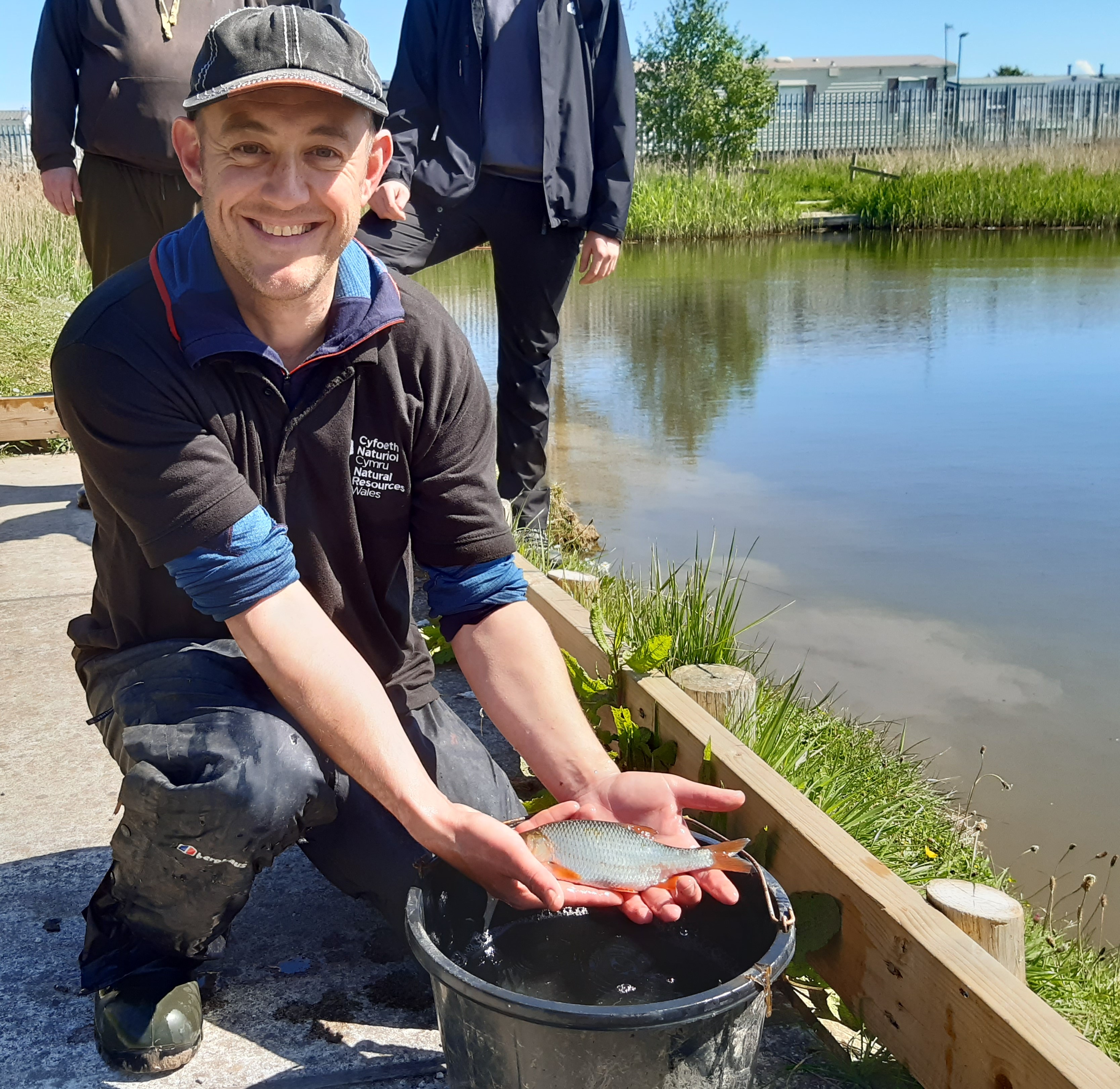 Natural Resources Wales (NRW) has provided the Rhyl Cut Coarse Fishing Lake with a special delivery of silver fish to increase its fishing stock, with the aim of getting young people into fishing and to spend more time outdoors.
The fish - a mixture of roach and bream - were delivered earlier this month as part of NRW's sustainable fisheries project. The scheme aims to improve the numbers or populations of fish through improving the quantity and quality of habitat and to improve the access to recreational angling opportunities in Wales.
Senior Fisheries Officer at NRW, Richard Pierce said:
"The lake's fish stock had been declining over recent years. The club needed a boost and we were delighted to be  able to assist them to bring the number of fish back up.
"Being outside in nature is so important for us all. The impact of coronavirus on the way we live and work has made people realise how important green spaces really are, helping with our general health as well as our well-being. I hope this delivery will encourage more young people to join the club and get into fishing."
The sustainable fisheries project enabled officers to sustainably source the silver fish from local waters that had an abundance of fish. As part of the re-location the fish were required to pass a health check, ensuring that they were not carrying any parasites or disease prior to transfer.
Rhyl Cut Fishing Association Secretary, Darren Jones said:
"We are really grateful for NRW's support with the Rhyl Cut Coarse Fishing Lake. The club is based in the middle of Rhyl and provides members with the opportunity to go fishing right on their doorstep. Over the years we have seen more and more young people join the club and it's great that we're able to continue to offer this facility as a place for recreational fishing activities.
"We would like to thank the NRW team as well as our own members for helping us to re-stock the Rhyl Cut. We look forward to welcoming our members back and to continue to see the club grow in success."
Richard Pierce added:
"NRW is eager to develop and improve urban and rural green infrastructure and this project highlights our commitment to work alongside our town and cities to improve wildlife habitats as well as reconnect people with nature."
Interested in setting up a community fishery? Please contact the Sustainable Fisheries Project Manager at, Katrina.Marshall@cyfoethnaturiolcymru.gov.uk.