£700K improvement scheme to improve flood protection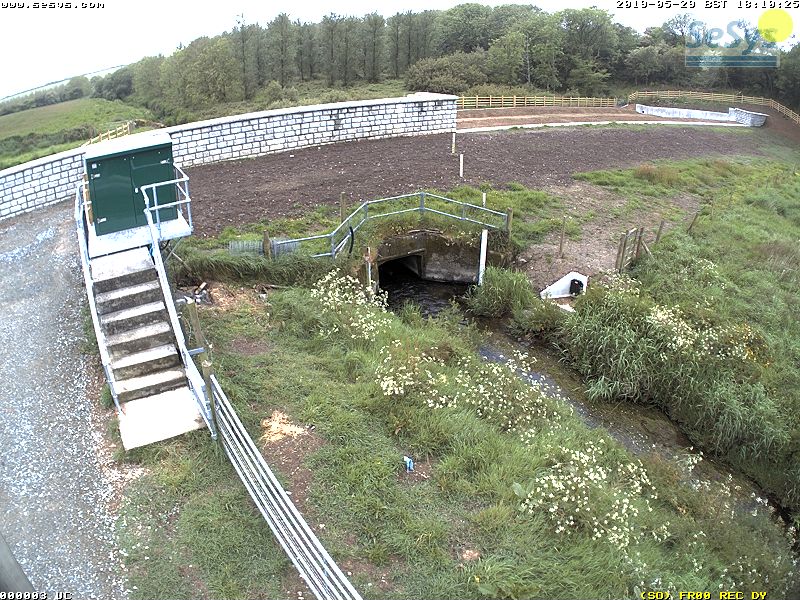 Natural Resources Wales (NRW) has completed a £700,000 improvement to a flood scheme that protects people in 41 properties in west Wales.
The flood storage area at Pont y Cerbyd, Pembrokeshire holds back flood waters which threaten the nearby villages of Middle Mill and Solva.
The improvements include a new 50 metre-long spillway, a new overflow structure which controls the amount of water the reservoir can hold, reinforcement to the embankment to protect against erosion, and additional drainage.
Originally built in 1990 the work on the storage area was needed after several major floods eroded part of the old spillway, making it less effective.
Now the work is complete the structure can maintain the original level of flood protection to people in the downstream villages. 
To further protect and warn the local communities, NRW has installed new equipment to monitor river levels as well as a small wind turbine to power a CCTV camera that can be used to view the reservoir's water levels in real time.
As part of the scheme, NRW also organised exercises to practice using emergency pumping equipment to manage water levels in the reservoir should the need arise.
Andy Irving, team leader flood incident management for NRW, said:
"Protecting Wales' communities is a vital part of our work which is why we monitor river levels all over the country 24/7 and invest millions of pounds into projects to reduce people's flood risk.
"The Pont y Cerbyd flood storage area helps manage the flood risk to 41 properties downstream of the Solva river where levels can increase quickly in harsh weather.
"Investing in improvement projects adds another level of protection for at-risk homes and businesses.
"Combining this with our training exercises means we can continue to react to incidents quickly and efficiently."