We're hiring! Come and work at Coed y Brenin Visitor Centre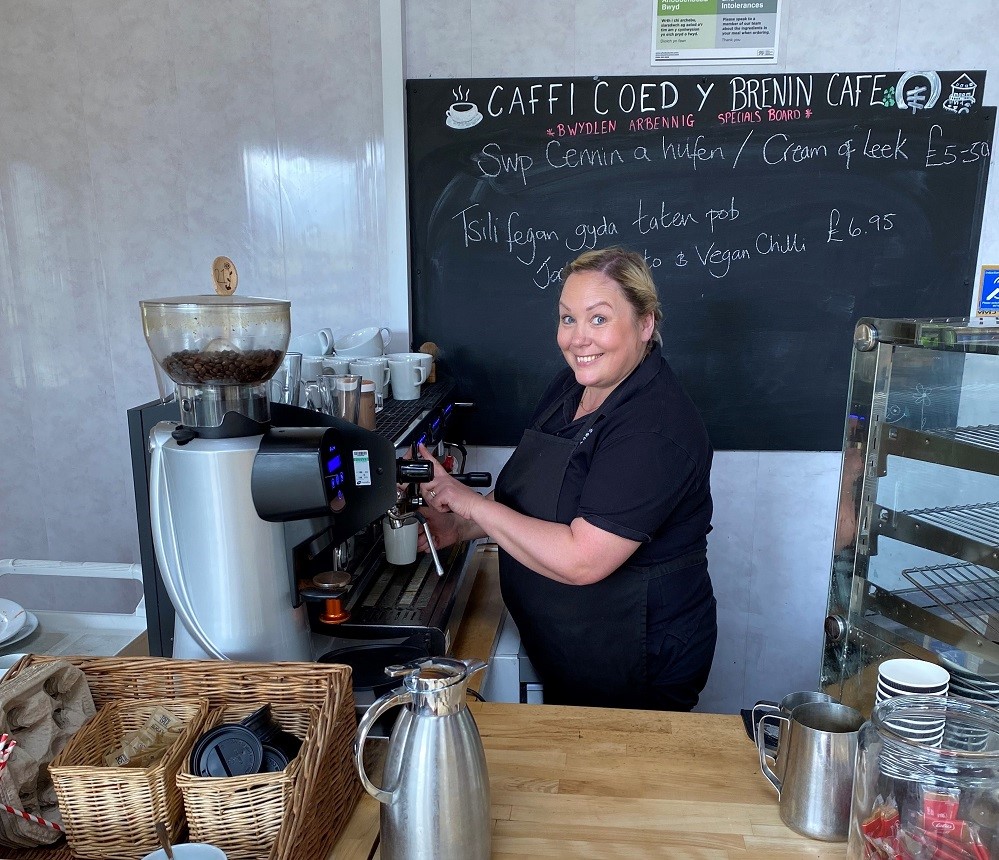 Would you like to join a catering team that is focused on delivering great customer service, tasty food, and a positive experience at one of Eryri's main attractions?
Coed y Brenin was Britain's first purpose-built mountain biking centre and it is still one of the sport's top destinations featuring world-class mountain bike trails, family walks, a café, cycle shop, accessible play area and trail.
Here, Emma Williams, who has been part of the catering team at Coed y Brenin's café since November 2022, explains more about the valuable work her team undertakes and why you should join her in working for #TeamNRW.
What attracted you to the role?
I've always worked in hospitality and enjoy being with people. Although having said that, I was feeling naturally apprehensive about starting a new job.
I love meeting both local people and visitor groups who come to Coed y Brenin to either walk or bike the trails, or just enjoy a cuppa and a cake.
What stands out from your first six months?
I was made to feel part of the team straight away. Everyone who works here is supportive and more than happy to help. There is a variety of things to do and thankfully I'm not stuck to one chore during the day, you get to taste every aspect.
I was initially surprised by how far people would travel to visit for the weekend, as I've served people from areas such as the Isle of White, Isle of Man, Cornwall and Cumbria - and what's more is the fact they are regular visitors to Coed y Brenin because of the wonderful location and warm welcome they receive when arriving at the Visitor Centre. 
Why Coed y Brenin?
Each morning when I drive into Coed y Brenin, I feel so appreciative of the beautiful surroundings. Whatever the weather, and trust me, we get it all types here –snow, sun, mist or rain.
Coed y Brenin is a truly stunning location that helps set a positive tone for a day's work.
What's the job?
As a Food & Beverage assistant you will make sure that customers are happy, and that the café is at the heart of their satisfaction by providing great service. You will be supporting duty staff to provide a continually improving customer service environment.
How can I apply?
If you're keen to find out more about working in such a spectacular location, as part of a family-orientated team in NRW, we would love to hear more from you.
Please contact Nia Brunning at nia.brunning@cyfoethnaturiolcymru.gov.uk or 0300 065 4166 to discuss further.