Wales must switch gears to adapt to growing flood risk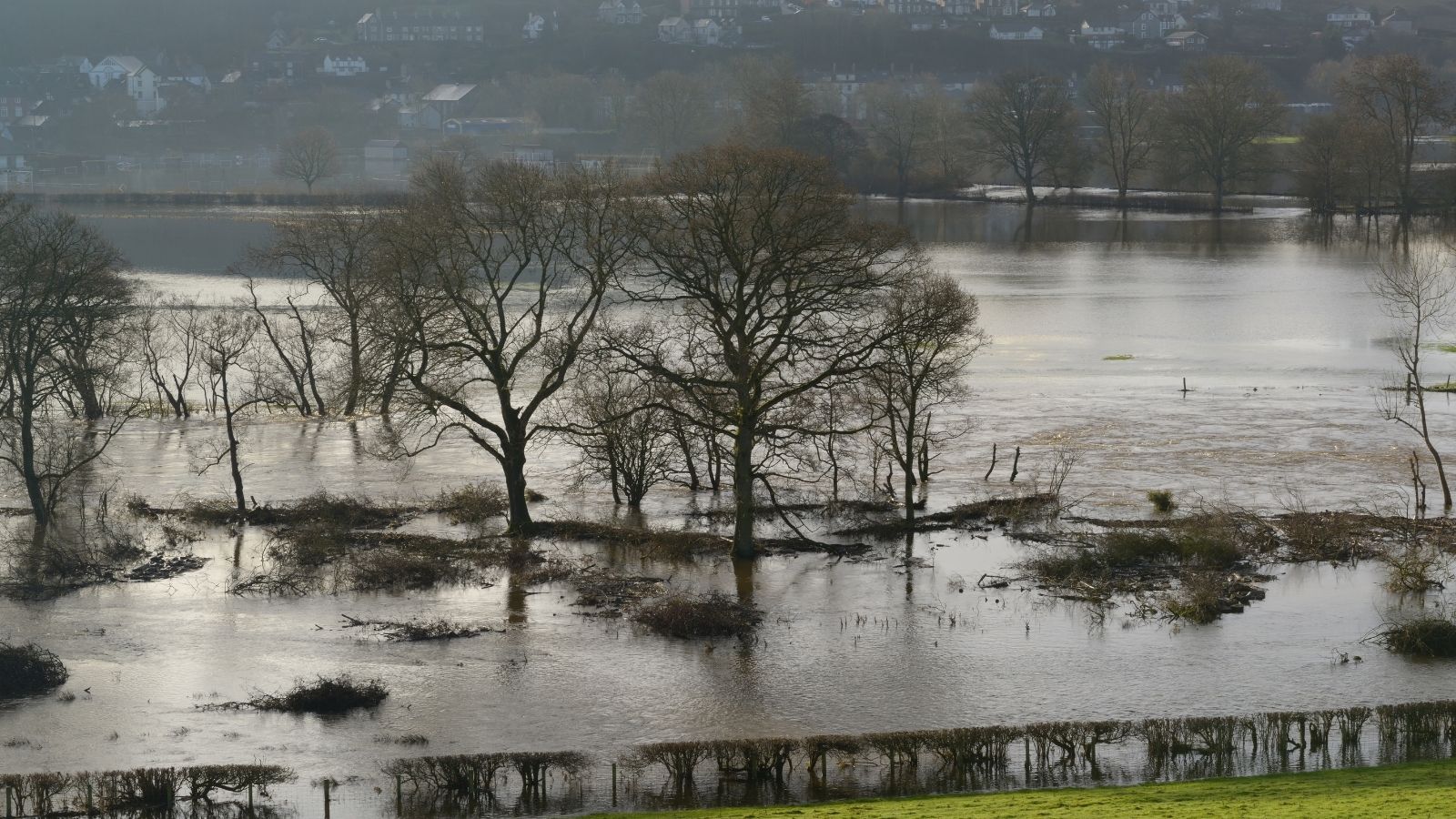 Three years on from the February 2020 floods, Chair of Natural Resources Wales (NRW) Sir David Henshaw underlines how Wales must change course now to adapt to accelerating future flood risk.
Climate scientists have long predicted that our impact on the world would cause more floods, heatwaves, storms and other forms of extreme weather.
But the recent surges in record-breaking weather events – whether seen on a global level or experienced closer to home – are surpassing even the most sobering of climate change predictions.
The front pages published in the wake of various Intergovernmental Panel on Climate Change (IPCC) reports over the last year have been filled with alarm - signalling a 'code red for humanity' and stressing how human activity is changing our planet's climate in "unprecedented" ways, with some changes now inevitable and "irreversible".
Over the last year, the world has changed significantly. The cost of living crisis and the return of war to Europe means that climate is understandably no longer leading the front pages as it was in the lead up to the UN Climate Change COP26 conference in Glasgow in 2021.
Yet against the backdrop of one of the most challenging periods of our time, we've continued to experience the grim reminders of the urgency of the climate task at hand.
In February 2022, three named storms hit the UK within the space of a week.  Soon after, the nation entered an extended period of prolonged dry weather and high temperatures over the spring and summer, sparking wildfires across the country and leading to the declaration of the first 'official' drought in Wales since 2005-2006.
This month marks the three year anniversary of the February 2020 storms, where Wales saw the devastating impact of record rainfall and flooding caused by Storms Ciara, Dennis and Jorge.
We saw people experience the overwhelming impacts of some of the most significant flood events seen in Wales since 1979.
We saw then, and we've seen since, how disruptive the rising flood waters can be for people, homes and businesses, and how the distress and costs can last far beyond the subsiding of the waters.
And we will see more of these record-breaking events. From large-scale weather events to the more intense, localised heavy rainfall events which overwhelm drainage systems, the impacts can be significant and long-lasting.
How NRW makes a difference
One of Natural Resources Wales' (NRW) primary roles is to reduce and manage flood risk from main rivers and the coast in Wales. We do that by improving awareness and access to information on flood risk, advising on planning decisions and by building and maintaining flood defences. We also warn and inform when flooding threatens, deploying our teams on the ground to work with partners to mitigate against flood impacts in communities.
Our defences quietly protect hundreds of thousands of people in 73,000 properties across Wales around the clock. Investments made to these crucial pieces of infrastructure since previous major flood events have improved our resilience significantly, meaning thousands more properties are now at lower risk of flooding.
During Storm Dennis, they were effective in the protection of an estimated 19,000 properties. Our flood management scheme in St Asaph, built to protect 293 homes and 121 businesses in the city prevented a repeat of the devastating flooding experienced in 2012.
But just as climate change and flood risk is progressive and layered with uncertainty, how we invest in and manage our defence options also requires flexible responses, accepting that we cannot build our way out of the risks we face.
Our work to reduce flood risk
From its steep-sided valleys to exposed coastal areas, Wales' varied terrain poses significant challenges when it comes to managing the consequences of heavy rainfall.
When considering how to defend areas most at risk, NRW will always work with local communities to identify the best combination of measures that tackle the specific threats.
Take Fairbourne in Gwynedd as an example.
Defending this low-lying coastal village from potential tidal flooding from the Mawddach estuary and river flooding is a growing challenge. We are working against nature to try to reduce the risks at a time when the climate is changing and sea levels are rising.
NRW's £6.8million defence scheme on the estuary was completed in 2015 and helps reduce the risk to over 400 properties in the area.
While Welsh Government funding is available, and it is sustainable to do so, we will continue to monitor and maintain the flood defences and to work with the community and with our partners to manage the risk in this area.  But there will come a time in the future when it is no longer sustainable. We cannot ignore this issue which will affect whole communities. We need to plan for that change now.
This risk is not confined to Fairbourne. Our coastline faces a tough future and some areas will become very vulnerable to sea level rises and climate change. It's a difficult conversation to have with communities when the risk may be several decades or a generation away, but its important we consider future generations in all our thinking.
Further south, our urban areas also face their own challenges.
The Crindau area of Newport has a long history of flooding. Backed by the Welsh Government, our £14 million Crindau Flood Management scheme was completed in February and designed with climate change and predicted sea level rise in mind. The scheme can be adapted as necessary in future, and includes community benefits such as new footpaths, cycle paths and seating areas.
We have also been carrying out detailed flood risk modelling in the Lower Taff catchment and the River Cynon and Rhondda rivers to support the next phase of work planned to develop a strategic flood risk management masterplan for the whole River Taff catchment. This work is being done in collaboration with all flood risk management authorities in this area.
But we all have a responsibility to know our own flood risk and to take personal responsibility to protect ourselves and our property before the rain starts to fall.
Advances in the range of services available on our website means that people can now identify their flood risk simply by entering a postcode. It also includes information on what to do before, during and after a flood, how to sign up to NRW's free flood warning system and steps to take to develop a community flood plan.
Difficult choices ahead
But regrettably, it often takes major events to force everyone to reflect on how prepared we really are for more extreme weather.
In October 2020, we published our reviews into the February 2020 floods where we called for a seismic shift in how Wales responds to climate challenges and increased flood risk.
We stressed that difficult conversations needed to be had, and complex decisions had to be made. We have been working with the Welsh Government and our partners to do what we can to move this crucial process forward.
We must accept that we will never win the war against the forces of nature. But there also has to be a fundamental consideration by governments, planning and flood risk authorities and communities of the very stark choices before us on how the risks are managed and delivered within the resources.
Flood defences will always be at the heart of managing the nation's risk, and we at NRW will continue to invest in our people, technology, infrastructure, systems and processes to undertake our flood risk duties. But we cannot do it alone.
As more and more communities affected by flooding each year count the cost of lost belongings, ruined homes and businesses, and as people live with lingering fears of future storms, we know that so much more needs to be done to prepare to face our future reality.
We need planning authorities to make tough decisions and avoid the wrong kind of development in high flood risk areas.
The housing sector and developers also need to build more resilient homes and businesses so that when flooding and coastal change happens, it causes less harm to people and property, and life can get back to normal sooner.
We need to be more innovative and look at new approaches to work more effectively with land owners, incentivising them to deliver nature-based solutions that deliver a range of benefits that reduce flood risk, and looking upstream to make space for the huge quantities of water we are seeing during floods. 
These can be difficult, expensive issues. And we know that resilience is a harder sell than protection.
But we need to accept that we cannot stop the rain and we will see more of it.
The impact of climate change is something for all of us to tackle as a collective and is an issue that must be tackled without delay.