The devastating impacts of wildfires on Wales' natural environment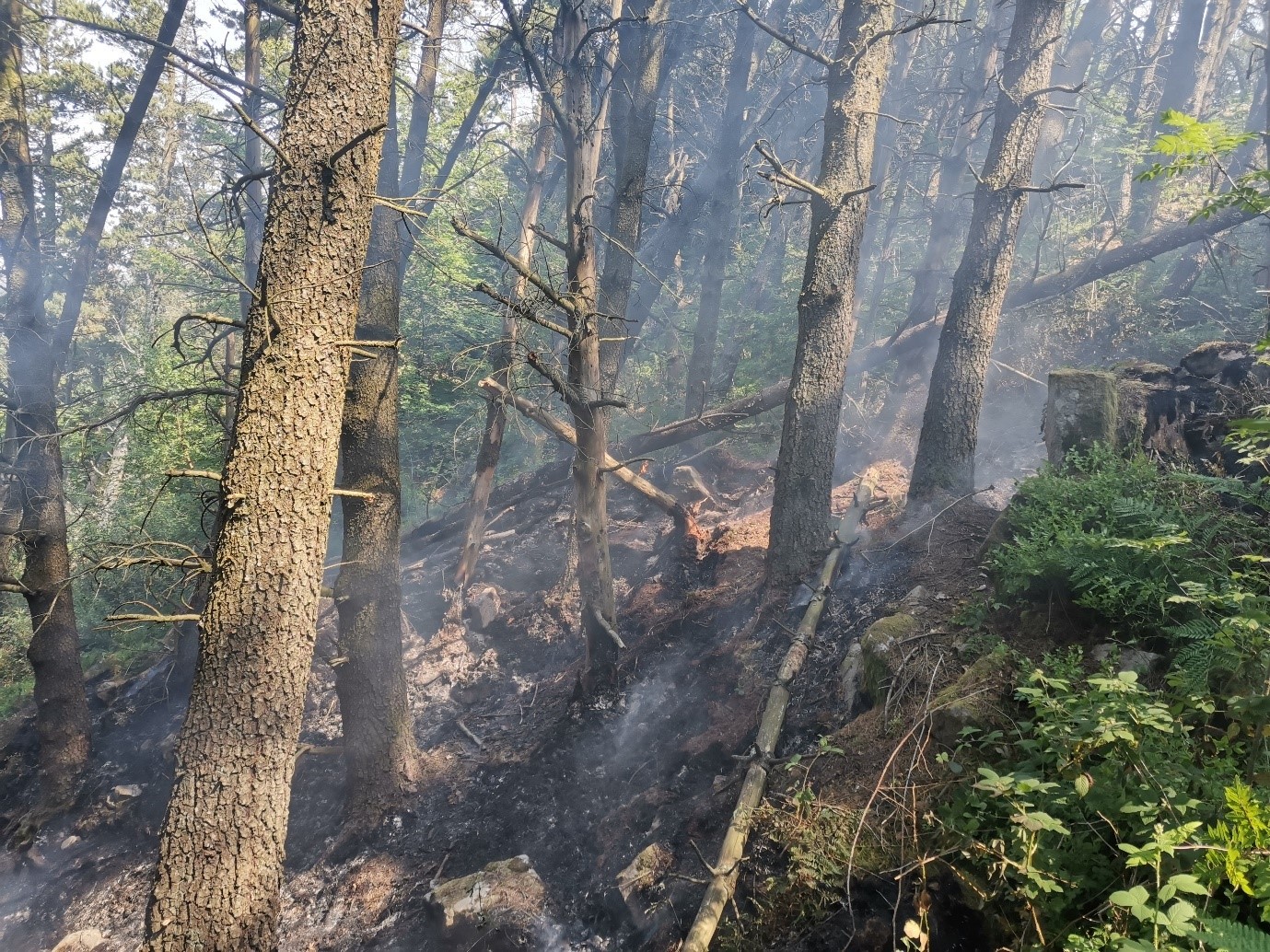 Rhigos, Garw, Blaenllechau, Ogmore Vale, Nant y Moel, Llanwynno, Penhydd, Blaengarw....
These are just some of the areas where wildfires have ravaged the natural environment in Wales over recent weeks.  Firefighters from across South and Mid Wales have been working around the clock to battle the flames, supported by colleagues from Natural Resources Wales and South Wales Police, in a  joint effort to mitigate the impacts on communities and nature.
It's hard to fathom why someone would intentionally start a fire, yet it happens. At other times it's a spark from a carelessly discarded cigarette or a BBQ flaring out of control that can wreak devastating impacts when the ground is as tinder-dry as it has been in recent weeks.
Since the beginning of April this year South Wales Fire and Rescue Service alone has responded to almost 400 deliberate grass and wildfires.
Wildfires unleash a trail of devastation. Trees, plants, and wildlife are left helpless against the ravaging flames. The loss of these precious ecosystems disrupts the delicate balance of nature, leading to soil erosion and habitat destruction and leave a scar on our beautiful Welsh landscape.
Not only do they have long-term consequences for forestry and nature, but they also put lives at risk - of those trying to control the flames and of communities living nearby. Moreover, they come with a hefty price tag, the bill for which is paid by the Welsh taxpayer.
Our actions
As Wales endured the impacts of a long dry and hot spell, our officers have  worked closely with the South Wales and the Mid and West Wales Fire and Rescue Services on wildfires across south Wales.
In the main, our role is a supporting one – helping fire planners and dedicated Wildfire Officers to understand the terrain they're working on, where the most vulnerable habitats may be or where there could be serious financial or ecological implications from fires.
But wherever it is safe to do so, we get hands on too – at Rhigos we employed contractors with tracked excavators to create firebreaks and this ultimately saved the Zip World tower – an important local attraction and business.
We've deployed a helicopter to help fight fires as it can access areas that the fire engines simply cannot.  Between 1 March to 16 June, there have been 36 wildfires on or near land we own or manage, with the helicopter deployed to 14 of them.
These forested areas may be a long way from a water source and, at some of the most inaccessible sites, we've worked to provide water for hoses by transporting bowsers full of water to the firefighters where and when they need it most.
And once the fire is seemingly over, we've gone in to monitor that there are no additional flare ups and to make any affected areas safe.
The consequences
Many species, including birds, mammals, reptiles, and insects, rely on forests for food, shelter, and breeding grounds. As wildfires sweep through their habitats, animals face immediate danger and often struggle to escape. Those lucky enough to survive must contend with the loss of their homes and reduced food availability.
Newly planted trees fall foul to the flames, and the protective layer of vegetation destroyed by fires leave the soil exposed and vulnerable to erosion. The regrowth of vegetation can be slow and challenging, further exacerbating soil degradation and erosion.
Wildfires release large amounts of carbon dioxide into the atmosphere, contributing to greenhouse gas emissions and exacerbating climate change.  The smoke and pollutants released during wildfires also have a detrimental effect on air quality, posing risks to human health as well
And last, but not least, let's talk cold, hard cash.
Deliberately set wildfires don't just inflict environmental damage; they also burn through the public purse. These devastating fires require substantial resources to extinguish and manage. Firefighting operations, including equipment, personnel, and helicopters are expensive and the financial burden falls on already stretched budgets. And this doesn't start to take account of the loss of income from our forestry crop nor the cost of replacement trees.
Ultimately, taxpayers will foot the bill for these costly endeavours - money that could have been better spent on improving habitats, planting trees, restoring peatland or fighting pollution.
While the full impact and cost of these fires is still to be determined, we know the physical scars of these events will be visible on the landscape for some time.
What we can all do
While we are always ready to lend this support to the emergency services to reduce the impacts when the flames take hold, these incidents also demonstrate the importance of the work we do with our partners – like the Dawns Glaw and Healthy Hillsides projects – to build wildfire resilience and mitigation into how we manage land.
But prevention is much better than cure and there are actions that everyone can take to reduce the risk of wildfires:
Do not use BBQs in the countryside, only use BBQs in areas where it says you can.
Make sure discarded cigarettes are completely out.
Stop deliberate grassfires – educate those around you and make them aware of the damage and costs of wildfires – and if you know of anyone setting deliberate fires, contact 101 or Crimestoppers 0800 555111.
Recycle and compost your rubbish, using local authority services – please don't fly tip your waste.
We advise against any controlled burns or garden fires during the hot weather.