The benefits of apprenticeships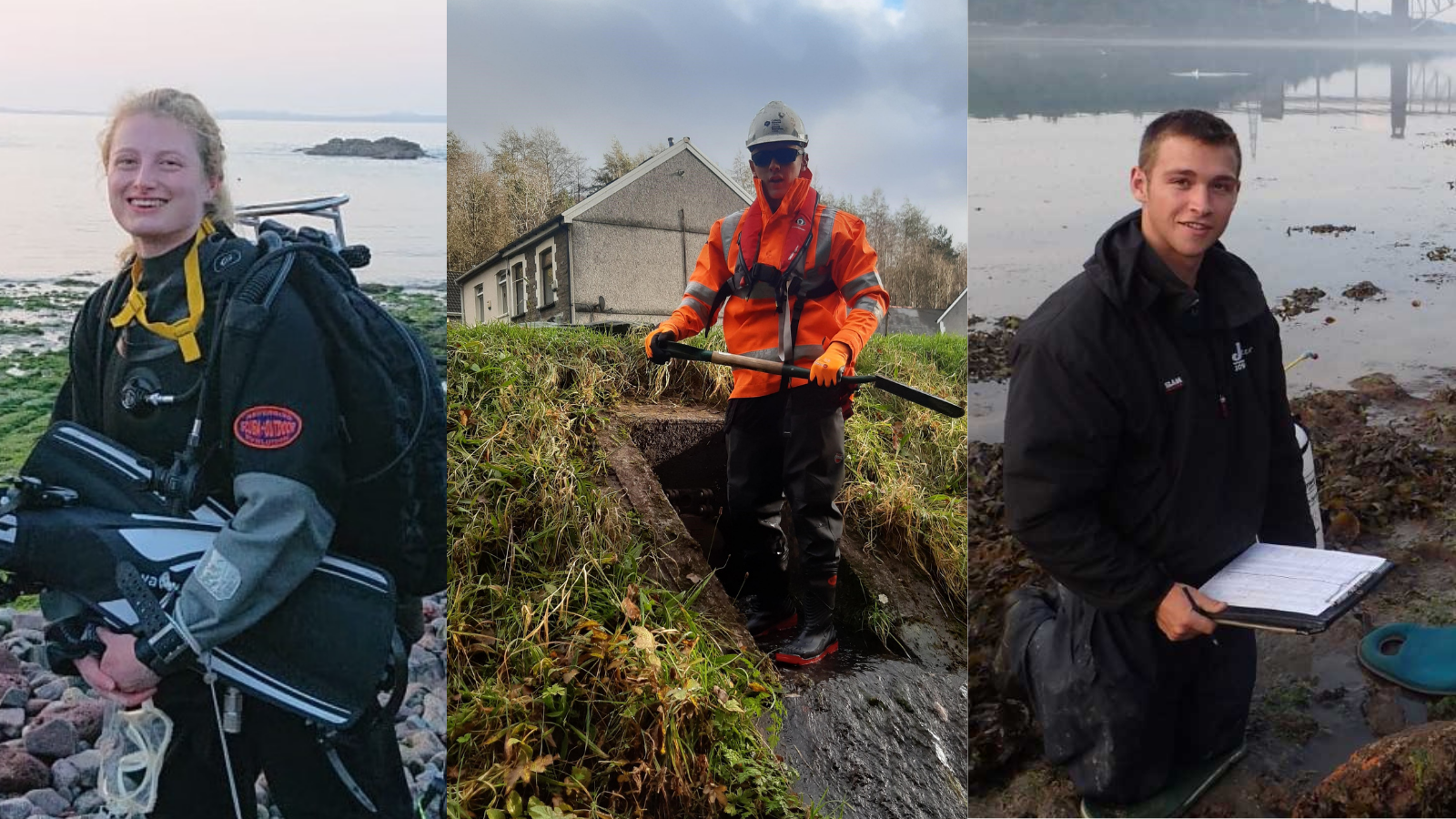 Over the last few years, nearly 40 new apprentices have gone on to join #TeamNRW as permanent members of staff helping our teams to make a real difference to the environment and communities across Wales.
Many of our talented and dedicated staff benefitted from apprenticeships and we're keen to provide similar opportunities to the next generation who are looking to pursue a career in the environment.
Our CEO Clare Pillman shares why she thinks an apprenticeship makes a candidate stand out to potential future employers, and the benefits they bring to businesses and individuals.
"Although NRW has only been existence since 2013, there's been a history of apprenticeships within our predecessor organisations, which means we have a rich resource of people working at all levels across different parts of the business who started their careers with us as an apprentice.
From our Forestry and Land Management teams, to Operational and ICT, many of our staff have benefitted from apprenticeship or placement schemes and have gone on to have long careers, building up a wealth of knowledge and experience.
In our Crosshands depot in Carmarthenshire for example, we have two people working alongside each other in our Integrated Workforce team, who joined the organisation through apprenticeship schemes but 50 years apart.
From the moment they join us, our apprentices are very much a part of the team and have a hands-on and practical involvement in our work, as well as being constantly encouraged and given opportunities to be involved in different projects that will help them grow and progress.
For example, someone undertaking an Environmental Conservation apprenticeship within our Integrated Workforce Team, will have the opportunity to get involved in a range of different operational work, including carrying out maintenance of our flood defence systems. Previous apprentices in our Application Support Team, have had the opportunity to deliver development changes to help improve our existing internal systems.
Learning is a two-way process, and we've absolutely learnt new things from our cohorts of apprentices over the years and seen the benefit of their enthusiasm and fresh perspective on issues and projects.
For someone like myself who grew up working in an analogue world, it's fascinating to see our young apprentices use technology to interrelate with customers and stakeholders that didn't exist when I was first starting out in my career.
I remember having a fabulous conversation with one of our Dairy Officers who recently joined the organisation, about how they were utilizing social media to keep in contact with stakeholders during the Covid-19 restrictions.
When it comes to digital skills, we've had senior managers who have been with the company for over twenty years, who tell us they're in awe about how quickly their apprentices can adapt to digital processes and systems. With many of them having grown up in a digital world where technology is second nature to them, it's meant we're able to future-proof our workforce with digital literate employees.
One thing I'm so proud to see through our apprentices is their climate literacy and how passionate about the planet and our natural world they all are.
"At COP26 last year in Glasgow, I had the opportunity to meet some amazing and inspiring young people, whose passion and knowledge about the climate and nature emergency is something that I see mirrored in our staff and teams here at NRW.
We have a whole generation of employees who are absolutely dedicated to their work in protecting and preserving our environment. They've grown up with the threat of climate change looming overhead and, as a result, it drives them even harder to do the best possible job they can. It makes me proud that our apprentices are true advocates and ambassadors for our planet and the work we do.
For those passionate about the environment and who want to help make a difference, NRW is a great place to be. 
You can keep up to date with our latest apprenticeship and placement opportunities via our website:
 Natural Resources Wales / Apprenticeships, volunteering, work experience and other placements
Or by following us over on Twitter @NRWJobs