Storm Dennis - one of the most devastating storms to hit Wales in recent history
Jeremy
Parr, NRW's Head of Flood and Incident Risk Management reflects on one of the most devastating storms to hit Wales in recent history.
The impact of two weekend of storms - Ciara and Dennis - on people and property has been felt across the whole of Wales, and our thoughts are with all those affected.
Only a week on from Storm Ciara flooding communities across Wales, we saw exceptional rainfall and river levels during Storm Dennis over the weekend of 15-16 February, particularly across South Wales.
Many rivers have reached record levels, properties have been flooded and in some communities, people were evacuated from their homes.  The impacts have been significant, on people, property, businesses and livelihoods.  These are the biggest floods for years in these areas, and communities will be affected for months to come.
All authorities have been hugely busy during this period, and this has been one of the busiest weekends we've had to deal with as Natural Resources Wales.
During the peak of Storm Dennis (Saturday 15 - Sunday 16), 61 Flood Alerts, 89 Flood Warnings and two Severe Flood Warnings were in force.  That's more warnings for rivers than we have ever had at any one time before in Wales.
There were significant impacts across South Wales in particular.  Communities in Rhondda Cynon Taf were amongst the worst impacted by the storm with several hundred homes and businesses estimated to have been flooded – 800 on current estimates, but likely to rise.   There were impacts in many other places too, across the South Wales Valleys and along the Usk and Wye Valleys too.  But the whole of Wales was affected.  This on the back of Storm Ciara the previous weekend.  The impacts of Ciara were more in North Wales, with communities like Llanrwst, Llanfair Talhaiarn and St Asaph affected.  But it left the ground saturated and rivers running high across Wales, so Storm Dennis on the back of this meant that rivers did rise quickly.
Provisional rainfall data during Storm Dennis shows that there was exceptional rainfall particularly over the Brecon Beacons and South Wales Valleys. River Taff and Rhondda catchments received more than 160mm in some places, which is more than a month's rainfall in a day.
Provisional data also shows that on Sunday morning (16 February) the River Taff at Pontypridd reached the highest level for over 40 years – 80 cm higher than the level in the 1979 floods.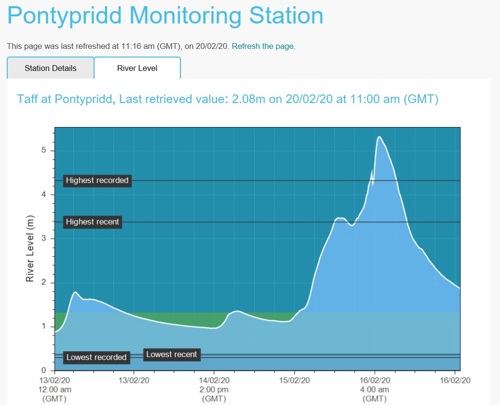 At the peak of the flood in Pontypridd, we estimate that 900 tonnes of water per second was flowing down the River Taff.  This would fill an Olympic sized swimming pool in just 3 seconds.  The steep sided valleys and saturated ground in the Valleys means that rivers such as the Taff rise very quickly, and fall quickly too.  We saw exactly that at the weekend.  Other rivers were running at very high levels, and the River Usk reached the highest level since 1979 as well.
The 1979 flooding caused wide-spread devastation to communities in Cardiff and Rhondda Cynon Taf with significant numbers of properties flooded. Whilst the flooding this weekend was devastating for those impacted, we estimate that 9,000 properties in these areas didn't flood because of the flood defences that have built since the 1979 floods.  In 1979, there was no forecasting and warning service.  During Storm Dennis, we issued 76,000 telephone messages, 17,000 texts and 19,000 emails warning of the high water levels and flood risk.  We worked closely with local authorities and emergency services in the lead up and during the events, sharing information about what was likely to happen.  Our staff worked around the clock to get messages out and were also working in communities to check our defences and respond on the ground.
Whilst the flooding is terrible for those affected, across Wales our defences benefit 73,000 properties – houses that would flood if our defences weren't there.  We know that our defences in many places, like Usk Town and Pontarddulais prevented flooding this time – along with the defences across many parts of the Valleys too.
The rainfall over the Cambrian Mountains also fed into the River Wye and other rivers.  The Wye at Redbrook (just downstream of Monmouth) reached highest levels since records began in 1969.  The Wye at Monmouth was 70cm higher than previous recorded high levels, and only a few centimetres away from overtopping the defences in the town.  Although the town remained safe a few isolated properties were affected and a residential park was badly flooded, but residents were evacuated in time.  We issued two Severe Warnings on Monday evening (17 February), and the main bridge across the Wye was closed. 
River levels have now fallen in many places. Our teams continue to monitor river levels and support the local authorities and emergency services in affected areas. Our work does not stop after the rain has gone – far from it.  We have teams out checking defences for damage, clearing debris, collecting data to help us understand exactly what flooded and why.  Often this is not straight forward, the flooding can be also be from smaller water courses and tributaries, and surface water too.
Following storms and flooding of this magnitude, we carry out reviews into the performance of our systems, defences and modelling. We have learnt a lot from previous reviews, which has resulted in improvements to our flood defence and flood warning capabilities.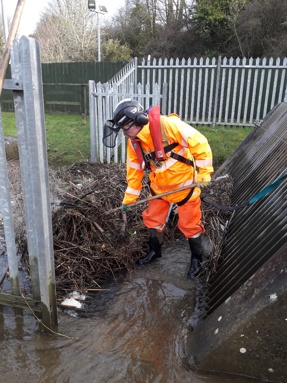 Our immediate priority is to check our defences for damage, clear assets of debris and continue to monitor river levels. Our staff are out and about working on this. We also work closely with local authorities who lead on the recovery efforts in affected communities. 
We can't attribute every storm to the effects of climate change, but evidence suggests that unfortunately we are likely to see more of these extreme weather events.
There is no single solution to flooding like this. Defences have their place but can't stop all flooding, and can have the effect pushing the problem downstream to the next community. We need to think about land use, and where we build houses. These are big ticket, societal questions. How do we learn to live with and adapt to changing conditions? Storing water can help, but when it is colossal volumes like we experienced, the areas needed would be huge and where would we find them? Slowing water down and planting trees can help a bit, but again at such big flows when catchments are already saturated, they have limited impact. It is challenging.  Some advocate building houses that are more resilient to flooding, so they can be cleaned and become re-inhabitable much quicker. All of these have to be part of the solution, it is not 'a one-size fits all'. 
So we encourage everyone to be prepared for what could happen. These events show that, even if flooding hasn't happened recently or maybe in living memory, it doesn't mean it couldn't. Check whether you live in a flood risk area, register for our free flood warnings, start preparing before a flood happens by creating a flood plan, and prepare a flood kit of essential items and keep it handy.
More information about what to do before, during and after a flood is available on our website.
Other useful information: