Sands of LIFE work update from Newborough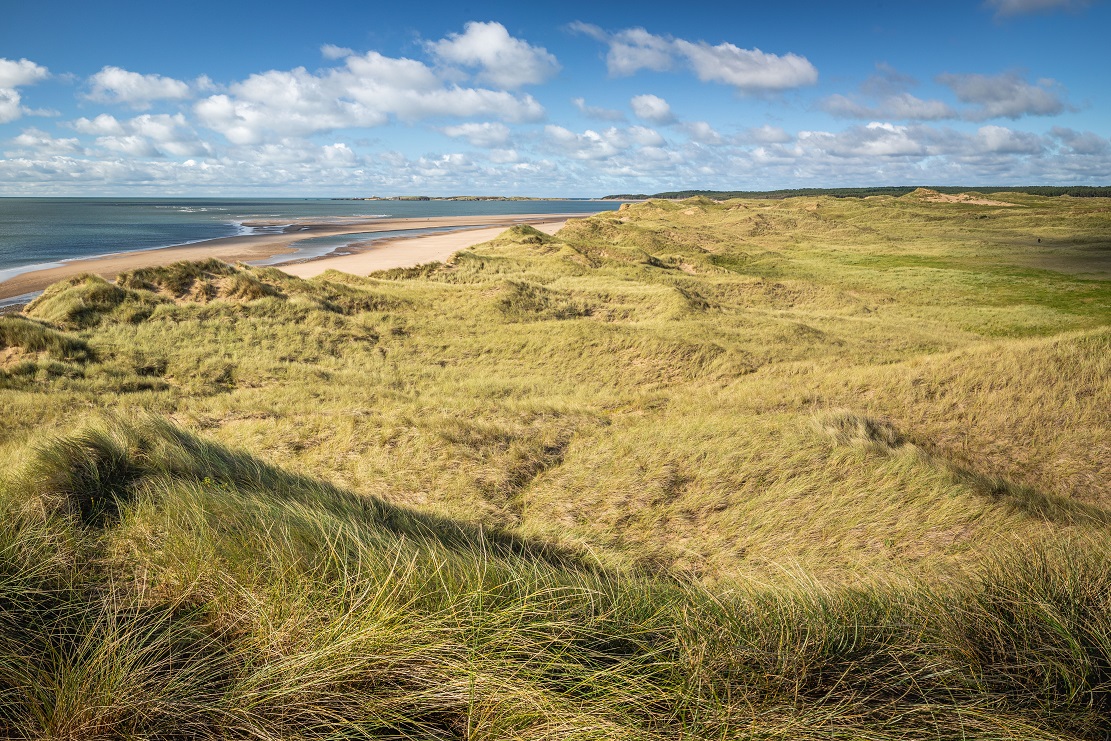 Right across the country our staff are hard at work ensuring that Wales' environment is in he best possible condition to support our wildlife and habitats to thrive.
One team tasked with looking after the nation's precious sand dune habitat is that behind the Sands of LIFE project. The ambition is to restore over 2,400 hectares of sand dunes, across four Special Areas of Conservation, on 10 separate Welsh sites – one of them being Newborough Warren and Forest on Anglesey.
Leigh Denyer, Sands of LIFE Project and Monitoring Officer North, provided a work update last year. We've invited him back to provide an update on progress over the winter months.
As the evenings begin to draw on and signs of spring starts to blossom, we can look back with pride on a successful season that saw the Sands of LIFE team complete a host of work at Newborough and elsewhere across Wales.
Newborough is such a fantastic site. The dunes, coastal marshes, sandy and rocky shores have been shaped over thousands of years by the wind and sea. They are also home to a dazzling array of plants and animals – from rare orchids, liverworts and lichens to a range of specialist invertebrates.
This winter we had a number of tasks to complete to help boost the dunes and open forest glades at Newborough. This included mowing, scrub removal and invasive non-native species removal.
One of our contractors, Gwalch Cyf, recently finished their winter work on Penrhos Dunes at Newborough. They have been clearing areas of clematis whilst also removing invasive non-native scrub on the Afon Cefni boundary of Newborough Forest. This will allow the natural regeneration of native willow and alder scrub to create a natural transition from open habitat to woodland.
Important work was completed to remove scrub in the Ffrydiau Pools and Gull Slack (one of the slacks in the forest near Penrhos Dunes) glades, including the removal of a patch of invasive bamboo, which is an alien species. This work will create more space for native low-growing plants to thrive, including the endangered shore dock.
Work has just got underway to scrape about 0.36 ha at Gull Slack, to remove overgrown vegetation, expose bare sand and ensure damp conditions. This will create further habitat for rare, native plants and invertebrates to inhabit.
The slack scrape may sound and look extreme initially. However the work is crucial to help recreate bare sand habitat that has gradually been disappearing from our coastlines over the years.
While Covid-19 has temporarily paused our planned guided walks and events over the last 12 months, our team continued to share updates been and news via our digital platforms. We have been keeping local audiences informed about ongoing activity through a range of communication channels, including blogs, newsletter updates and social media content, as well as directly informing the local community council and local nature partnership groups.
When Covid restrictions allow, we look forward to resurrecting our guided walks programme and to engaging in person with those of you who wish to learn more about our work at Newborough, as well as the other nine sites where Sands of LIFE is currently undertaking its conservation activities.
Please keep an eye on our social media feeds where we'll continue to post regular updates. We're found @TwyniByw on Twitter, Instagram and Facebook or by searching Sands of LIFE.
If you have any queries about our work, please feel free to get in contact with me directly via email at Leigh.Denyer@CyfoethNaturiolCymru.gov.uk. I'm currently out on site most days overseeing contractors and ensuring work is completed to plan but will endeavour to respond as soon as possible.