Sands of LIFE summer and autumn work update from Newborough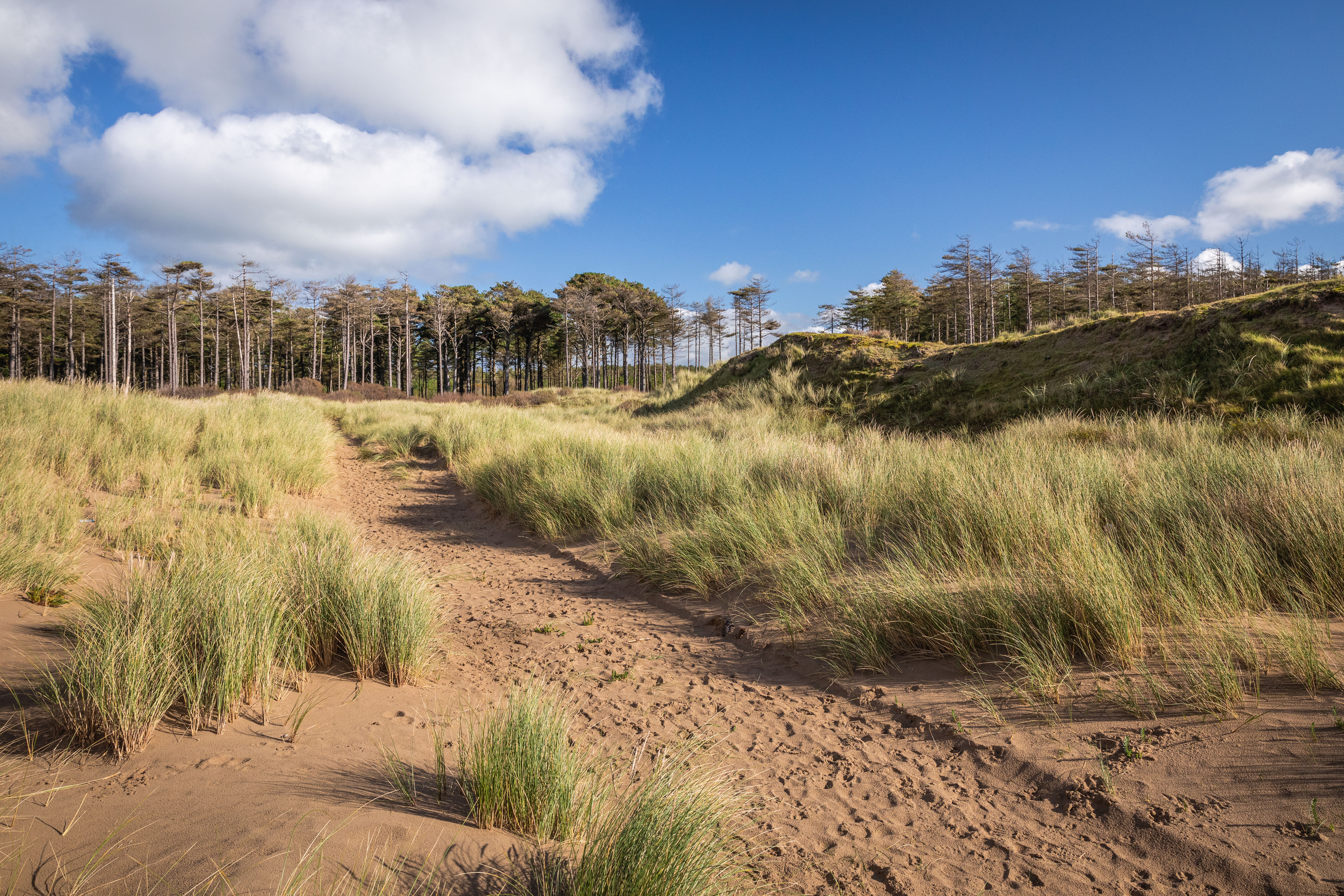 Sand dunes are some of Wales' most precious habitats supporting a range of rare wildlife including orchids, invertebrates, mosses and so much more.
The Sands of LIFE team has been focussed on boosting and restoring over 2,400 hectares of sand dunes, across four Special Areas of Conservation, on 10 separate sites across Wales – one of them being Newborough Warren and Forest on Anglesey.
Sands of LIFE Project Manager, Kathryn Hewitt, provides the latest update on the upcoming summer and autumn works on the site.
The Sands of LIFE project are putting the finishing touches to the next stages of our restoration plans at Newborough for the late-summer and autumn seasons to help ensure the site and its outstanding wildlife continues to thrive.
In August we will start mowing dune grassland at various areas across the site. Whilst mowing may seem like a simple concept, this practice is crucial for keeping habitats healthy by keeping vegetation short and encouraging rabbits to graze and boost the site's incredible wildflowers.
We will be also be erecting 4km of new fencing across the North-West of Newborough Warren alongside the Wales Coast Path. This will allow us to fully support sustainable grazing and ensure the cattle and ponies are kept safe.
We will soon be removing invasive scrub, fallen trees and old stumps from areas within the forest known locally as Hendai, Pant y Fuches, Cerrig Duon, Ffrydiau and Parnassus. The scrub is a mix of alien species such as cotoneaster and native species such as birch, willow and bramble, which can quickly take over these open glades and lead to the disappearance of the flower-rich meadows, free-flowing streams and rocky ridges.
Then towards early October we will be returning to carry out an extensive restoration of the area around Ffrydiau Pools. By scraping away dense vegetation and reprofiling some of the ground surface, we will rejuvenate the existing over-grown pools, expose bare sand and create a new pond. This will improve conditions for the site's European Protected shore dock and great crested newts.
All Sands of LIFE work is delivered with the ambition of keeping Newborough's wonderful sand dunes and forest habitat healthy. Please keep an eye on our social media feeds where we'll continue to post regular work updates. You can find us at @TwyniByw on Twitter, Instagram and Facebook or by searching Sands of LIFE.
If you have any queries about our work, please feel free to get in contact with me directly via email at Kathryn.Hewitt@CyfoethNaturiolCymru.gov.uk.