Nature's Recovery - how our Nature Networks Programme is contributing to turning the tide on our natural treasures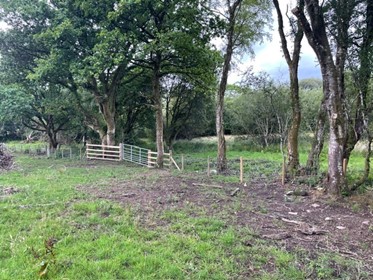 When we published our baseline report for protected sites in 2020 we concluded that only anestimate 20% were in favourable condition. Two years down the line in 2022 we signed up the Welsh Government's ambition of achieving 30% of land and sea protected and improved for nature by 2030.
Our response to addressing this ambition of 30 x 30 is to take a proactive approach to restore and maintain these important areas for wildlife and their geological features.
With projects – large and small – across Wales, we asked Chris Lindley, lead specialist advisor for the protected sites programme  to tell us some more about the achievements of the programme in the last financial year:
"At the heart of the programme is the aim to increase positive management on protected sites – our Sites of Special Scientific Interest, our National Nature Reserves, Special Areas of Conservation and Special protection Areas.
"Our protected areas are cornerstones of our nature recovery work, and protect the range, quality and variety of our most important species.
"As well as carrying out work on the land we manage, we arranged or renewed 115 agreements with farmers and other partners to carry out work on 160 SSSIs and help bring them into better condition.
"This programme of work is funded through the Welsh Government's Nature Networks Programme. This investment seeks to help halt and reverse the loss and decline of habitats and species and put Wales on a solid footing on the path to nature's recovery.
"On their own, some of these activities make look small and insignificant, but together they all add up to a significant picture. For much of our sites, we just need to get the right management in place and working with landowners means that we achieve good conservation results." 
In practical terms this included:
48 conifer / non-native plant removal projects – ridding of rhododendron, cotoneaster, Japanese knotweed and Himalayan balsam
166 vegetation management projects – cutting bracken, rush management grassland mowing and cutting
33 fencing projects to help with grazing management
21 purchases of equipment – dormouse and bird boxes, cattle handling systems and cattle collars
4 path improvement works to improve access
8 lake and pond activities
Sites in the spotlight
Brynna a Wern Tarw SSSI, Bridgend
The new management agreement here allows us to work with the landowner to manage overhanging trees and branches and control scrub. We removed low branches removed and recently windblown trees along a length of 150m. In addition, bramble runners and saplings were cut.
Now that this work is completed, the landowner can keep of the routine management, allowing marshy grassland to grow alongside the scrub and woodland habitat that dormice use in the nearby area.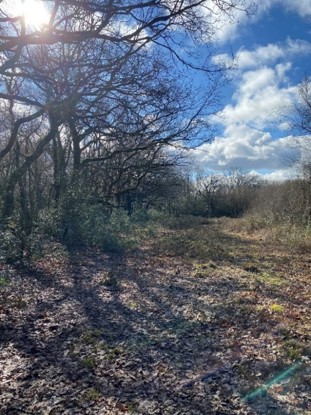 Aberderfyn Nature reserve – part of the Johnstown News Sites Special Area of Conservation, Wrexham
The newly restored pond on the SSSI/SAC will benefit the site's great crested newts, smooth newt, palmate newt, common frog and common toad populations – all of which need ponds like this to breed.
Working in partnership with Wildground, a local charity who work to engage local communities to protect and enhance wildlife, we restored a previously failed pond and made good use of the old liner to form a hibernacula next to the pond, which will provide a place of shelter for the amphibians. 
 Before                                                                                      After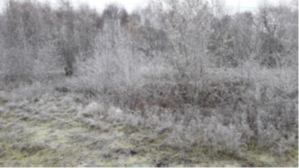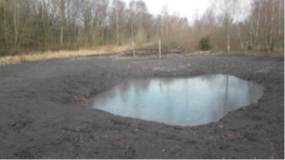 Rhosydd Castell Du and Play Betws SSSI, Carmarthenshire
For some conservation projects having grazing animals is really important, as it keeps grasslands open and free of scrub. Here in Carmarthenshire, where Marsh Fritillary butterflies have been recorded, we worked with the landowner to fence a length of around 200m and installed gates for livestock management.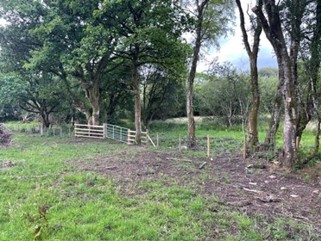 Pen y Gogarth / Great Orme SSSI and SAC
Working in partnership with Conwy Council and National Trust we've been able to help the conservation shepherding on the iconic Orme near Llandudno. Installing two cattle grids at the Halfway Tram Station as well as fencing around 1,180m will stockproof the open headland and allow the wild flowers – including wild thyme, dropwort, salad burnet, harebell, common rockrose and a rare flower, hoary rockrose - to thrive.