Monitoring Sea fans at Skomer marine conservation zone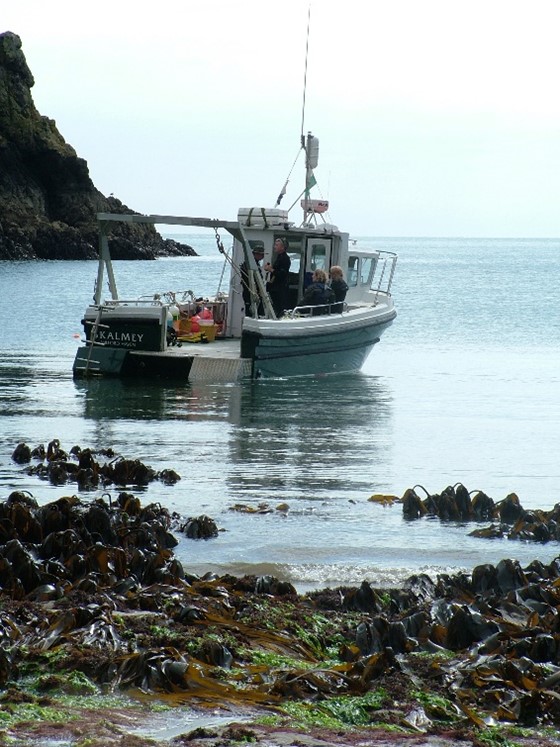 Ali Massey, Marine Environmental Assessment and Reporting Officer works at Skomer, the first Marine conservation zone in Wales, and part of a network of Marine Protected Areas that safeguard marine wildlife diversity. She tells us about the pink sea fans that are found at Skomer.
"It's early June and the lanes are filled with cow parsley, foxgloves and campion. As I cycle down the hill from Marloes village towards the office at Martins Haven I am rewarded with a spectacular view of Skomer Island, complete with its seasonal 'blue-haze' from the swathes of bluebells in bloom.
Shortly after arriving at the office the four of us spring into action preparing Skalmey, our jet boat, and our SCUBA-diving equipment for the days' task. We are taking the digital SLR camera, mounted on a frame in its underwater housing, to a dive site called Sandy Sea Fan Gully on the northern edge of Skomer where we will photograph pink sea fans.
It may surprise you to know the pink sea fan (Eunicella verrucosa) is a coral. Related to tropical sea fans, they are mainly found along the south coast of the UK with their northern stronghold right here at Skomer.
Sea fans are colonial organisms. The calcified branches form a hard structure for the soft anemone-like polyps. Growing on rocks and boulders, sea fans usually align at right angles to the prevailing currents. This allows the polyps to feed on passing plankton that is suspended in the water column. In the right conditions individual fans grow to over 40cm across and can live for over 50 years.
Most of our work in the Skomer Marine Conservation Zone (MCZ) focuses on long term monitoring. The Skomer MCZ has the highest concentration of marine monitoring projects in Wales. These datasets are vital for marine conservation because they allow us to monitor changes over time. A single photo of a sea fan gives you a snapshot in time. But, photographing the same sea fan year after year gives data on growth, monitors damage and tracks its ability to recover.
This baseline data is the key that shows us how marine habitats respond to natural and human-caused (anthropogenic) change. There are increased losses of sea fans in recent years, despite being in a marine conservation zone. Ongoing research is looking into the possible causes. When we understand why these losses happen, we will be able to set up programmes to protect and conserve the sea fans."

Pink Sea Fan (Eunicella verrucosa) No.13 at Sandy Sea Fan Gully, showing growth achieved over 28 years 1994-2021. The camera frame is 50 x 70cm.
For further reading on Pink Sea Fan research see NRW Marine Evidence Report: Skomer MCZ Project Status Report 2021