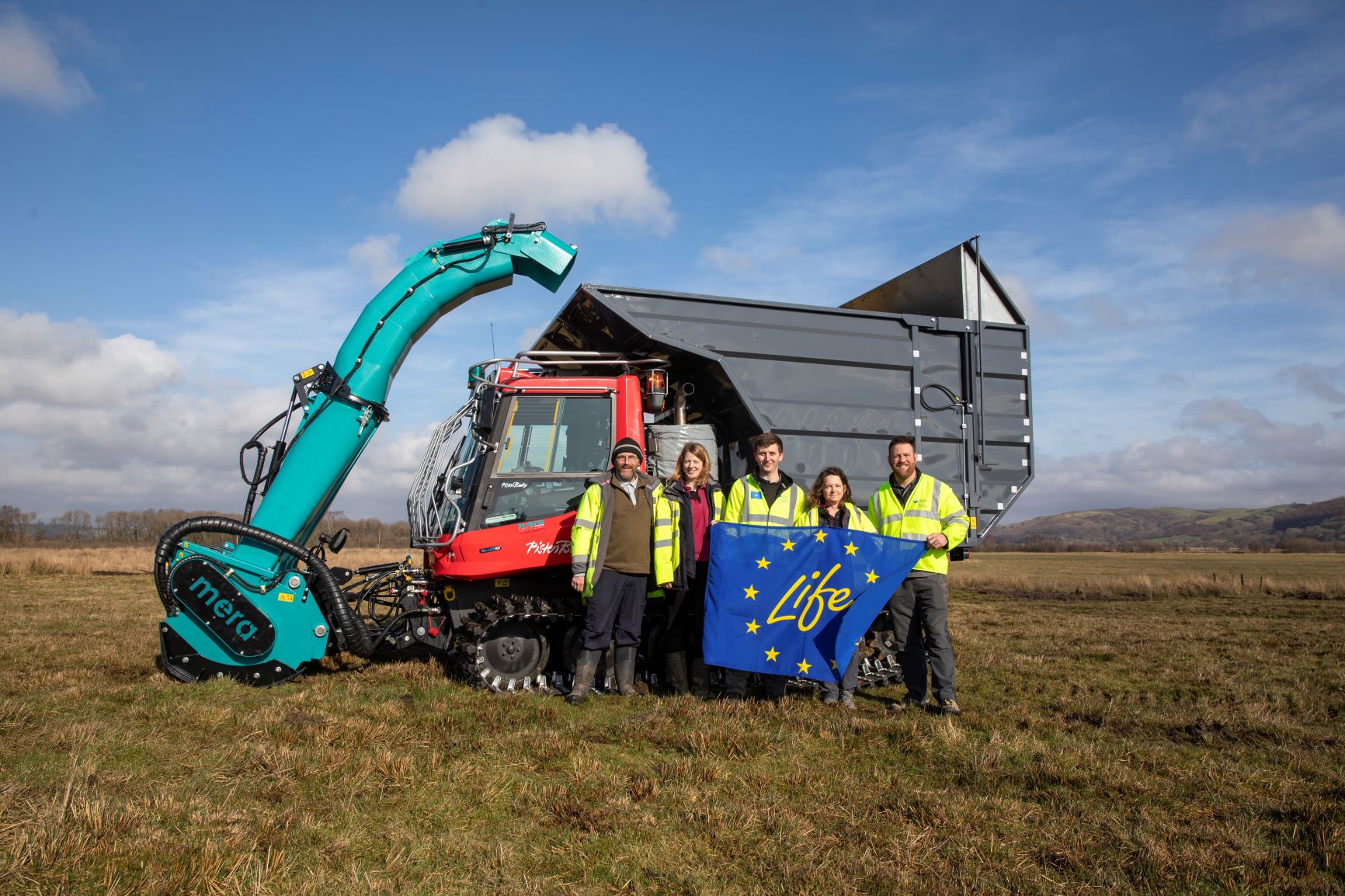 The LIFE Welsh Raised Bogs Project has been extended until March 2023 by the EU LIFE fund, the project was due to finish in August 2021.
Patrick Green is the projects' Manager and has been with the project for a year this summer. Here he explains what the extension will mean for the project and what a 'typical day' involves for him, his highlights and challenges so far and his expectations for the future.
Good news as the project is extended
The recent extension is great news for our project. It will allow us to capitalise on the fantastic work achieved so far in establishing the team, initiating a major monitoring contract, buying and using our wetland harvester machine (Pistenbully), engaging with local communities and achieving sign off of a £2 million plus groundworks contract.

Having joined the team in July 2019, I could see that we would need to request an extension from the EU LIFE fund, as the project had encountered unforeseen delays in starting some of the restoration work.
Thankfully, both our Project Board and the EU LIFE Fund agreed. The workplan for the project has been rescheduled and enhanced, and the project is in a much better position to achieve its objectives, which remain unchanged.
Pioneering work taking place
We are utilising some pretty innovative methods at a scale that has not been seen in Wales before. For example, we will be building over 60 km (60,000 metres) of low-level (25 cm in height) banks of peat, also known as bunds, on our sites, a scale that has not been done before with any peatland project.
We are also using the wetland harvester machine across a wide variety of sites and conditions, as despite its weight it will float on very wet areas of the raised bogs and allow us to access areas of the sites never accessed before.
We hope to demonstrate how we can achieve multiple benefits, for wildlife, plants, carbon storage and more, by restoring these fantastic sites to a better condition.
A typical day in the office
My day can vary enormously with one day involving visiting sites to look at operations or monitoring activity with the project officers, to a discussion of how we continue our quest to engage with our audience on social media and beyond!
We spend a lot of time and effort planning events, signage and working with the media in order to raise awareness of the project and how important it is in the fight against climate change.
Another aspect of the work is keeping the finances in order, so that we stick to our budget and make sure the Project Board are happy with our progress.
The highs and the lows of peatland restoration
My highlights so far include getting out on site to see recent bunding work at Cors Fochno – part of the Dyfi National Nature Reserve near Borth, and watching our wetland harvester machine cut molinia grass at Cors Caron National Nature Reserve (NNR).
I also enjoy seeing the enthusiasm and skill of our contractors and staff; and networking at the IUCN Conference in Belfast with the team and discussing what we've learnt during the day over a Guinness in the evening. Also inviting the NRW Chair out on site and showing him what the project is achieving and the legacy it can deliver.
The main immediate challenge is, of course, Covid 19 and how that may affect our ability to carry out operations this winter and beyond. Other challenges include the weather and availability of suitably trained contractors who can carry out this specialist work.
We have a very large work programme to complete over the next few years and its going to be challenging to complete it, but we are quietly confident at the moment.
The future for Wales' environment and its peatlands
I think Wales is in a great place to lead on the restoration and management of the environment and peatlands in particular. We have the necessary legislation, we have Area Statements, we have a single environment body and the Welsh Government fully support the importance of natural solutions - such as restoring peatlands and planting woodland – in the battle against climate change.
We now need to move from 'planning' to 'implementing' and crucially, doing it at a large scale. Hopefully, the LIFE Welsh Raised Bogs project can demonstrate how much can be achieved in a few years by a properly funded program and a dedicated and enthusiastic team.
The £4million EU LIFE funded LIFE Welsh Raised Bogs Project aims to restore seven of the most important raised peat bogs in Wales; Cors Caron and Cors Fochno in Ceredigion and five others across Wales.
Raised bogs get their name because of their domed shape. They are areas of peat that have built up over 12,000 years and can be as deep as 12 metres.
They are home to rare plants and animals, including the large-heath butterfly and the iconic bog rosemary.
Restoring them will help fight climate change by creating new peat to lock in more carbon and improve water quality in local rivers. They are also great places to visit to enjoy nature and the benefits of being active outdoors.
The project aims to restore up to four square miles of raised bog - one of Wales' rarest and most important habitats.
Funding for the four-year project has been given to NRW from an EU LIFE programme grant, with support from Welsh Government and Snowdonia National Park Authority.
To keep up to date with the LIFE Welsh Raised Bogs Project please follow us on Facebook @CyforgorsyddCymruWelshRaisedBogs or Twitter @Welshraisedbog