Blog from the bog – Then and now, the changing face of peatland conservation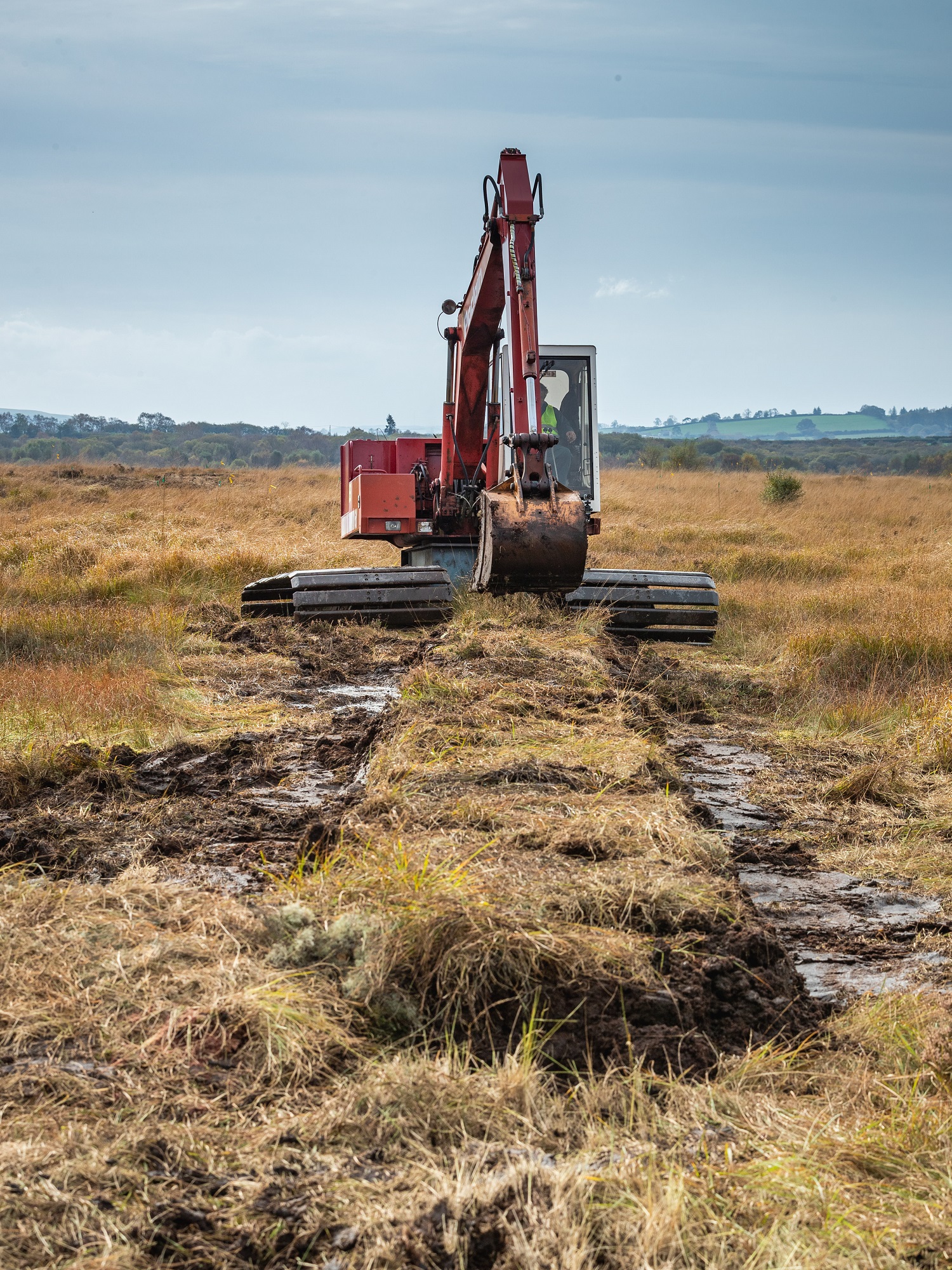 As Wales Climate Week kicks off, we look at peatland restoration as a nature-based solution to fight climate change.
We reflect on how restoration methods have changed over the years, focusing on the work of the LIFE for Welsh Raised Bogs (WRB) Project.
What are raised bogs?
Raised bogs are one of Wales' rarest and most important habitats and, because of their environmental interest and importance, they are designated Special Areas of Conservation (SACs).
Only seven raised bog sites in Wales are designated as SAC, and these represent over 10% of the UK SAC resource of raised bogs.
Cors Fochno and Cors Caron raised bogs in Ceredigion are two of the seven sites and represent the largest examples of lowland raised bog habitat anywhere in the UK.
Raised bogs get their name from their domed shape. They are areas of peat that have built up over 12,000 years and can often reach depths of 12 metres. Cors Fochno has peat up to 8 metres in depth and Cors Caron has peat up to 12 metres in depth.
The raised bogs are home to rare plants like sphagnum (bog moss) and six types of insect eating plants like all three species of sundew and bladderwort.
Sphagnum forms the building blocks of raised bogs and as it slowly decomposes under waterlogged conditions it forms dark brown peat soil.
The partially and undecomposed plant material that peat is made of is a carbon store, making peatlands like Cors Caron National Nature Reserve (NNR) and Cors Fochno one of the most effective carbon sponges on Earth.
Nature-based solutions
Nature-based solutions are inspired and delivered by nature and natural processes. They provide cost-effective approaches to address some of our biggest environmental, societal and economic challenges, including delivery of climate change adaptation and mitigation by building resilience into our natural resources and ecosystems.
Peatland restoration and conservation is a nature-based solution and offers a low-cost, low-tech and high-impact opportunity to address the global climate emergency.
By restoring peatlands and making them more resilient, we can prevent significant amounts of greenhouse gas emissions being released into the atmosphere. If raised bogs are not in good condition, they release harmful carbon into the atmosphere.
Healthy peatlands can simultaneously create habitats for wildlife, offer flood protection, and be places for us to enjoy. They can also attract tourism to boost local economies.
The LIFE WRB project is restoring seven SAC peatland raised bogs sites in Wales. These are Cors Caron NNR and Cors Fochno in Ceredigion and sites near Trawsfynydd, Fishguard, Crosshands, Builth Wells and Crickhowell.
This work will help fight climate change by creating new peat to lock in more carbon. It will also help to improve water quality and help store and slow the flow of water to help reduce flooding from local rivers.
Then and now - how peatland restoration has changed
We know that these sites have suffered from drainage and peat cutting in the past, and this has affected the water levels. These levels are below what they should be for a healthy raised bog – particularly in summer.
Low water levels have allowed grasses and scrub to establish and thrive on the sites, leading to Molinia grass dominating on area of the bogs and small trees to seed and grow.
From the 1970s to the 1990s, in an attempt to reverse this drying out, a restoration method called 'pressure bunding' was used on designated raised bogs sites in the UK and Ireland - including on Cors Fochno and Cors Caron.
Bunding are banks of peat that work like dams, holding water on the raised bog and slowing down the flow of water so that the bog remains wet and spongy - ideal conditions for important plants like sphagnum (bog mosses) to grow.
The original bunding work in the 70s and 80s created bunds that were almost two meters high, and the weight of the bund would press down on the surface of the bog (hence the name pressure bunds) creating a seal to stop water flowing off the raised bog dome.
The 'pressure bunds' were built in square style cells or compartments thought to be the best method for retaining water on raised bogs at the time. The scale (see image below) and effort that went into this work on Cors Caron NNR can still be seen from aerial images today.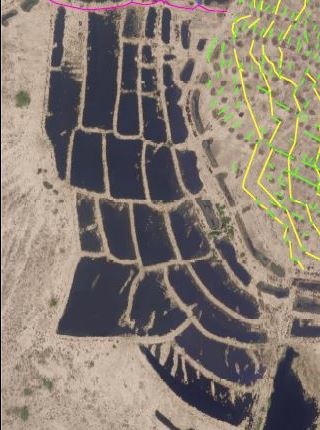 Experts in peatland restoration now believe that the original 'pressure bunds' were too high, as it caused the top section of the bund to dry out resulting in trees establishing and growing. Over time this caused even more of the bund to dry and crack and become ineffective.
Another concern revealed by adopting this method was that 'pressure bunds' created large areas and pools of open water. With some raised bogs being exposed sites, wind causes ripples and small waves on the open pools which hamper the establishment of sphagnum. Many of these pools are still unvegetated and bare today as you can see on the aerial image (see image below).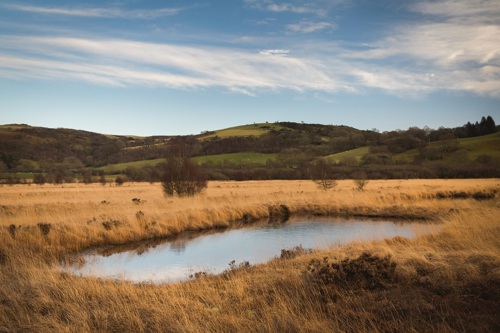 In 2010 a relatively new method called 'low elevation contour bunding' was developed for the first time by the Cumbria Bog LIFE project. The effects were so positive that the technique has been employed by several other peatland restoration project across the UK. This method is being used by the LIFE WRB Project.
Innovative technique makes an immediate impact
The project has been creating low-level contour bunding on a large scale since 2020. The bunding is created up to 25cm in height and follow the natural contours of the raised bogs domes.
This method will restore natural water levels by plugging any holes or cracks in the surface of the bog, slowing the flow of water escaping off and through the bog. The relatively low height will ensure the peat in the bunds stays wet and stops any trees from establishing in the long term.
The project is already reaping the rewards from the work, with several metres of water being visible and being held back up slope of the bunds that have been built to date (see image below).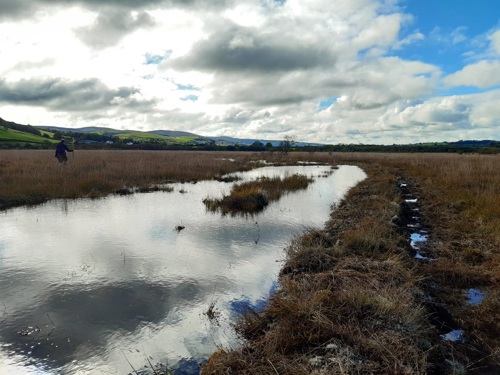 Reprofiling work on the original 2metre high 'pressure bunds' will also take place by the project and will aim to reduce the crest height of the bund and at the same time make the gradients shallower.
This will benefit wildlife and create shallower feeding areas for birds like redshank and snipe, whilst the creation of shallow sphagnum pools will be perfect breeding areas for rare invertebrates like the small red damselfly during the spring and summer months.
In total the project is aiming to create almost 40 miles (64km) of low-level contour bunds and reprofile 22 miles (35km) of original pressure bunds over the next few years of the project. This is the largest amount attempted by any peatland project in Wales.
It is estimated that by restoring over 900 hectares of raised bog in Wales, the LIFE Welsh Raised Bog project hopes to see a reduction in CO2 emissions by about 400kiloton a year - equal to around 7% of all Welsh transport-related emissions, and 76% of Ceredigion's total CO2 emissions.
Funding for the project has been given to Natural Resources Wales from an EU LIFE programme grant, with support from Welsh Government and Snowdonia National Park Authority.
To keep up to date with the LIFE Welsh Raised Bogs Project please follow us on Facebook @CyforgorsyddCymruWelshRaisedBogs or Twitter @Welshraisedbog