Invasive Non-Native Species Week 2022: Celebrating the eDNA Banwy Crayfish Study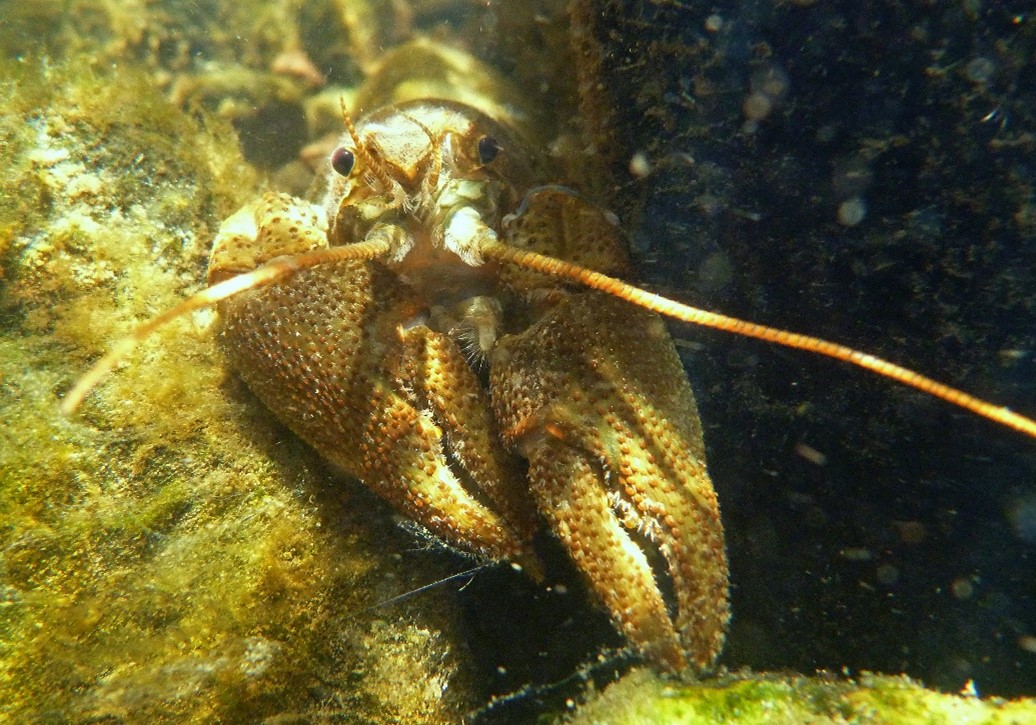 Tuesday in this year's Invasive Non-Native Species Week focuses on freshwater species. This blog by Chloe Hatton, who works as a Fisheries Officer in Natural Resources Wales' (NRW) People and Places team in Mid Wales, celebrates a study carried out by the Montgomeryshire Wildlife Trust having been funded by NRW.

The eDNA Banwy Crayfish Study in North Powys
With just over £5,000 from an NRW fund in 2021, an important study conducted by Montgomeryshire Wildlife Trust has kickstarted a collaborative effort to conserve our native, White-clawed Crayfish in North Powys.
The White-clawed Crayfish (Austropotamobius pallipes) is listed as Endangered by the International Union for Conservation of Nature (IUCN) after declines of 50-80% in just ten years. These declines have largely been attributed to the introduction of the non-native Signal Crayfish and Red Swamp Crayfish as well as a crayfish plague (Aphanomyces astaci), which are now found throughout the White-clawed Crayfish's entire range.
It is important to fully understand crayfish distribution in order to safeguard the future of the native crayfish; something this study began to tackle in Montgomeryshire.
To understand the distribution of crayfish in the Banwy, the trust used a method called environmental DNA – or eDNA – sampling. eDNA can confirm whether certain species are present in a waterbody by analysing a sample of the water. If the target species exist in a waterbody, traces of their DNA will be in the water and will be detected by the sampling method.
The aims were to:
Gain a better understanding of the current distribution of crayfish and crayfish plague in three Montgomeryshire river catchments;
Plan further action to safeguard the White-clawed Crayfish in the area;
Inspire & enable the local community to take action for native crayfish.
In August 2021, with the support of volunteers, Montgomeryshire Wildlife Trust collected water samples from ten different locations, spread across the target river systems. Laboratory analysis identified the presence or absence of eDNA from the White-clawed Crayfish, Signal Crayfish and crayfish plague in each sample.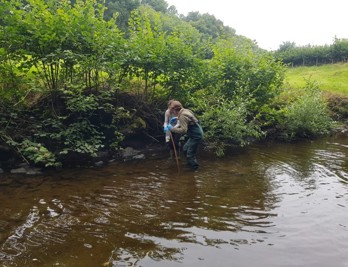 The results
The results confirmed the presence of White-clawed Crayfish on the Banwy, in all three samples.
Of the three water samples taken on the River Rhiw, two were negative for all species, but the third, in Berriew, was positive for all three, suggesting a native crayfish population likely under immediate threat of extinction.
None of the target species were detected on the Tanat, from three samples.
What does this mean?
When these results are considered alongside the Severn Rivers Trust data from 2018, as well as recent records from the Local Environmental Record Centre, we can see that the Banwy catchment continues to support a seemingly healthy population of White-clawed Crayfish. Thankfully, non-native crayfish have not yet been found on the river, despite their presence on the nearby River Vyrnwy and detection in the Rhiw.However, for the first time, crayfish plague was detected in one sample from the Banwy – although the source is unclear.
So while results remain encouraging, it is clear that the isolated Banwy White-clawed Crayfish population remains under serious threat. Montgomeryshire Wildlife Trust are now working with Natural Resources Wales, Severn Rivers Trust and North Wales Wildlife Trust to consider, agree and deliver next steps; looking into both conservation measures and raising awareness in communities that access and live alongside our rivers.

What can you do to help the Banwy White-clawed Crayfish?
Prevent the spread of non-native Crayfish and plague – CHECK, CLEAN, DRY boots and equipment after being near or in water. Spread the word!
Get involved – report sightings of Crayfish in the area or join organised surveys as a volunteer. Email Montgomeryshire Wildlife Trust to find out more: tammy@montwt.co.uk
To find out more about the future of this work, please get in touch with Sarah Coakham (Funding and Partnerships) or Chloe Hatton (Fisheries Officer) in NRW's Mid Wales People & Places Team by emailing Sarah.Coakham@cyfoethnaturiolcymru.gov.uk or chloe.hatton@cyfoethnaturiolcymru.gov.uk respectively.
Image of the White-Clawed Crayfish credited to Montgomeryshire Wildlife Trust / Tamasine Stretton
Image of volunteers credited to Montgomeryshire Wildlife Trust