Improving the Flood Alert Service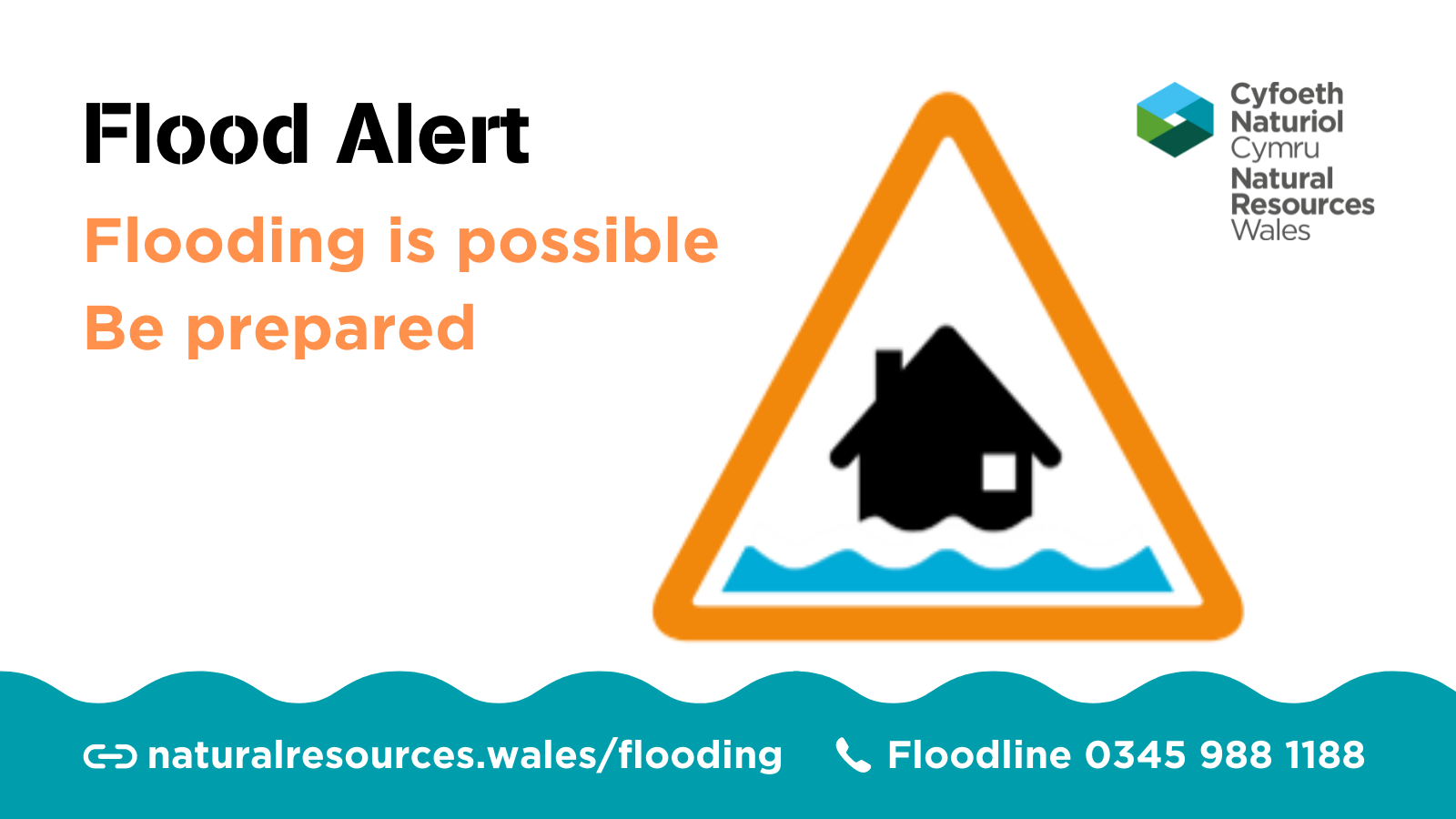 It is widely considered that flooding is the biggest climate-related threat the UK faces. It can devastate homes and ruin businesses overnight and affect whole communities.
In Wales, 1 in 8 (245,000) properties are at risk from flooding, which is why so much of Natural Resources Wales' efforts goes into reducing that risk for Welsh communities – be that through be that through modelling and mapping areas at risk of flooding, advising on planning decisions, constructing and maintaining flood defences or warning and informing people at risk through our Flood Warning Service.
With Wales set to experience more extreme weather events in the future, Tom Baker, Lead Specialist Advisor in the Warning and Informing team at NRW highlights how changes to our Flood Alert messages are helping to make the flood warning service in Wales more efficient and empowering people with more information to prepare and respond to flood risk in their communities. 
Our role
One of NRW's primary roles is to reduce and manage flood risk from main rivers and the coast in Wales. We do that by building and maintaining flood defences, improving access to information on flood risk and advising on planning decisions. We also warn and inform when flooding threatens, as well as deploying our teams on the ground to our assets and working with partners to reduce flood impacts in communities.
The Flood Warning Service operated by NRW is a key component in the flood risk management service we deliver. This free service provides vital information to signed-up customers in areas at risk from flooding from rivers and the sea, giving advance warning and therefore time for people to take action to protect both themselves and their property.
Many people living in flood risk areas will be familiar with the three levels of warnings we issue – Flood Alert, Flood Warning and Severe Flood Warning.
At the time of writing, we have 134,619 properties registered to the Service, which receive tailored warnings on the particular risk to their areas via automated telephone calls, email and text.
The operation of the service is dependent on inter-related technical systems and datasets, tools and procedures and the expertise of specialist staff.
Improvements over time
The level of service to customers has improved significantly over time since we took over responsibility of providing flood warnings from the Police in 1996. We have expanded the coverage and made improvements in accuracy, resolution and lead time due to technological advances in monitoring, forecasting and communications.
Our improvements have also been based on continuous learning from previous flood events such as the devastating February 2020 floods, and as a result of greater organisational collaboration with the Met Office and the joint Flood Forecasting Centre.
This has improved our ability to produce more effective forecasts, at longer lead times (up to five days for river and coastal flooding) and communicate developing flood risk to professional partners and the public through the Flood Guidance Statement and 5-day flood risk outlook for Wales on our website.
The improvements made to the digital services on NRW's website also now mean that we can share our data-driven, expert knowledge with people, communities, and business owners.
The service to check your long-term flood risk by postcode, and the availability to access real-time river level, rainfall and sea level date means that people are now more empowered than ever with the information they need to understand their flood risk and prepare for any future impacts.
Taken together, each and every step and collaboration has improved the effectiveness of the Flood Warning Service for customers considerably. But we continue to learn and to implement enhancements to ensure it remains fit for purpose and resilient to the challenges of the future - including the climate emergency.  
What is a flood alert?
The Flood Alert is used to warn people of the possibility of flooding and encourage them to be alert, stay vigilant and make any necessary preparations for possible flooding. A Flood Alert is issued earlier than a Flood Warning, to give customers advance notice of the possibility of flooding, but before we are fully confident that flooding in Flood Warning Areas is expected.
Flood Alerts are also used by a range of customers who may be impacted by the flooding of low-lying land rather than properties, for example farmers who need to be alerted to the possibility that rivers will flood farmland so they can move livestock.
They are usually issued at a more generalised catchment scale than the community-specific Flood Warnings, although some Flood Alerts are issued on a community scale in parts of Wales. 
What's changing?
Whilst our Flood Alert messages have value, they also take time to consider and issue.
NRW's review of its response to the February floods highlighted how the effort taken in considering Flood Alerts in the days prior to the peak of the storms over-utilised staff capacity in advance of the busiest times of the events.
It recommended the review of the value of Flood Alerts for customers for all sources of flooding and to seek opportunities to make the analysis, decision making and issuing of Flood Alerts more efficient.
Since then, we've been assessing our use of the most recent advances made in forecasting and monitoring technology which will see us adopt a confidence-based approach to issuing Flood Alerts. This means that Flood Alerts could be issued based on confidence in the forecast information and before the rain starts to fall. This should provide earlier notification to customers allowing them more time to prepare for potential flooding and enable a more consistent approach across Wales.
It will also allow our Flood Warning Duty Officers the time and capacity to focus on monitoring and issuing Flood Warnings and Severe Flood Warnings as the situation evolves, ensuring we provide a better overall Flood Warning Service - especially when the risk is escalated.
We have also tailored the content of our telephone, email and text messages to ensure there is consistency across Wales, informing people of the risk and directing them to our website where they can find more information on how to prepare. This will include a link to our near real-time 'River Level, Rainfall and Sea Data' pages, on our website, putting the information customers need to monitor conditions in their local area right at their fingertips. The page enables customers to view the most recent river and sea level observations, showing whether they are rising or falling, how levels compare to typical levels, and the highest and lowest recorded levels.
Taken together, the improvements mean that we can focus on making sure the service is efficient and providing a timely Alert of possible flooding and a timely Warning for those at risk of more severe flood impacts, whilst also empowering customers with the knowledge we have to help them prepare for flooding impacts.
The changes will be introduced from 2 March 2022 and forms part of a wider programme of plans to improve the Flood Warning Service. The changes will only affect those signed up to receive Flood Alerts. Visitors to our flood warning pages on our website will also see changes to the level of information shared in our flood alert messages.
You can read more about how we forecast floods, issue warnings and assess flood risk.
People can identify their flood risk simply by entering a postcode on our website. Our website also includes information on what to do before, during and after a flood and how to sign up to the free flood warning system. Those already signed up can check their registration by logging into your account or by getting in touch with us.
Our new Flood Map for Planning also includes information on how climate change will affect flood risk over the next century.
To share your feedback on the service, contact warning.informing_national@naturalresourceswales.gov.uk