From clog making to conservation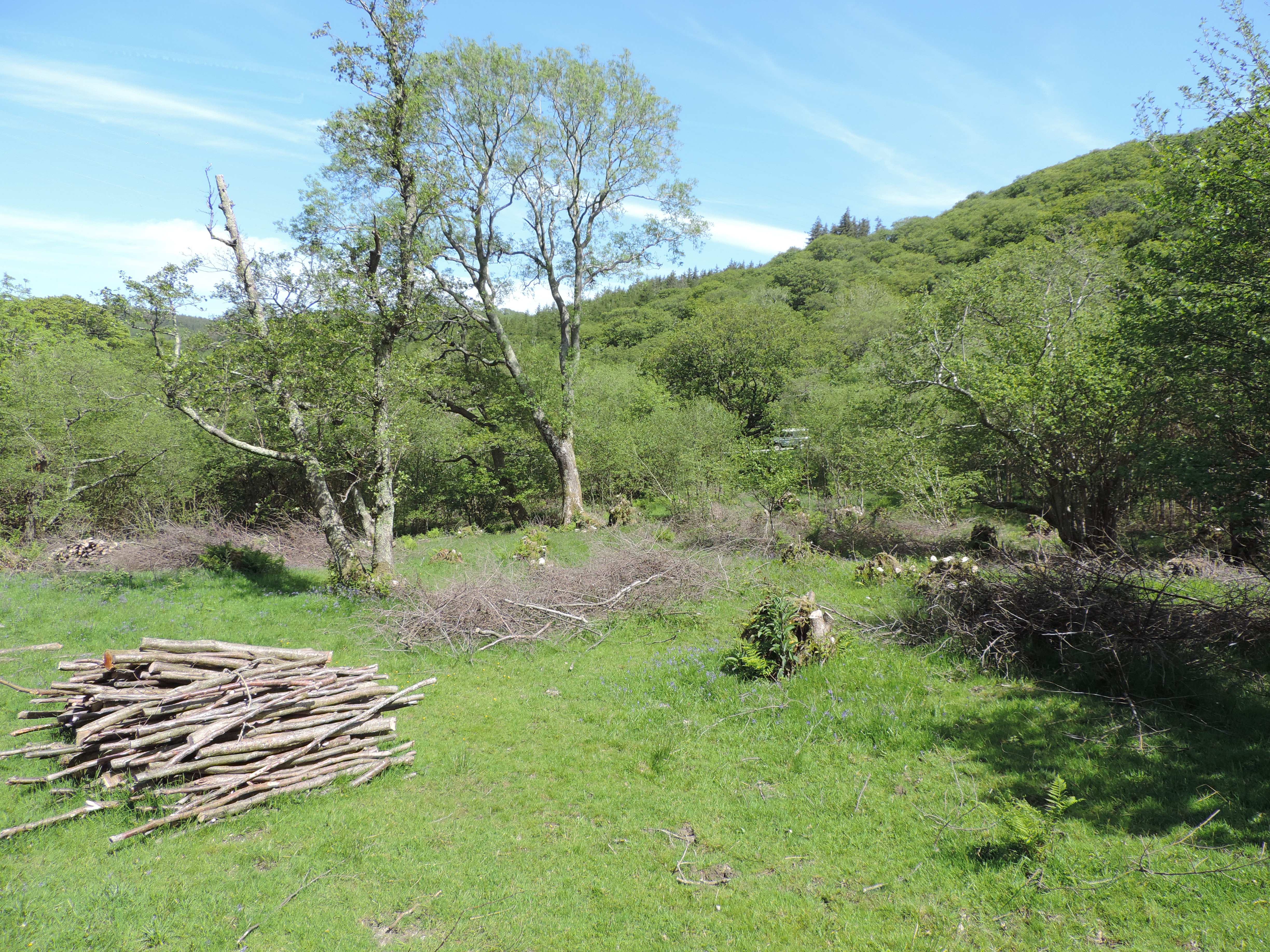 Each month our teams write a blog about the special places they look after. Here, our Reserve Manager Huw Green talks about how some of the trees at Coedydd Aber National Nature Reserve were once cut to provide footwear, but now they are now cut to help wildlife…

Lying below the Oak cloaked hillsides along the waterlogged soils of the valley floor, lies a near pure stand of Wet Alder woodland.
This type of wet woodland has declined in Wales, but they are of high conservation value because they provide an important habitat for many common, scarce and rare species.
The Alder woodland at Coedydd Aber was at risk
In the early 1900s the woodland was reaching its natural life expectancy, with little or no signs of young Alder seedlings or saplings to replace the aging trees.
Since Alder rarely live beyond eighty years, it was assumed that if no management was introduced the woodland would eventually turn into a drier ash-birch-rowan woodland or disappear completely.

Something needed to be done to save the trees and as so often in nature conservation, future management was informed by past management.
Historic records showed that the woodland had once been managed by coppicing – this is when small areas of the wood are cut to create light open areas.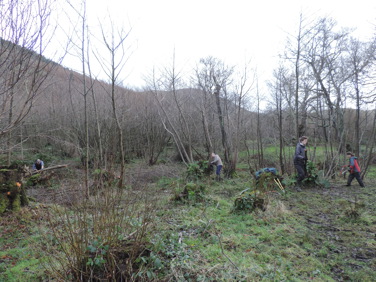 The two areas of Alder woodland known as Wern Goch and Wern Fudur were believed to have been coppiced by travelling clog makers.
They would set up camp in the valley to harvest the Alder wood to produce soles for the popular choice of footwear of the time. It is also likely that the coppiced timber would have been used to produce charcoal for use in furnaces for forging of metals.

In the winter of 1994 the brave decision to reintroduce coppicing was made. The reason for reintroducing coppicing were three-fold;
1) To preserve the near-pure stands of Alder woodland,
2) To favour light loving plants and species dependant on Alder trees,
3) And to keep this traditional practice alive
Coppicing was reintroduced in Wern Fudur, and when work started the woodland really lived up to its name (Wern = Alder, Fudur = Mucky).
The combination of wet waterlogged soil, footfall of men felling trees and the traditional craft of horse logging to extract timber, the place was turned to mud.
But the trees grew back
The following year showed vigorous regrowth from the cut stumps. And through all the churning and disturbance of soil a new lease of life came in the form of Alder seedlings emerging from the mud.

We continue to coppice the wet Alder woodland of Wern Fudur on a ten year rotation, cutting trees during winter months to limit disturbance to wildlife.
Wern fudr now has a mix of coppiced stools from newly cut areas, 10-year-old stands and large veteran Alder trees.
Seedlings and saplings are also scattered throughout the area and allowed to mature without being coppiced.
We've seen a dramatic response in the ground flora with flourishing species, including yellow pimpernel, meadowsweet, remote sedge and tufted hair grass.
In late spring/early summer the area becomes a hive of activity with a diverse abundance of invertebrate species emerging from the deadwood like parasitic wasps and hoverflies.
Amongst the vast array of bugs, beetles and flies, there are also some scarce species like the long horn beetle and leaf beetle that rely on this habitat types to survive.
Many of these invertebrates feed on the sweet nectar produced by flowering plants, and in turn provide the vital service of pollination - they are also a tasty meal for the birds, so a vital part of the food chain too!
We can't do this alone
Much of the coppicing is now done with the help of Snowdonia Society volunteers, carrying out coppice management the old-fashioned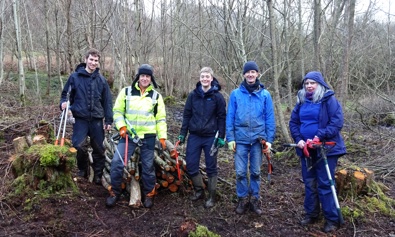 way, with hand tools and a bit of hard work.
The help and effort of the Snowdonia Society and their volunteers is much appreciated and is a fantastic opportunity for people to get involved and learn about our landscape and habitats past, present and future.
If you fancy getting involved and giving coppice management a go at Coedydd Aber, keep your eyes on the Snowdonia Society calendar next winter. But be prepared to get muddy! Wellies are the footwear of choice (not clogs!).
Visiting Coedydd Aber
We welcome careful visitors to these special places we look after, you can find out more about visiting the area on our website.