Embracing the joys of winter with your learners
January 2023
Embracing the joys of winter with your learners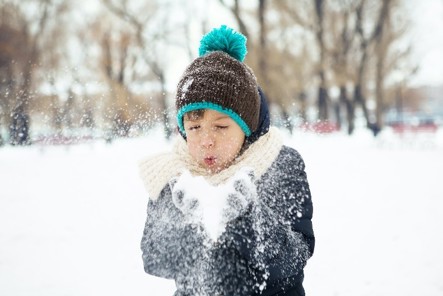 Just because it's cold outside doesn't mean your learners have lost their energy or desire to play.  Even during winter, children are growing, and prolonged sessions of inactivity are not conducive to their muscular development. The winter offers a variety of ways to stimulate imagination through play. From leaving berries and leaves in moulds and allowing them to freeze overnight to create ice ornaments to drawing in snow and frost writing – the cold months open a whole host of new learning opportunities. 
You look out of the window and see a grey and dull day or feel a crisp, cold breeze drafting through the door as you open it. "We'll go tomorrow", you say to yourself. It's easy to put off venturing out into the natural environment with your learners when the temperature dips but with the right preparation and an understanding of winter weather, learners can have as much fun in the cold as they do in the sun! 
Check out our tips on how to enjoy the outdoors with your learners in the colder months.


Channel your learners' energy and keep them moving, can your learners complete a Scavenger hunt or work together to find sticks to erect a Twig tower.  Examine how some warm-blooded animals use hibernation as a survival tactic with our Hibernation game.  'Double glazed, well insulated with south facing views', can your learners build a cosy dwelling to keep a toy animal warm through the winter with our 'Animal homes' activity?  Ask your learners to guess what type of stick makes the best Pooh stick for a wintry race downstream?  Long and thin or short and stubby?  Find a suitable, safe stretch of river to find out! 
Encourage your learners to get to know the trees at your setting. Having lost their leaves, it'll be much easier for your learners to see the full form of broadleaf trees.  From measuring tree height to discovering the age of a tree, check out our tree measuring activities and ask your learners to try making their own tree measuring kit using our template.
Have you heard about koselig?  It's a Norwegian concept meaning a feeling of deep contentment provided by a person, place or atmosphere – experiencing happiness and personal well-being through a combination of nature, companionship and cosiness.  In the winter, it's especially important to relish the small moments.  Adopting a positive mindset and embracing every aspect is key as winter tightens its grip on the natural environment.  Spending time outdoors and keeping active can help boost mood, help you sleep better and reduce anxiety.
Providing they are kitted out in warm clothes, how about trying out our 'Special spot' grounding activity?  Ask your learners to sit, stand or lie quietly.  Explain that they can choose to look around their spot, focussing on the smallest details or just zone out.  Choose a suitable timeframe for your group and when finished, allow time for everyone to gather.  Discuss how the quiet time made them feel and what they observed during their time in the special spot.  Even in the darkest days or in the depth of winter, there is beauty to be found in nature. From a snowdrop pushing and battling its way through the leaf litter to flower, to a splash of yellow lichen brightening up a stone wall, encourage your learners to pause and notice what's around them.  
So go on, commit to spending some time out in the natural environment on a winter adventure with your learners over the cold, coming months… even if it is just for a little while, both you and your learners will reap the benefits. 
Learning in, learning about and learning for our natural environment
Looking for learning resources, information or data? Please contact:
education@naturalresourceswales.gov.uk or go to https://naturalresources.wales/learning 
Alternative format; large print or another language, please contact:
enquiries@naturalresourceswales.gov.uk 
0300 065 3000