Diving into marine conservation: On placement with #TeamNRW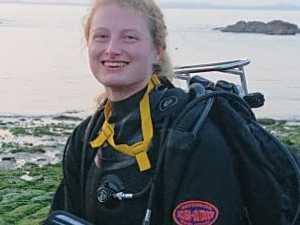 Last year, Rebecca Irvine joined our Marine Specialist Monitoring team in North Wales as part of a 18 months paid placement, to gain valuable experience in marine monitoring work as part of our Higher Education Placements. 
Despite the impact of Coronavirus changing the way we work; Rebecca was still able to get involved in some of our marine monitoring practices, including participating in a research cruise to identify offshore rocky reef habitat and working with our partners at National Museum Wales to curate the marine reference sample collection.
Find out more about Rebecca's time on placement with #TeamNRW below:
"I applied for the Marine Monitoring placement with Natural Resources Wales, so that I could gain practical work experience in marine surveys and fieldwork. Although I have a master's degree and plenty of volunteer experience, I was struggling to find a relevant job, as I didn't have enough experience and so I really valued the opportunity to come and join #TeamNRW for 18 months to work with the marine monitoring team and learn on the job.
On my placement, I was able to take part in intertidal surveys on a rage of different habitats, from  rocky shore and saltmarsh to mudflat and seagrass which helped to develop my species identification and fieldwork skills. The monitoring work that the team carries out is important, as it gives us a picture of natural changes over time in the marine environment and the long-term data sets are valuable in interpreting impacts such as pollution incidents.
I also had the chance to work on cockle surveys in the Dee which developed my knowledge and appreciation of this fishery.  Collecting marine mammal carcasses and witnessing dissections carried out by the Cetacean Strandings Investigation Programme (CSIP) was unconventional and increased my fortitude and understanding of marine mammals in general!
Alongside my  fieldwork experience, I was also able to assist with survey planning and organisation. I helped my team by organising equipment servicing, preparing for surveys, organising a training event and dive medical. Knowing that I had the support of an excellent team and fantastic manager gave me the confidence to step outside my comfort zone and grow. 
During the placement, I worked alongside National Museum Wales staff to curate the marine reference sample collection, a great chance to work with partner organisations. After an oil spill, I was able to assist in the spill response by taking meeting minutes and creating maps. 
I really enjoyed learning from the team at NRW. Working with them gave me a sense of place, and I really admire and respect them and their work. Placement opportunities like this are essential to give practical work opportunities to young graduates. The fact that it was a paid opportunity made me take the work very seriously and allowed me to even consider the placement in the first place; Long term volunteer placements are all very well, but don't pay your rent! 
This placement has opened up opportunities by equipping me with practical, technical and computer skills, building my confidence and allowing me to network with professionals in the sector. I have absolutely no doubt that my career opportunities have broadened from the experience, and am really grateful for the opportunity to have worked with the NRW Marine Monitoring team."
Do you think you have what it takes to join #TeamNRW?
As part of the Kickstart Placement scheme, we currently have a number of exciting opportunities available for young people who are on Universal Credit to come and work with us and gain valuable experience and skills that will help kickstart their careers in the environment.
Find out more here: Natural Resources Wales / Kickstart your career with our placement opportunities
What if I don't meet the Kickstart criteria but am still interested in a placement opportunity?
We're proud to offer range of placement opportunities at #TeamNRW – from Apprenticeships and Higher Education Placements through to Volunteer opportunities. Find out more on our Placements page here