Creating cycling opportunities for everyone on NRW's trails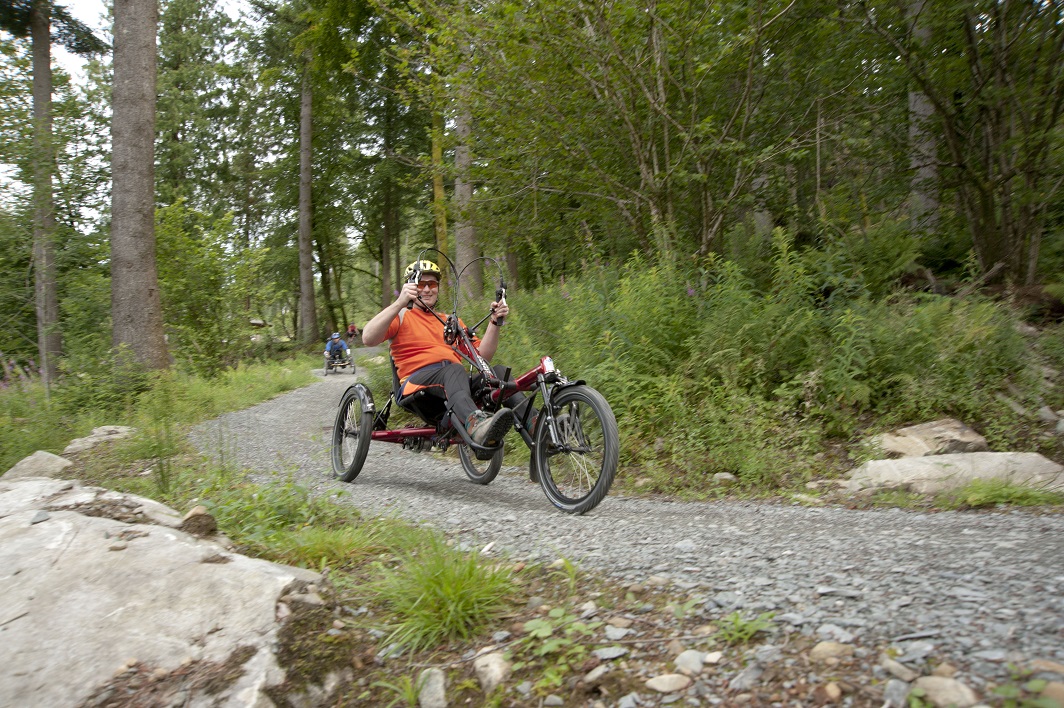 This Bike Week (5 to 11 June), Rachel Parry from our Outdoor Access and Recreation team tells us how NRW is making cycling more inclusive for people with a wide range of abilities.
As one of the leading providers of cycling trails in Wales, recreation staff and site managers across the NRW estate are working hard to make our fantastic trails more accessible to more people.
One aspect of this work has been to identify more challenging opportunities for people of all abilities to get out and experience the diversity of our sites using adaptive equipment on our walking and cycling trails.
Adaptive equipment includes adaptive cycles, adaptive wheelchairs and mobility scooters, and developments in this equipment means that more and more people are able to enjoy cycling in a greater variety of environments – definitely something to be celebrated during national Bike Week!
Description not prescription!
We are continuing the work we started a couple of years ago to describe trails in a visual way so that people of all abilities, their family and friends can get a clear idea whether that trail and site is accessible to them before they set out.
In my last blog (Helping visitors with disabilities decide if a trail is right for them) I talked about the pilot project we ran with Experience Community CIC to create films about some of our trails, adding to the information we already provide for visitors.
Working with local site managers, we drew up a shortlist of trails which didn't fall into the obviously accessible category, but which could offer some challenge to people with disabilities and open up more of the Welsh landscape.
Some of these trails are for cycling and shared use, some are dedicated for mountain biking and many are great for adaptive equipment so Bike Week means we can highlight the opportunities we have to enjoy a variety of landscapes from coastal Newborough Forest, wooded Coed y Brenin Forest Park, and the mountain environments of Beddgelert Forest and Afan Forest Park.
Our Trails for users of adaptive equipment webpage hosts films showing longer and more challenging trails that people with adaptive equipment can use. The films show route surfaces, uphill and downhill gradients and elevation – all described by a disabled person as they negotiate the route. Each film has both voiceover and subtitles available in English and Welsh, making them digitally accessible too.
The Accessible visits webpages also include full details of our barrier-free, wheelchair-friendly walking routes that are suitable for everyone.
Guidance for creating inclusive access
Underpinning all of this work is our guidance on least restrictive access By All Reasonable Means which includes the principles and good practice examples behind increasing access for everyone by aiming for the highest standards possible when improving access.
This guidance is being revised in partnership with Natural England and the Sensory Trust because this is an area that is constantly developing. The new document will be available later this year and will include an updated case study from Coed y Brenin's inclusive Minotaur mountain bike trail as an inspiring example of how to provide challenge and adventure for a range of abilities.
UK wide guidance Outdoor Accessibility Guidance was launched in April and provides the specifics on a range of infrastructure including trails, seating and resting place design and bird hides.
Find out more
If you would like to know more about our work to improve access for all, you can:
If you want to know more about Experience Community's work, have a look at the Experience Community website to see some of the films they created for other organisations such as Yorkshire Water, National Trust and National Parks