Blog post: Brand new jobs in digital, data, and technology
Are you interested in a digital, data, or technology role in an organisation focused on improving the environment of Wales? If so, read on.
Our ambitions for better digital services
Earlier this year we published our Digital Strategy for Natural Resources Wales, taking inspiration from the Digital Strategy for Wales, the Centre for Digital Public Services, and the Digital Service Standards for Wales.
We want to make our digital services better and simpler for citizens, businesses, and stakeholders. 
There's also an urgency to make our products and services better to help our organisation work as efficiently as possible to tackle the nature and climate emergencies. 
If we are to deliver our Digital Strategy and our wider aspirations, we need to build strong internal teams. We also need to accept risk and commit to continuous development - recognising that nothing is perfect the first time and putting our trust in evolution.  
Roles in our ICT, flood, and digital teams
We're advertising several new roles, in two new teams - working with existing NRW staff and external contractors. 
Content management and publishing platform team
This new team, within the NRW Digital Services Team, will focus on managing, maintaining, and improving our main website and content management system - working closely with our content designers, user researchers and publishing officers. 
Flood product and platform teams
These new product and platform teams will deliver a best-in-class Warning and Informing Service for the public in Wales. You will be developing and managing the technical systems that issue critical flood messages to citizens and partner organisations, with an eye on continuous improvement.
You will work together to form a new agile delivery team and new ways of working to deliver products on the latest technology stack backed by the Microsoft Azure platform.
This is an exciting opportunity to work in a technology role, within our wider flood risk team to deliver focused, highly available, multi-region systems that provide a 24*7 critical service.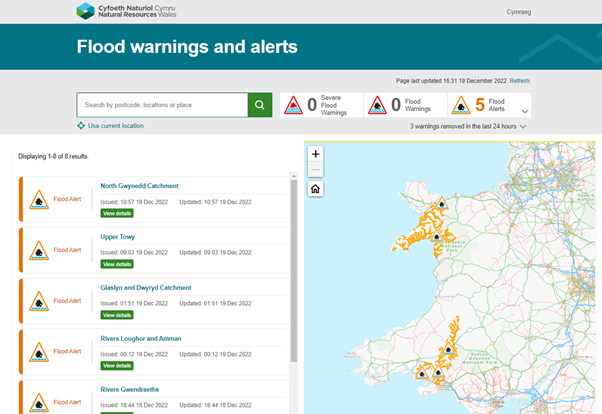 Who are we looking for?
We're keen to recruit a diverse group of people with a range of skills and knowledge. We're particularly interested in:
people who are eager to make a difference to services that affect the lives of people, nature, and the environment of Wales 
people who are happy when working in multidisciplinary teams
people who aren't afraid of trying new things, and challenging the status quo 
people who will bring in best practices from elsewhere
people who take part in internal and external communities of practice
Want to know more?
All the jobs are advertised on the NRW jobs board, with the closing date of Sunday 29 January, 2023.
If you're keen to know more, you can get in touch with us directly:
Heledd Evans - @helivans on Twitter or email: heledd.evans@cyfoaethnaturiolcymru.gov.uk
Or
Ian Johns – @IanJohnsNRW on Twitter or email: Ian.Johns@cyfoethnaturiolcymru.gov.uk