Benthyg Penarth – borrow don't buy!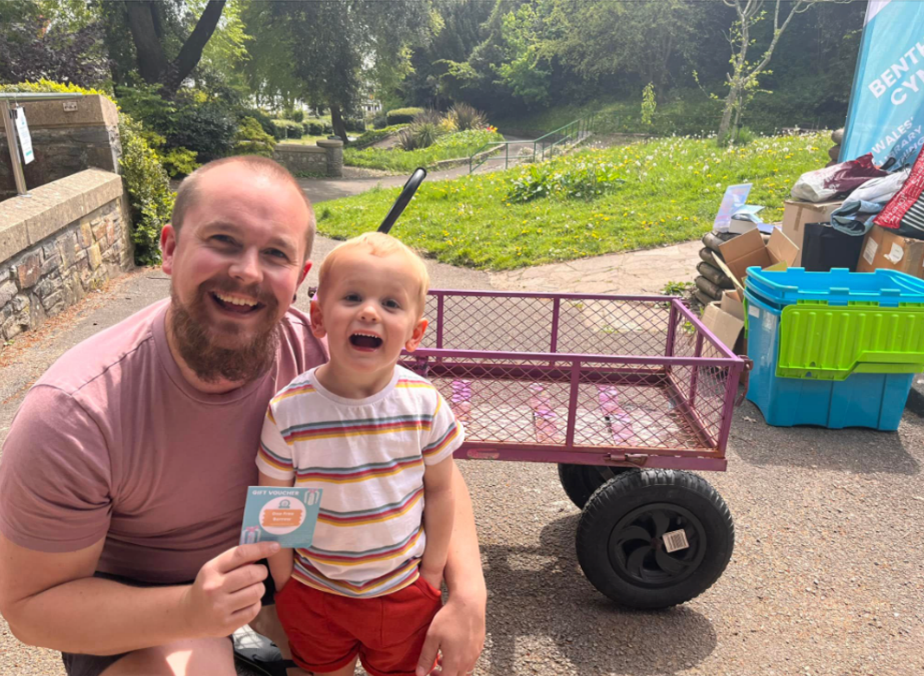 We're working with an innovative project called Benthyg Penarth - Library of Things.
The aim of the project is to make borrowing better than buying. It will allow us to manage resources sustainably by preventing material going to landfill, which follows the core principles of the circular economy.
The project is funded by NRW and WCVA, and also through volunteer in kind contributions.
The Benthyg model (Benthyg is a Welsh word meaning borrow or lend) is built around a strong ethos to supporting a sustainable lifestyle and community resilience. It will also provide a place where people can meet to share skills, knowledge and time to support each other. It also helps those who have been hit severely by the cost of living crisis.
Benthyg Cymru is supporting a network of Libraries of Things around Wales - find your nearest at www.benthyg-cymru.org
Here's Ella Smillie, Director and Co-founder of Benthyg Cymru, to tell you more about the project.
What is a Library of Things anyway?
Have you ever spent your hard-earned money on something you really needed – only to use it once and leave it gathering dust in the back of a cupboard? We've all done it at least once.
Picture the sheds and attics along your street full of hedge trimmers, pressure washers, carpet cleaners and drills that might be used a few times a year at the most but otherwise are just taking up valuable space in your and your neighbours' homes. 
All of these items have a carbon footprint reflecting the raw materials, manufacturing and shipping processes that they need to make it as far as our homes and yet the amount of use they get often doesn't reflect that; the average power drill is used for just 13 minutes in its lifetime. 
With the climate emergency and cost of living crisis looming large in all our lives, surely there must be a better way to make use of all those resources that already sit within our communities, helping people to save money and the environment...?
This is where Libraries of Things come in. Benthyg Cymru is a social enterprise set up to support a network of Libraries of Things around Wales, helping communities around the country to access items they need at low-cost. 
In April 2021, Gwyrddio Penarth Greening (GPG) was awarded funding from Natural Resources Wales and WCVA to set up a Library of Things in Penarth. Community engagement work had demonstrated a demand for this facility and the roaring success of local projects like Repair Café Penarth and the Facebook Penarth Reuse Group showed that there was considerable appetite within the town. Initiatives like these with strong community support are driving Wales to move beyond recycling and towards a circular economy, where materials are kept in use for as long as possible and embedding resource efficiency into our culture.
Benthyg Penarth – the story so far
Since launching and in spite of COVID-19-related challenges, the project has built up an inventory of over 300 items to borrow, ranging from tents to pressure washers to smoothie makers and everything in between. 99% of these have been donated by members of the public, ensuring that the community is making the most of available resources.
In the first 13 months since launching at the end of April 2021, the community has made 382 borrows (one borrow equals one item for one week ). The most popular items are the pressure washer, carpet cleaner, gazebos, lawn mower and hedge trimmer. Since the beginning of Spring there has been a significant uplift in borrowing and an increasingly wide range of items going out as new habits start to form around the community.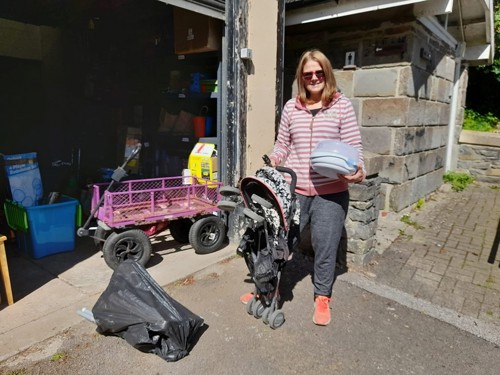 When planning the project, the GPG was keen to ensure everyone could access what they needed, regardless of their circumstances or location. Membership is free and prices to borrow start at £1 per week, but there is always an option to pay in volunteering time or Tempo time credits to enable everyone to access the items they need when they need them.
In addition to this accessible approach to pricing, the project includes an electric cargo bike which is used to collect and deliver items around the town, giving access to people who are unable to visit the location and reducing unnecessary car journeys. Eight volunteers have received training to use the bike safely and have become a familiar sight as they go on their rounds around the town.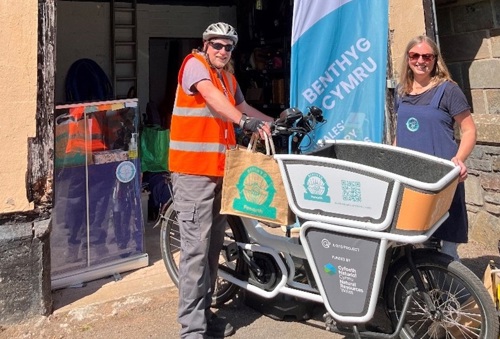 The project is now becoming well-established in the town, participating in community events and collaborating with other initiatives and local groups at every opportunity. 
During February half term, the project promoted its range of kids' dressing-up outfits in advance of World Book Day and St David's Day, generating a really positive response from families wanting to save money and avoid waste. The project also holds engagement events at key locations around town such as the 'Food Pod' set up by Vale Homes including a post-Christmas 'gift exchange' where local residents were invited to swap unused gifts – or donate one in exchange for a free Benthyg borrow.
What's next?
The Benthyg Cymru network is starting to collate data from around the country to monitor the growth of borrowing. The first set of data covering Oct 2021 – March 2022 shows Benthyg Penarth is leading the way in borrows – the next challenge is to retain this position as other Network projects become established and create a friendly rivalry!
The network is also beginning to implement a shared methodology for measuring carbon savings to demonstrate the tangible benefits of borrowing instead of buying. Benthyg Penarth will pilot this alongside RE:MAKE Newport before it is rolled out around the network.
Ultimately the network's goal is to make borrowing as easy and as normalised as popping out for a loaf of bread. This is driven by a real passion around sharing resources and creating economic and environmental resilience in our communities and this kind of change will only come about with dedication from staff and volunteers. This is why support from funders like Natural Resources Wales is vital in helping us to achieve our vision and move Wales towards a circular economy, protecting natural resources and revitalising where we live.