An Alga That Caught The Eye!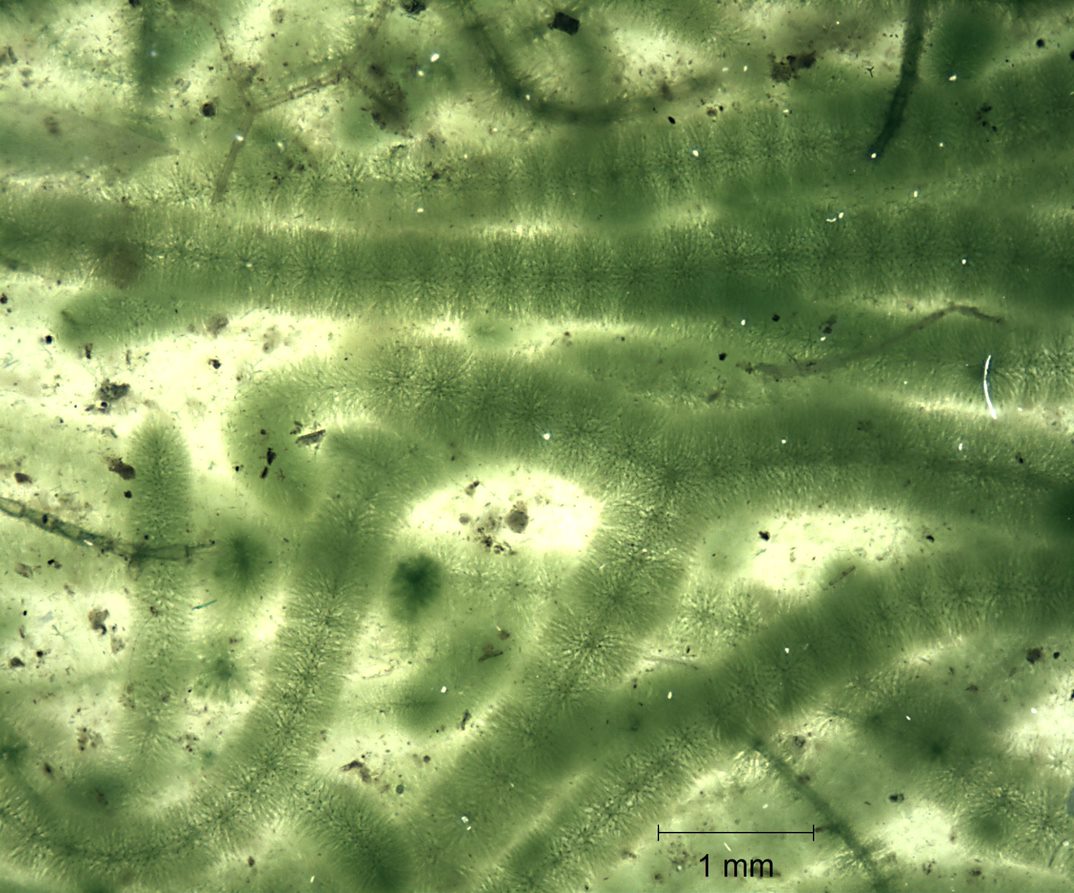 The National Peatland Action Programme (NPAP) is a five-year Welsh Government funded programme. It has been set up to deliver peatland restoration across Wales and to provide national co-ordination of action. The aim is to deliver 600-800 hectares of restoration per year, and activity is delivered by NRW and partners across a range of land uses on both private and public land.
Degraded peatlands release greenhouse gases to the atmosphere, and therefore restoring them to their natural wet state is vitally important in our efforts to tackle the climate and nature emergencies.
Here Rob Bacon, Project Officer for NPAP, tells us about something that caught his eye while on a site visit to Carn Fflur in the Tywi forest… 
Working with the National Peatland Action Programme takes you to some pretty secluded and remote places – that get a lot of rain! Whilst pondering how to restore an area of eroding bog back in October 2020 I noticed an odd-looking alga growing in a channel draining water from the bog.
I sent a specimen off to the Phycologist Chris Carter to see if he could tell us what it was. The first specimen lacked any visible reproductive structures and, luckily, a second specimen was obtained which had the necessary reproductive appendages (a rare observation, we are reliably informed).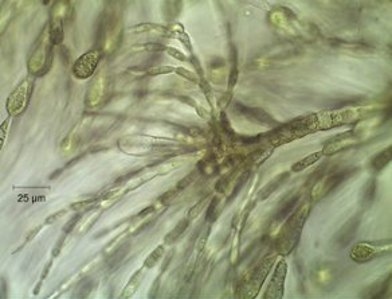 © C.F.Carter (chris.carter@6cvw.freeuk.com)
The species is Batrachospermum turfosum that is now known as Paludicola turfosa following a recent taxonomic revision (Vis et al. 2020). It belongs to the 'red algae' (Phylum: Rhodophyta), a grouping of over 6,000 species worldwide of which most are marine, with only 3% that exist in freshwater habitats. The Freshwater Algal Flora of the British Isles (John et al. 2011) currently lists 22 freshwater species of red algae, although it will be interesting to see what this number increases to in the next version of the flora.
Given the lack of species records for a lot of freshwater algae, it is not possible to know if this is a first species record for Wales. The likelihood is that it is not an especially rare species as it is thought to be widespread across the northern hemisphere. However, it is likely that it is somewhat choosey as research in Finland suggest that it is typically found in small lakes that are acidic, low nutrient (oligotrophic) or humic (suspended humic material e.g. peaty) in nature. Note the orange colour in the image despite the algae actually being green. This is also supported by the fact that the specimens were accompanied by diatoms including the species Frustulia saxonica that likes electrolyte poor freshwater habitats and raised bogs and is an indicator of good ecological condition.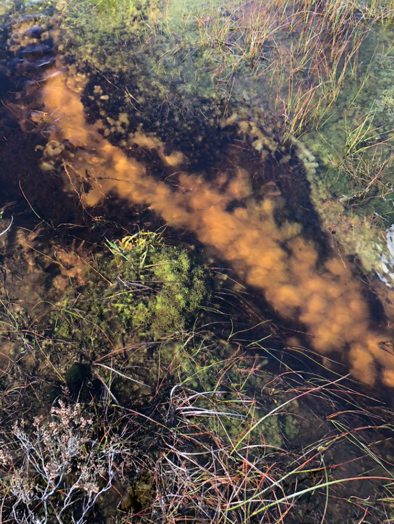 Current recording of freshwater algae across the British Isles is very limited. The Natural History Museum in London are currently revising the British Checklist for Desmid algae – a beautiful group of freshwater algae typically found in low pH environments. Desmids can be found growing amongst submerged vegetation e.g. Sphagnum cuspidatum or in the bladders of the carnivorous bladderwort plant (Utricularia sp.).
Given the limited recording of freshwater algae, it is hard to know whether there are any particular strongholds for freshwater algae diversity. The best we have are the Important Plant Areas for Algae produced by Plantlife which includes a handful of sites in Wales, including:-
Pant y Llyn near Builth Wells (50+ Desmids including 3 UK Red List Species)

Cader Idris & the Capel Curig area (over 1,500 species of freshwater algae including 600+ desmids)

Cwm Bochlwyd (Around 150 species of Desmid)
You can find plenty of microscopic images of freshwater algae at the AlgaeBase & AlgaeVision websites.
Be sure to keep an eye out – we will!
----
John, D. M.; Whitton, B. A. & Brook, A. J. 2011. The Freshwater Algal Flora of the British Isles: An Identification Guide to Freshwater and Terrestrial Algae (Second Edition)