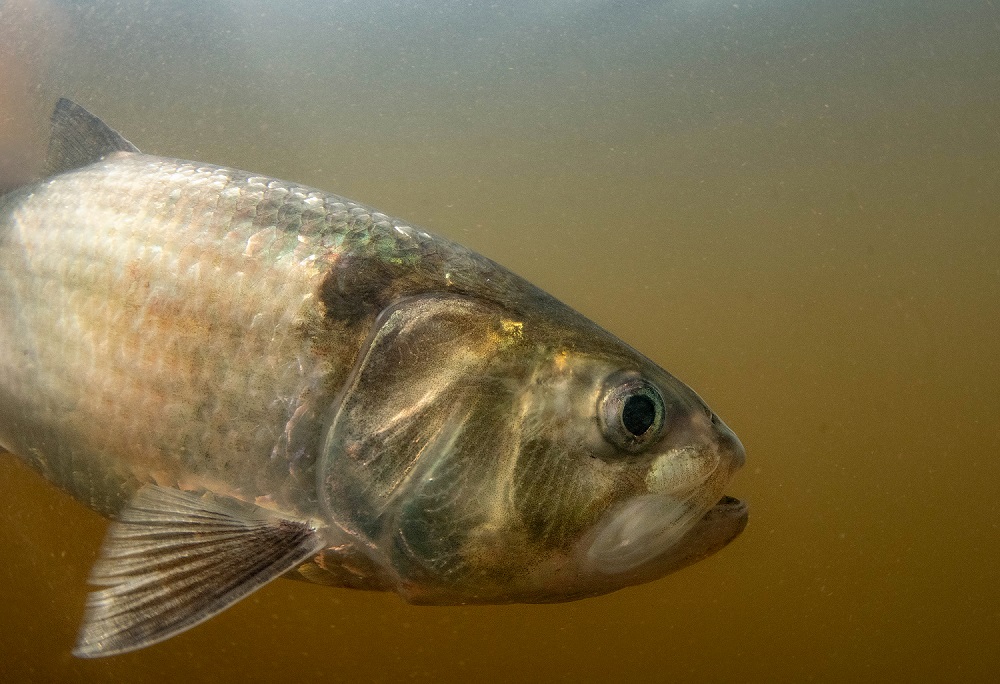 The Four Rivers for LIFE project aim is to improve the condition of four SAC (Special Area of Conservation) rivers in south Wales, the Teifi, Tywi, Cleddau and Usk.
All four rivers are currently failing their ecological targets as a result of multiple pressures such as water quality and quantity, man-made barriers, climate change, habitat degradation and invasive non-native species.
Here Sophie Gott, Senior Monitoring Officer for the Four Rivers for LIFE Project, talks about the project's monitoring activity, specifically focusing on her recent work surveying a fish species called shad.
What is monitoring and why is it important?
The data and evidence we gather in our surveys is what informs our work and the decisions we make over the life of this project.
It also supports how we measure progress against targets and communicate the impacts our work is having.
A wealth of data already exists  in organisations like the National Biodiversity Network, River Restoration Centre (partner of the LIFE project) and Natural Resources Wales (NRW).
We work closely with our colleagues in NRW to use their data, where appropriate, as a 'baseline'. This provides us with a starting point from which to calculate and measure progress against the objectives of our project.
All our monitoring work will take a before and after, control and impact approach (BACI). It will take into account project objectives and the rate of response that is likely to come from our restoration techniques, and their effectiveness in the short, medium and long term.
As part of the project, we are monitoring fish migration and connectivity of the rivers, with particular focus on one important species - the Twaite shad.
Shad are one of Britain's rarest fish with only four rivers in the UK recognised as having breeding populations. Three of these rivers are in Wales - the Tywi, Usk and Wye.
Shad were one of the first fish to be protected in the UK, and the presence of populations in Welsh rivers was a key contributing factor to their designation as Special Areas of Conservation (SACs).
The River Severn is also home to shad populations but they  are currently only found in the river on the English side of the border.  
'Unlocking the Severn' is a LIFE project which aims to restore 158 miles of the river, enabling shad to reach their natural spawning grounds once again You can read more about the project here.  
What has monitoring shad shown us so far?
Twaite shad (Alosa fallax) are silver in colour (see image below) and are saltwater fish of the herring family. Adult fish are typically around 30cms long when they migrate up rivers to spawn).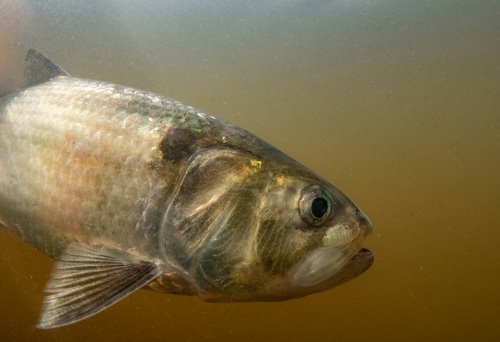 They migrate from the sea up our freshwater rivers in May and reach their spawning ground around June. Water temperature and the length of the day are thought to be the key factors in triggering the spawning migration.
Shad are a fast-swimming fish in terms of body lengths per second. However, their inability to jump over obstacles or negotiate very fast water speeds, has meant weirs pose a significant problem for them.
While the shad is a sea fish, it has to enter freshwater to reproduce.  They spend an average of just 30 days of the year in our rivers, with most returning to the sea after spawning.
Our project has been surveying for shad on the river Tywi in relation to barriers at Llangadog and further upstream.
Historic surveys have shown shad eggs to be present this far up in the river catchment on rare occasions., However, spawning more typically occurs from Llandeilo downstream.
Our baseline surveys in 2022 and 2023 have shown spawning occurred as far upstream as Llandeilo this year, and Nantgaredig last year.
On the river Usk, shad regularly spawn as far upstream as Abergavenny, and have also been recorded in the stretch between Abergavenny and Crickhowell, although less frequently.  
This year's shad surveys have again showed that shad have not spawned upstream of Llanfoist bridge (Abergavenny). This was also the case in 2022.
Crickhowell (see image below) and Llanfoist bridges are highway crossings where extensive concrete footings support the bridges. They form partial (Llanfoist) or complete (Crickhowell) barriers to fish migration.
One key factor may be the low rainfall and lower river flows that we have experienced over the spring months this year and last year.
This means that the volume of water passing over these footings is low, and the drop from the footings is too high for shad to pass.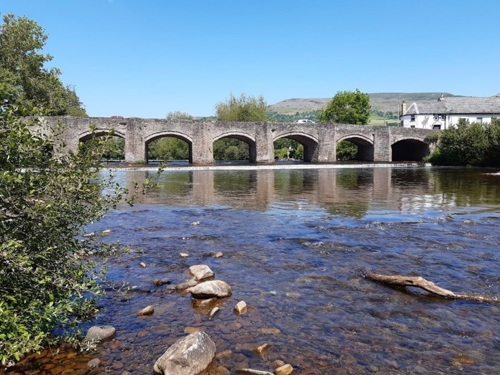 Pressures facing shad in our rivers
The main factors affecting the shad's population decline are barriers in rivers, water flows and water quality.
Shad differ to other fish species, in that as soon as they get the triggers to head upstream, they have a short window of time in which to make that migration, spawn and get back to sea.
Salmon, on the other hand, may take several weeks to migrate up the river and are more able to wait for the right conditions to do so.
Shad may also end up spawning in less-than-ideal locations if conditions do not allow them to migrate further. This can result in decreased egg survival rates and decreased genetic diversity in the population.
Shad are able to negotiate some barriers, but if they use their energy to get past one barrier, the chances of them successfully passing the next decline as are they are more likely to lack the energy they need to swim further upstream.
It is vital that we ensure that man-made structures do not contribute to this energy loss, and the reduction in spawning habitat available.
Water quantity can play a role in whether shad (or other fish) are able to pass an obstruction. What could potentially be passable in one spring where rivers experience higher flows, may be a complete barrier in other years where river flows are low.
Water quality is also key to egg survival. They need fresh clean water with plenty of oxygen to develop. Keeping the inputs of nutrients down is also beneficial to the species and is one of the aims of the project.
Lack of tree cover along the riverbank could mean that the river might also be increasing in temperature and unable to cool.
Trees along rivers can help stabilise the riverbanks with their roots, but they also provide important shade and cover, cooling the river as it flows whilst at the same time providing much needed shade for fish and other wildlife.
Stabilising the riverbank will also help to control the amount of fine sediment getting into the river. Silt can clog gravels, reducing the available habitat for eggs to settle, and smother eggs by reducing the oxygen uptake.
How do we monitor for shad?
When surveying a river, we are looking for a section where the river has a deeper smooth section of water (glide) upstream and then a shallow, rippled section (riffle) downstream., This is the perfect scenario.
When surveying, we will position ourselves (see image below) with the glide behind us and riffle in front of us.
The substrate is kicked for a few seconds, with the net held downstream, and the contents of the net examined. All shad eggs are counted and released back into the river immediately.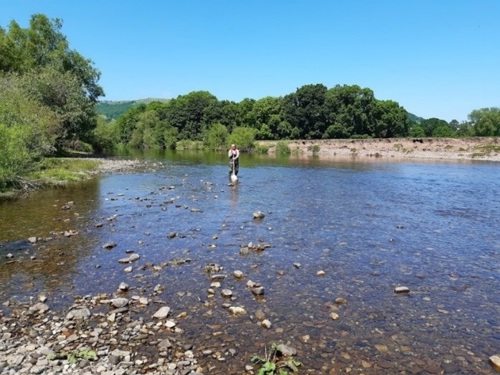 The shad will spawn at night, at the surface of the water in the deeper calmer areas of the river. The eggs will slowly float downstream, settling into the gravel in the riffles where the turbulence provides more oxygen in the river, providing the, perfect conditions for the eggs as they grow.
Monitoring work will continue for shad, and other fish such as salmon and lamprey over the next few weeks.
Learn more about our project by signing up to our newsletter or by following us on Facebook, Twitter and Instagram.