Visiting our sites during the coronavirus pandemic
How to plan for a safe visit and what to expect when you arrive
Last updated: 21 January 2021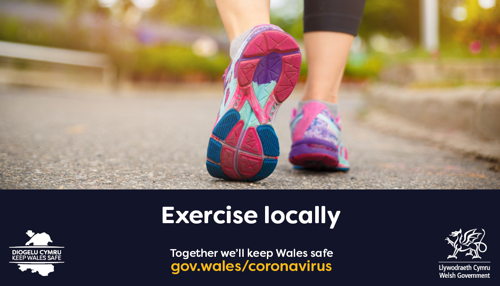 Welsh Government coronavirus regulations
Wales is currently under alert level 4 of the Welsh Government's Coronavirus (Covid-19) regulations, meaning that travel should be for essential purposes only.
Welsh Government regulations state that exercise should start and finish from home, and generally this should not involve people driving to a location away from home.
Where there is a legitimate reason to travel to our sites, such as a specific health condition or mobility issue, you should only drive to the nearest convenient, accessible location.
The car parks, trails, play areas and toilets in most of our woodlands and nature reserves are open but, under the current coronavirus restrictions in Wales, this is intended only for the use of people who live locally.
Please note that our mountain bike trails are only open for people who do not need to drive to access them.
If using any of our sites to exercise, you should do so alone or with members of your household or support bubble.
Go to the Welsh Government website to find out about the national rules
Closed visitor facilities
These visitor facilities are closed until further notice:
visitor centres
cafés
toilets inside visitor centres
Some other facilities at our sites remain closed.
Check the web page for your local site before you visit. 
Closed car parks
Car parks at these places are closed:
The Snowdonia National Park Authority car parks at these places are closed:
Sites closed due to forestry operations
Car parks, trails and all facilities are closed at these places due to ongoing forestry operations:
What's open at my local woodland or reserve?
Check the web page for your local woodland or reserve before you visit.
Visiting our sites safely
Plan ahead
Park responsibly
Respect the local community by parking responsibly at designated car parks – do not park on verges or block emergency access routes.
There are parking charges in some of our car parks - some pay machines and barriers require the correct cash and do not take cards.
Keep your distance
Make every effort to maintain the required social distance on our trails.
Please remember to wear a mask when going inside one of our buildings.
Be patient and respectful
Follow the guidance and signs at our sites which will help you to enjoy your visit safely.
If your destination is too busy when you arrive, please have a 'plan B' ready and try an alternative destination.
Tread lightly
Respect the environment and the wildlife around you.
Please keep an eye out for any temporary signs on our sites - they are there to help keep you safe.
Follow the Countryside Code
Stick to trails, keep dogs under control, take litter home, leave gates as you find them and don't block entrances or gateways.