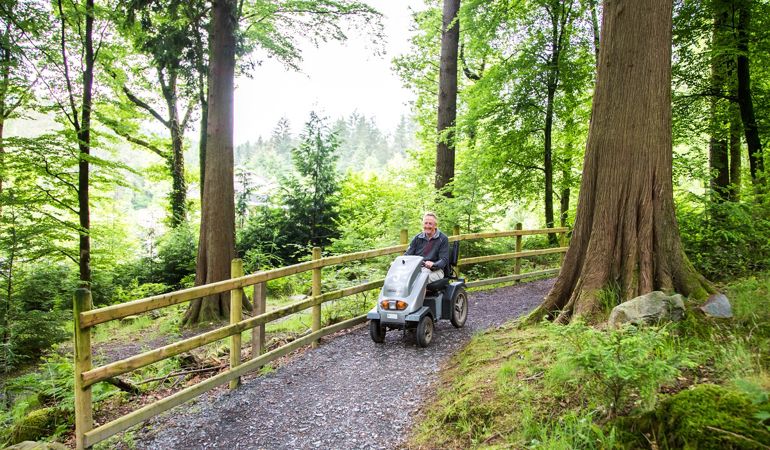 Helping people live healthier and more fulfilled lives is a cornerstone of our work, and forms part of our Well Being Objectives.
To make this a reality for our customers and the people of Wales, we strive to make our sites as accessible, inclusive and welcoming as they can be so that everyone can have the opportunity to get out and enjoy the great outdoors.
Equality Act 2010
Under the Equality Act 2010 we, as a public body and service provider, consider the needs of people with 'protected characteristics' when providing services and opportunities. The Equality Act 2010 brought together and replaced the previous anti-discrimination laws such as the Disability Discrimination Act with a single Act.
Protected characteristics include:
Disability
Sex (gender)
Gender reassignment 
Race
Religion, belief or non-belief
Sexual orientation
Age
Equality and Diversity Assessment of our sites
We undertook an assessment of our main visitor sites to find out whether we provide fair and equal services and facilities for all, what we are doing well and what we can improve on.
Many of the recommendations from the report are about keeping up the effective work we are already doing. Other recommendations are being used to improve signage, path surfaces, communication with visitors, and the information and guidance we provide to staff to ensure we consider all protected characteristics at sites we manage.
Read the executive summary of the Equality and Diversity Assessment Report
Find out more about Equality Impact Assessments across all of NRWs work
Providing guidance on inclusive access to the outdoors
We have recently updated our guidance on inclusive access to the outdoors for our own site managers, and for other land managers that create, manage or maintain recreational access facilities.
By All Reasonable Means: Guidance on Least Restrictive Access to the Outdoors has been developed with the Sensory Trust to help ensure that access to the countryside and open spaces is equally available to people of all ages, circumstances and backgrounds.
The aim is to provide a realistic, practical and effective approach to access improvements, creating more accessible places for more people.
The guidance looks at how to make trails, sites, facilities and associated information more accessible and inclusive and how to improve the experience at places that are already accessible.
It uses the 'Access Chain' to focus on access as a chain of events that start, for example, at home, where a decision to visit a site or route might be made, and to where a visitor returns to after experiencing the outdoors.
By providing a framework for improving access, the guidance encourages land managers to identify those standards and techniques that are most appropriate for a particular situation. It includes useful appendices such as access standards for different types of sites, links to relevant legislation and organisations, and guidance on path auditing and action planning.
We encourage you to give feedback on the guidance as you use it. Inaccuracies will be addressed immediately while other appropriate feedback will be incorporated on an annual basis. So please let us know if you have any suggestions for making this guidance as useful as it can be. 
Contact us
If you have any questions about our work on improving access for all, please contact us at enquiries@cyfoethnaturiolcymru.gov.uk
Related document downloads