Mountain biking in Afan Forest Park
Located minutes from the M4, Afan Forest Park is one of the iconic mountain bike destinations in Great Britain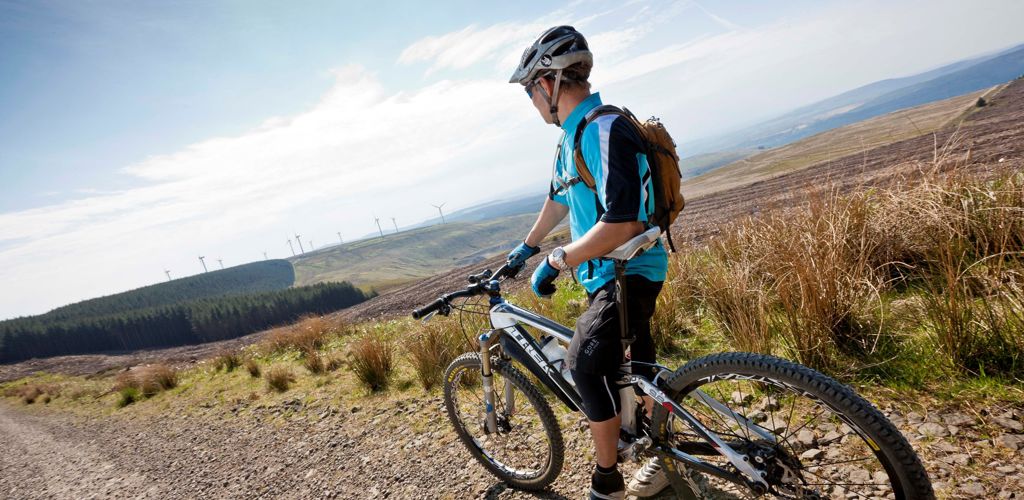 Some of the trails are diverted. Go to Closures and Diversions for more information.
The car park, toilets and all visitor facilities at Afan Forest Park visitor centre are managed by Neath Port Talbot Council - see the Afan Forest Park website for the latest information about the visitor facilities.
Coronavirus update
Our sites and most visitor facilities are open but, under the current coronavirus restrictions in Wales, this is intended only for the use of people who live locally.
You are strongly advised – in line with current Welsh Government regulations – not to drive to any of our sites to exercise unless you have specific health or mobility issues.
We have changed the normal route for some of our trails to help you maintain social distancing – please follow signs on site.
Introduction
The mountain bike trails have been carved out of hillsides once surrounded by coal mining, and the valley has been transformed into a rider's heaven.
With a multitude of trails graded from green to black, Afan Forest Park offers some of the most exciting and progressive mountain biking in the country for everyone from beginners to experienced riders.
All of the mountain biking trails are waymarked.
Trails start from either the Afan Forest Park Visitor Centre, Glyncorrwg Ponds Visitor Centre or Rhyslyn car park.
And there's no need to bring a bike as they can be hired onsite.
Which mountain bike trail is right for you?
The mountain biking trails at Afan Forest Park are graded to give you an indication of their difficulty.
To make sure that you pick a mountain bike trail you can handle:
Closures and diversions
Sometimes we need to close or divert trails for your safety whilst we undertake maintenance work or forest operations
Occasionally we may have to close a site in extreme weather, such as high winds or snow and ice due to the risk of injury to visitors or staff
Please always follow any instructions onsite and make sure you follow any temporary diversion signs in place
There are diversions on the following trails:
Skyline: Diversions on the 'South Pit', 'Short & Sweet', 'Riding High', 'On the Edge' and 'Coed Mog 1' sections due to harvesting operations.

Blue Scar:

Maintenance is being carried out along this trail. Please follow all signs on site and slow down where necessary.
Blade: The 'Ghost Train' section is permanently closed. Please follow waymarked diversions.
The

Rookie Skills Area

Boardwalk section is closed. All other skills sections open as usual.
The boardwalk sections of

W2

Black Run and

White's Level

(Goodwood), are closed for replacement. Please follow diversion signs.
Family trails
Rheilffordd
Starting point: Afan Forest Park Visitor Centre or Rhyslyn
Length:
22.5 kilometres (Pontrhydyfen to Blaengwynfi)
22.5 kilometres (Glyncorrwg and back)
16 kilometres (circular route Pontrhydyfen to Cymer and back)
Grade: forest road or similar
The Rheilffordd is a low level cycle way along the wide flat route of the old railway lines that once carried passengers and coal the length of the valley.
As well as following disused railway tracks, the trail goes onto forest roads and winds through forest and open areas that were once railway sidings.
The former Cynonville station has been converted to a shelter and barbeque, and there are many benches and picnic tables along the route to stop and enjoy the view.
Green (easy) trail
Starting point: Afan Forest Park Visitor Centre
Length:
5.8 kilometres (green-graded trail)
2.3 kilometres (optional blue-graded loop)
Grade: green (with optional extension onto a blue graded loop)
The Rookie trail is Afan Forest Park's first green-graded trail and it offers a perfect route for newcomers or those looking for a relaxing ride.
It has been built in sections to allow riders to experience as much or as little as they want.
This is a wide trail with slightly sweeping descents and there is a family skills area along the way where riders can develop their skills too.
At the end of the green trail, there is an optional 2.3 kilometre blue-graded loop by the river. This provides a taster for those wishing to progress or looking for a bigger adventure.
Blue (moderate) trail
Blue Scar
Starting point: Afan Forest Park Visitor Centre
Length: 7 kilometres
Grade: blue
The Blue Scar mountain bike trail takes its name from the mining history of the valley and is designed for those who are very competent on green trails and want to try a more remote and challenging ride.
It climbs out of the visitor centre and rewards riders with some amazing views. The return down the other side of the valley has a few technical features.
This is a fantastic trail to improve riding skills and develop confidence.
Red (difficult) trails
Penhydd
Starting point: Afan Forest Park Visitor Centre
Length: 14.4 kilometres
Grade: red
The Penhydd trail shares its first climb with the Blue Scar trail but, when the Blue Scar branches off, the Penhydd continues to climb.
The trail mixes the old with the new, combining forest road climbs with fantastic views, flowing singletrack descents and some new steeper sections looping back to the visitor centre. 
Y Wal
Starting point: Afan Forest Park Visitor Centre or Rhyslyn
Length: 23 kilometres
Grade: red
Y Wal mountain bike trail has some of the best singletrack descents in the UK.
It traverses the north side of the Afan Valley on singletrack which varies from fast, open and flowing to tight, technical and rooty.
There are great views of the valley and coastline and, in places, the steep-sided slopes can feel exposed.
Please note: The approach to the singletrack shares a section of the low level family cycleway and the disused railway line, so please ride with consideration for other forest users.
White's Level
Starting point: Glyncorrwg Ponds Visitor Centre
Length: 15.4 kilometres
Grade: red
White's Level mountain bike trail is a very technical and progressive riding trail. It has an optional black-graded section with drops and step downs and long singletrack climbs.
The Energy section takes its name from its proximity to the Ffynnon Oer wind farm operated by RWE Innogy (formerly Npower Renewables). This new section demands energy, technical skill and confidence from riders. 
Blade
Starting point: Glyncorrwg Ponds Visitor Centre
Length: 23.6 kilometres
Grade: red
Funded by Vattenfall, a European energy company, the Blade mountain bike trail is a fantastic recent addition to the Afan Forest Park trail network.
The trail shares the same steep track climb from Glyncorrwg Ponds with White's Level but takes riders out to higher and more remote areas.
It includes lots of great singletrack sections, some tough technical climbs and fast flowing descents.
Black (severe) trails
Skyline Loop
Starting point: Glyncorrwg Ponds Visitor Centre
Length: 24 kilometres
Grade: black
The Skyline Loop takes in some amazing views and riding. It is an additional loop to the Blade trail and concludes with a rocky, six kilometre singletrack descent back into Glyncorrwg.
There are stunning, skyline views of the Brecon Beacons, the Preselis, the Black Mountains and the South Wales coast.
W2 Links
Starting point: Afan Forest Park Visitor Centre or Glyncorrwg Ponds Visitor Centre or Rhyslyn car park
Length: 44 kilometres
Grade: black
The W2 Links allow riders to devise their own trail by combining Y Wal and White's Level (hence the name W2).
Both the upper Parsons Folly and lower Rheilffordd trail links allow you to explore the Afan Valley fully and give you access to two of the classic Welsh trails, Y Wal and White's Level.
This trail can be started from either Afan Forest Park Visitor Centre or Glyncorrwg Ponds Visitor Centre. Each centre is an ideal halfway point for a break and refreshments.
Afan Bike Park
The Afan Bike Park is an extreme graded bike park for more advanced riders to improve their skills.
It has a circular cross country perimeter loop which encloses a series of different graded runs. Features include table tops, roller doubles, rollers, berms, rock features and log skinnies.
The closed loop system means you can push or ride the short distance back up to the top for another run.
The Afan Bike Park is situated at Gyfylchi close to the start of the final Zig Zag section on the Y Wal trail.
You can either pop in on your way round the Y Wal trail or you can drive up and park on site courtesy of Bryn Bettws Lodge, which provides accommodation.
Family skills area
There is a skills area on the Rookie trail near the Afan Forest Park Visitor Centre for less experienced riders.
Afan Forest Park Visitor Centre
Afan Forest Park Visitor Centre is run by Neath Port Talbot Council. It includes a café, shop, toilets and camping.
Glyncorrwg Ponds Visitor Centre
The Glyncorrwg Ponds Visitor Centre is the trailhead for the White's Level, Blade and Skyline mountain biking trails. Both the W2 Links trails can also be started from here.
Facilities include:
bike shop for hire and retail (Skyline Cycles)
café
lounge area
open air deck
toilets (including accessible toilets)
changing/shower rooms
bike wash
coaching and guiding
There are also coarse and fly fishing lakes, a caravan and camp site and a number of waymarked walks.
Glyncorrwg is signposted from the A4107 in Cymer (the OS grid reference is SS 872 984).
Bike hire, repairs and sales
There are two bike shops in Afan Forest Park.
Afan Valley Bike Shed is adjacent to the Afan Forest Park Visitor Centre.
Skyline Cycles is located under the café in the Glyncorrwg Ponds Visitor Centre.
Both shops offer a range of services including:
bike hire
repair and servicing
sale of bikes and parts
tours and events
coaching and guiding
See their websites for more details.
Other forests in Wales with mountain biking trails
With over 30 single-track trails, the forests of Wales offer everything a mountain biker could want.
See our mountain biking page for more information.
Contact us
Natural Resources Wales Mountain Bike Ranger
Tel: 0300 065 4720
Email: robert.campbell@cyfoethnaturiolcymru.gov.uk
Afan Forest Park Visitor Centre (run by Neath Port Talbot Council)
Tel: 01639 850564
Email: afanforestpark@npt.gov.uk
Glyncorrwg Ponds Visitor Centre
Tel: 01639 851900
Related document downloads