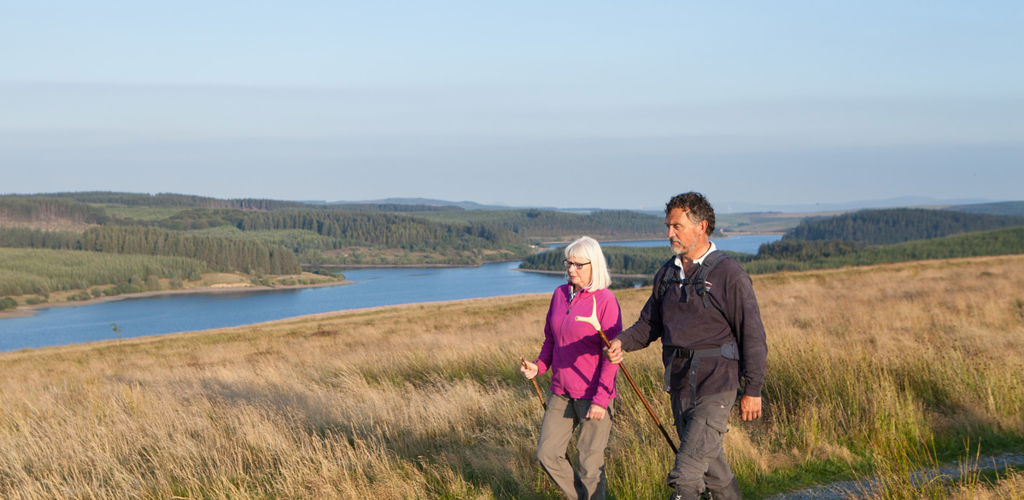 Overview
Situated to the south west of Ruthin, Hiraethog Forest extends to over 6000 hectares (15000 acres) and is made up of a mix of Norway spruce, pine and larch trees.  
It is a working forest, which means that some trees are felled to supply timber, but there is plenty of space for visitors to enjoy a range of recreational activities.
Hiraethog Forest is part of Mynydd Hiraethog, which translates as "the hills of great longing". It is an extensive upland area with a broad rolling landscape.
The many miles of quiet forest roads, numerous car parks and waymarked trails make Hiraethog Forest an ideal location for walking, cycling and horse riding.
There are three visitor areas within Hiraethog Forest:
Clocaenog Forest – a forest with a huge choice of walks; please see the separate Clocaenog Forest page
Llyn Brenig – a reservoir and visitor centre managed by Dŵr Cymru/Welsh Water (see below)
Alwen Reservoir – a reservoir with walking and cycling trails managed by Natural Resources Wales (see below)
Llyn Brenig
This beautiful lake – actually a reservoir - is one of the largest areas of inland water in Wales with a perimeter of 9.5 miles (15 kilometres). 
It was built between 1973 and 1976 and it helps to regulate the water supply to the River Dee.
Llyn Brenig is managed by Dŵr Cymru/Welsh Water.  
Visitor facilities at Llyn Brenig include:
visitor centre 
café
cycle trails
bike hire
adventure playground
fishing
sailing
Llyn Brenig Visitor Centre is signposted from the B4501 between Denbigh and Cerrigydrudion. The OS grid reference is SH 968 548.
For more information see the Dŵr Cymru/Welsh Water Llyn Brenig website 
Alwen Reservoir
Natural Resources Wales manages the 1500 hectares of upland coniferous forest which surround Alwen reservoir and which form part of Hiraethog Forest.
The reservoir and dam were constructed between 1909 and 1921 to provide piped water to Birkenhead.
Today the reservoir supplies water to homes across north-east Wales and produces about 5 million gallons of water a day.
Visiting Alwen Reservoir
Alwen Reservoir is encircled by the Alwen Trail which is a seven mile (15 kilometre) waymarked route for walkers and cyclists. Horse riders are not permitted on the single track and open moorland sections of the Alwen Trail but may ride along the forest road network.
Cyclists can also follow the Circular Trail which goes from Alwen Reservoir to Llyn Brenig. This trail is managed by Dŵr Cymru/Welsh Water and may be started from either Alwen Reservoir car park or from Llyn Brenig car park.
The Two Lakes Trail is a waymarked walking route from Alwen Reservoir to Llyn Brenig where there is a visitor centre with café and toilets managed by Dwr Cymru/Welsh Water.
Closures and diversions
Please note:
Sometimes we need to close or divert trails for your safety whilst we undertake maintenance work or forest operations
Occasionally we may have to close a site in extreme weather, such as high winds or snow and ice due to the risk of injury to visitors or staff
Please always follow any instructions onsite and make sure you follow any temporary diversion signs in place
Walking trails
All of the walking trails are waymarked and start from Alwen Reservoir car park.
Alwen Trail
7 miles/11.2 kilometres
The Alwen Trail is an enjoyable and pleasant walk through a variety of woodland habitats around the Alwen Reservoir. This is a shared use trail which may be used by walkers, horses and cyclists.
Two Lakes Trail
14 miles/22.5 kilometres
The Two Lakes Trail is a route around Llyn Brenig and the Alwen Reservoir. It takes in the spectacular views and diverse scenery of both these reservoirs and it can be started from either one.
Mountain biking trail
The mountain biking trail is waymarked and both may be started from Alwen Reservoir car park. 
Please note: this is a shared use trail and cyclists must give way to horses and walkers. 
See our mountain biking page for a list of all our mountain bike trails and information about grading to make sure you pick a trail that is right for you.
Please also read the relevant onsite information before setting off on your ride.
Alwen MTB Trail
11.5 kilometres, grade blue
The Alwen MTB Trail links forest roads with purpose built, often single track trail sections, weaving in and out of the forest around the reservoir. It has great variety with some sheltered forest and open moor land and there is a climb up from the bridge over the reservoir. This trail must be done anti clockwise by bike.
Opening times 
The Visitor Centre (with toilets and café) at Llyn Brenig is managed by Dwr Cymru/Welsh Water. Please check the Dŵr Cymru/Welsh Water website for opening times.
How to get here
Alwen Reservoir is 10 miles south west of Denbigh on the B4501.
Car parking at Alwen Reservoir is free of charge.
Directions
From the south: follow the A5 to Cerrigydrudion and then take the B4501 north to Denbigh. The Alwen Reservoir Natural Resources Wales car park is on the left shortly after the Pont yr Alwen junction.
From the north: take the B4501 from Denbigh. The turning to the Alwen Reservoir Natural Resources Wales car park is on the right after the Llyn Brenig Dwr Cymru/Welsh Water visitor centre.
Ordnance Survey map
Hiraethog Forest is on Ordnance Survey (OS) map 264.
The OS grid reference is SH 956 529.
Public transport
The nearest train station is in Rhyl. For details of public transport visit www.traveline.cymru
Find out more
Contact details
Tel: 0300 065 3000
Email: enquiries@naturalresourceswales.gov.uk 
The telephone number for the Llyn Brenig Visitor Centre, which is managed by Dwr Cymru/Welsh Water, is 01490 420463.
Downloads
Related document downloads
Explore more
Elsewhere on the site
Apps