Communities and Nature Project
Find details of the European Regional Development project to create high quality facilities that help promote the fantastic natural environment in Wales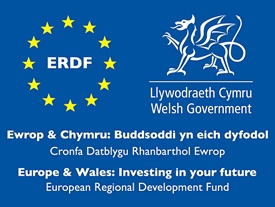 High quality facilities are vital to attract more visitors to rural areas throughout the year and provide valuable, sustainable jobs in communities where they are most needed.
The Business Plan set out three broad aims for the Communities and Nature project:
to maximise the economic benefits of natural capital by increasing the volume, length and value of visits to the countryside, and through job and enterprise creation
to ensure that the benefits of activities undertaken through CAN were shared with disadvantaged groups through employment, training and volunteer opportunities
to enhance sustainable development in Wales by providing high quality local leisure opportunities and improving the attractiveness of each spatial plan area
How the project was funded and managed
The Communities and Nature (CAN) was a £14.5 million project, part funded by the European Regional Development Fund.
It was led and managed by the Countryside Council for Wales, while Environment Agency Wales acted as joint sponsor for the Wild Fishing Wales project.
The project was active in the whole of the Convergence Area, with the exception of the Valleys Regional Park and it worked closely with many other projects funded through the E4G Theme.
See the CAN Handbook and the Wavehill and Cardiff Business School Evaluations for more details of how the project was managed, funded and delivered.
CAN's outputs and achievements
33.5 jobs (full time equivalent)
12 enterprises
454 kilometres of access
1,798,147 visits to the natural environment
Innovative methods
CAN deployed innovative methods to ensure all initiatives adhered to principles of environmental sustainability and secured benefits for visitors, as well as for disadvantaged communities. Emphasis was placed on:
Ensuring that the supply of new infrastructure, such as visitor attractions, was matched with new demand through increased marketing and promotional work
Developing sound monitoring and evaluation methods, both at a bid level and for CAN's activities as a whole
Fostering innovation at all levels
Building capacity in communities
The CAN Handbook
The CAN Handbook is intended as a best practice guide for CAN initiatives. It is made up of 12 chapters and five annexes.
Each CAN initiative has its own requirements, so if you cannot find the information you need in the handbook, please e-mail can@cyfoethnaturiolcymru.gov.uk.
Examples of projects funded by the project
You can see our CAN Video on Youtube to hear from some of our partners involved in the projects.
Related document downloads