Mudiad meithrin – using the outdoors to 'meithrin' / nurture Welsh language development
January 2023
Mudiad meithrin – using the outdoors to 'meithrin' / nurture Welsh language development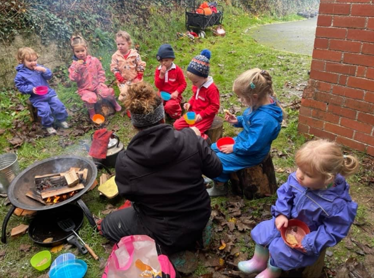 Over the last 50 years, Mudiad Meithrin has established itself as the Welsh-medium early years specialist.  Supporting a national network of Cymraeg i blant (Cymraeg for kids) groups and Clwb Cwtsh informal Welsh language classes, alongside its traditional Cylchoedd Ti a Fi (Welsh-medium Stay and play groups), Cylchoedd Meithrin (Welsh-medium playgroups/nurseries), Mudiad Meithrin provides accessible, local Welsh-medium activities for families across Wales from birth to school age.  Some Cylchoedd Meithrin operate fully (or almost fully) as outdoor settings.  Nia Chapman, North Powys Support Officer, and Mirain Jones, Cylch Methrin Leader for Cylch Meithrin Dyffryn Banw, Powys share their thoughts on the benefits of spending time in the outdoors and how this helps to promote Welsh language development.
"Through taking part in activities in the natural environment, children are given an opportunity to observe nature and learn Welsh words such as 'dail/deilen' (leaf/leaves) 'mynydd' (mountain), 'pont' (bridge) and so on", says Nia.  "They begin to hear and use descriptive language such as 'crensian y dail' (crunching leaves), 'pigog' (spikey), 'sgleiniog' (shiny), 'llyfn' (smooth) and 'garw' (rough).  This works well when on a scavenger hunt.  Through spending time in the outdoors they learn the names of plants, birds and all sorts of creatures and learn about how they live.  Both the seasons and weather provide fantastic opportunities to develop language. They offer excellent opportunities for children to describe how they are feeling for example 'oer' (cold), 'poeth' (hot) and so on.  We discuss with the children how nature looks and changes; the leaves changing colour and falling, leaving the tree bare, observing a spider's web on a frosty morning – very magical for small children!  They learn about keeping themselves safe, being careful not to slip in the snow and ice, the importance of wearing sun cream in the summer.  We discuss what clothes would be most suitable for the seasons/weather." 
"Whilst cooking in the outdoors the children answer questions 'Wyt ti eisiau tost?' (Do you want toast?) and have the opportunity to express their opinion on the food they are tasting.  Cooking around a fire is an excellent occasion to chat, socialise and sing. Nursery rhymes offer an opportunity to develop language, better still if they relate to the natural environment.  By playing in the outdoors, children naturally attain and develop mathematical language such as 'uchel/isel' (high/low), 'trwm/ysgafn' (heavy/light), 'hir/byr' (long/short) by climbing trees, slipping down slopes and hiding in bushes. By building shelters, children learn how to cooperate and speak to each other as they search for suitable resources to use.  The natural environment is constantly changing and offers so many fantastic opportunities to promote language, literacy and knowledge and understanding of natural features and processes."
One Cylch Meithrin that has started spending more time in the outdoors and runs weekly woodland sessions to improve the children's health and well-being, is Cylch Dyffryn Banw.  Here's Mirain Jones, the Cylch Meithrin Leader shares their experiences.  "We find that the children are much happier when spending time learning in the outdoors, and this in all sorts of different weathers.  In December we ran woodland sessions on the theme of Christmas.  The children created natural woodland rounds to use as Santa's bells when singing which they really enjoyed.  In accordance with our Healthy Living policy, we've been been doing physical exercises outdoors and the children took part in Christmas yoga, making shapes such as stars, snowflakes, deer and the baby Jesus in the crib.  Taking part in outdoor learning activities definitely helps with Welsh language aquisition and offers a flexible environment for children to express themselves, be creative, take risks and solve problems independently."
If you would like to learn more about the work of Mudiad Meithrin, please contact them direct or check out their Twitter account.  To learn more about the activities of Cylch Meithrin Dyffryn Banw, check out their Twitter account.
Learning in, learning about and learning for our natural environment
Looking for learning resources, information or data? Please contact:
education@naturalresourceswales.gov.uk or go to https://naturalresources.wales/learning 
Alternative format; large print or another language, please contact:
enquiries@naturalresourceswales.gov.uk 
0300 065 3000