Unprecedented fire destroys years of work at Cwmcarn Forest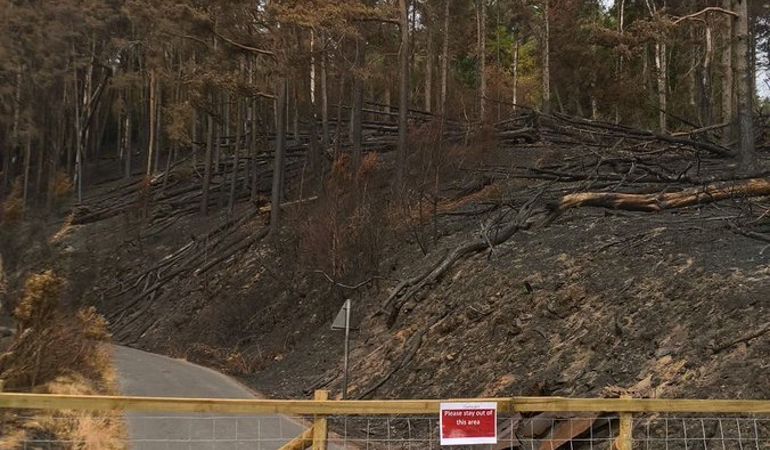 Natural Resources Wales (NRW) is looking at how it can restore large areas of woodland after fires devastated Twmbarlwm in Cwmcarn forest over the last three weeks.
The fires, which started on 13 July, have destroyed up to 250 hectares of woodland, roughly the size of 250 rugby pitches.
This has caused a huge amount of environmental damage and destroyed tens of thousands of newly planted trees, undoing years of work and investment by NRW.
Large areas were being replanted with native broadleaf species and timber-producing conifers following large-scale felling operations to combat the spread of larch disease.
Helicopters, drones, excavators and tractors were all used as part of the multi-agency response that included NRW, South Wales Fire and Rescue (SWFR) and Gwent Police.
NRW staff worked long hours cutting firebreaks around the affected area and supporting firefighters from SWFR who tackled the fire itself.
The fire has now been extinguished and NRW staff continue to monitor smaller smouldering areas of the woodland and have taken actions to prevent ash runoff polluting local streams.
Steve Morgan, Head of South East Wales Operations for NRW, said:
"Wildfires pose a serious risk to people in the area, our officers, the firefighters who have to tackle them, and local wildlife.
"We know how important the whole area is to local people who use it to relax and exercise.
"Over the last two years, we have invested heavily in replanting felled areas with broadleaf and conifer trees to restore the woodland. That work has now been undone.
"Any wildlife in the path of the fire will most likely have been killed and their habitat and food sources destroyed. Populations of some species of plants and animals may take years to recover.
"Thanks to the tireless efforts of our staff and the other agencies involved the fire is now under control.
"But the incident has caused lasting environmental damage as well as a huge economic impact on the area's businesses, tourism, and the public purse.
"We would also like to mention the gratitude of our staff for the support of local people. We have received food, letters of support, and someone even brought us an oak sapling in a plant pot which we are very touched by.
"It is heart breaking to see so much of the new woodland we have planted at Cwmcarn destroyed by what appears to be a thoughtless act.
"We have been working extra hard the last few years to plant a mix of broadleaf trees and conifers to replace the woodland lost by disease.
"We will continue our work, but this fire has certainly put the new Cwmcarn woods back some of our replanting efforts by some years.
"The site remains closed until we have inspected all the footpaths and bike trails and we'd very much appreciate people staying out of the area until it is safe. We hope to re-open it as soon as possible.
"We would also like to show our thanks to the community in some way and to involve the community in the new woodland planting.
"We will be speaking to them shortly to discuss how we can go about this."
This summer several wild fires have happened across Wales, and, alongside partners in the Fire and Rescue Services and Police, NRW urges anyone with information on grass fires to contact 101, or call Crimestoppers anonymously on 0800 555111.
Anyone who sees a grass fire, or sees anyone starting a grass fire, please call 999 immediately.