Tickets on sale for women's mountain bike weekend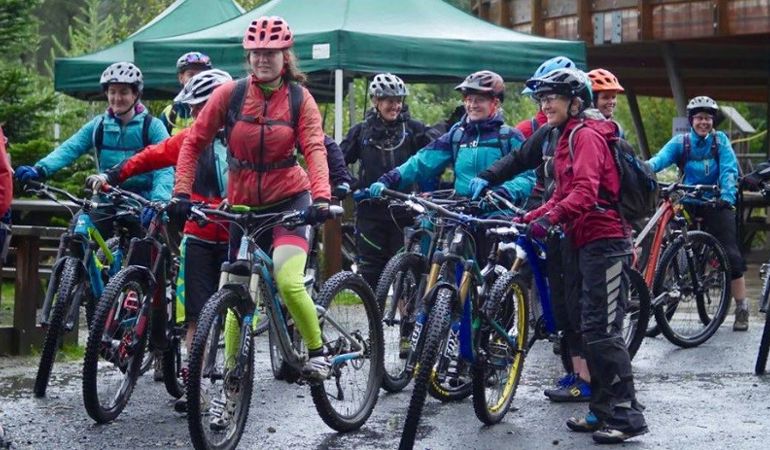 Natural Resources Wales (NRW) is once again joining forces with partners to host a mountain biking weekend dedicated to women.
The action-packed 'Temtiwr' event, designed to encourage more women to take up mountain biking, will be held on 8 and 9 September in North Wales at Coed y Brenin Forest Park.
It offers women the opportunity to improve their mountain biking skills, learn about bike maintenance and socialise with other riders.
Grace Sanderson, Visitor Centre Assistant and Assistant Mountain Bike Ranger, Natural Resources Wales said:
"Coed y Brenin is one of the most beautiful places in Wales and we are proud to provide so many exciting trails for everyone to enjoy.
"Organising an event like this, in such a relaxed and friendly setting, will hopefully encourage more women to get active and give mountain biking a go.
"The atmosphere at last year's event was buzzing, and we are really pleased to offer even more tickets this year, with 80 spaces now available."
The weekend's activities include mountain bike skills coaching, workshops, drop in sessions, and yoga, and a film showing.
The event is organised by NRW and partners Beics Brenin, Welsh Cycling and Dyfi Events.
Tickets are available for women riders of all ability levels, over the age of 16, and can be purchased from www.dyfievents.co.uk.
Gaynor Davis, Women and Girls Development Officer for Welsh Cycling said:
"We aim to hold an event which appeals to women of all ability levels, which gives riders a chance to connect with others, share their experiences and gain new skills and knowledge from the experts we have on hand.
"We began collaborating with Beics Brenin and Natural Resources Wales a couple of years ago when we successfully launched the first Women's Mountain Biking Breeze hub at Coed y Brenin. We now hold regular guided 'Breeze' mountain bike rides for women."
Toby Bragg from Beics Brenin and Dyfi Events commented:
"We designed this event to provide guidance and encouragement for women preparing to enter their first mountain biking endurance event, such as the Trek Coed y Brenin Enduro on 30th September 2018.
"The event is a great opportunity for women to participate in skills development sessions, try sections of the event route and to talk tactics, preparation and equipment with coaches."
Coed y Brenin is hosting several events this summer to give more people the opportunity to get active and enjoy the outdoors.
Activities include Junior Ranger sessions, craft fairs, Yoga and several mountain bike and running events.
People can keep up to date with all events by following the Coed y Brenin Forest Park Facebook page, or visiting the NRW website at naturalresources.wales/CoedyBrenin.