Threatened sand dunes set for a golden future thanks to National Lottery funding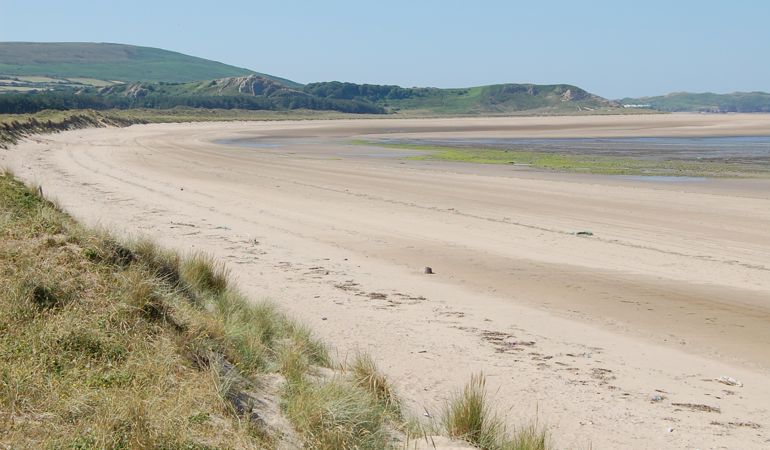 A third of England and Wales's threatened sand dunes have a brighter future thanks to a pioneering National Lottery funded conservation and restoration project, unveiled today (9 November, 2017).
Sand dunes are listed as the habitat most at risk in Europe. They are a sanctuary for endangered plants and animals like the dune gentian and sand lizard. However, many are being smothered and fixed by a tide of invasive scrub, becoming sterile, grassy hillocks. 
Now The Heritage Lottery Fund has given initial support* for a £4.1m grant to an innovative four year partnership project, Dynamic Dunescapes, which will restore some of the most important sand dune landscapes in England and Wales.
Natural Resources Wales, Natural England, National Trust, Plantlife and the Wildlife Trusts and will work with local coastal communities to conserve and restore up to 7000ha in nine areas across England and Wales.
Sand dunes are a naturally dynamic habitat.  As the coastal winds blow, new 'embryo' dunes are formed at the top of the beach and they slowly grow and shift to create the landscapes we know. The early stages of the project will explore how we can re-establish the natural movement within dunes, to create the conditions that some of our rarest wildlife relies upon. 
Kevin Ingram, Natural Resources Wales interim Chief Executive said:
"Sand dunes are some of the richest places for wildlife in Wales but many of the rarest species have declined and in some cases disappeared as the dunes have become more stable.
"This project will bring many of these species back, benefiting not only our environment but also our people and our economy as it builds on the strong links between coastal communities and their dunes"
The project will concentrate on improving the condition of nine identified dune cluster sites at: Lincolnshire Sand Hills; Studland Dunes, Dorset; North Cornwall Coast; Braunton Burrows; North Devon Coast; Swansea/Neath Port Talbot; Carmarthen; Anglesey/Gwynedd; Sefton Coast; and Cumbrian Coast/Solway.
Natural England's Chairman, Andrew Sells, said:
"We're really excited about this fantastic project to save our dunes and give more people the opportunity to learn about our fascinating wildlife. Dunes are not only a backdrop to a day at the seaside – they are home to some of our rarest species and are in desperate need of help. That's why we're working with our partners from across the conservation movement – spanning two countries – to tackle this problem together."
The projects will include:
conservation work to re-establish natural processes;
a programme of removal of native and non-native invasive species;
restoration and creation of dune slacks and dune wetlands;
turf stripping and sand scraping to create bare sand patches;
on site interpretation and a national promotion programme;
community education activity, including a schools programme;
a programme of adult and youth volunteering
Drew Bennellick, head of landscapes and natural heritage at the Heritage Lottery Fund said:
"This is a really exciting project as it is pioneering a new approach to dune management.  In recent decades many sand dunes have become smothered by thick vegetation.  We now know that this is bad news for some of the rare species that make their homes among our dunes and need a mixture of open sand, pools of water and varied vegetation to thrive.   Thanks to this National Lottery funding and the expertise of the partnership organisations, we can begin to find ways of addressing these pressing issues."
Hugely popular among beachgoers, there are 200m visits a year to sand dunes in England and Wales.  Less well known is their role as a sanctuary for endangered plants and animals. Species that make their home in the dune landscape include:
colourful flowers like purple milk-vetch and dune gentian;
invertebrates such as the spectacular silver-studded blue butterfly and snail-killing flies;
mosses and liverworts (with the diminutive petal-wort found only in dune slacks); and
reptiles and amphibians such as natterjack toads, sand lizards and great crested newts
Dunes have a long place in the cultural history of the United Kingdom. These special places include prehistoric sites around the coast and medieval religious settlements. Sand dunes are popular destinations for seaside recreation, from sand-castle building to surfing. The England Coast Path will open in its entirety by 2020. This will allow more people than ever to access the sand dunes along our shores. This project will ensure those visitors can enjoy our sand dunes, now and in the future.