Thousands of fish rescued from canal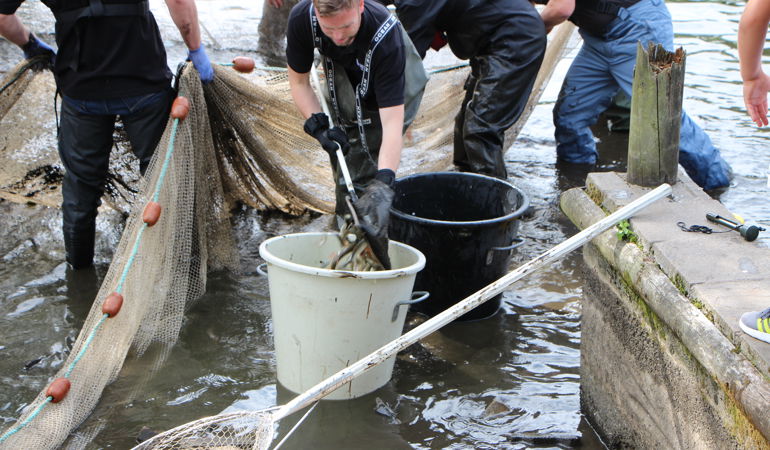 Over 15,000 fish have been rescued from a canal in Newport following a leak.
Natural Resources Wales (NRW) teamed up with Newport City Council and local angling clubs to save the fish on Saturday 26 August at Fourteen Locks, a land-locked section of the Monmouthshire and Brecon Canal.
A breach in this section of the canal caused water to leak out and drop to a critically low level, putting the lives of the fish in danger.
The mixed coarse fish, such as roach, carp, bream and rudd, were captured using nets and some being stunned using electric fishing techniques. They were then transported safely further up the canal in a large tank towed by a NRW truck.
Jon Goldsworthy, Operations Manager for Natural Resources Wales, said:
"Our rivers and canals are home to a rich variety of plants and animals, and are important recreational hubs which help boost the local economy.
"We knew we had to act quickly to rescue the fish as the water and oxygen levels were falling quickly.
"With the help of our partners and volunteers, we managed to save thousands of fish. They may not have survived for much longer in those conditions.
"Newport City Council, who own the site, will continue to monitor the canal and put plans in place to fix the leak and move any remaining fish."